Terrine is a coarse ground pate that is baked in a loaf pan inside a water bath. Terrines normally incorporate two types of meats and use dried fruits, in the center, such as figs, apricots or cherries.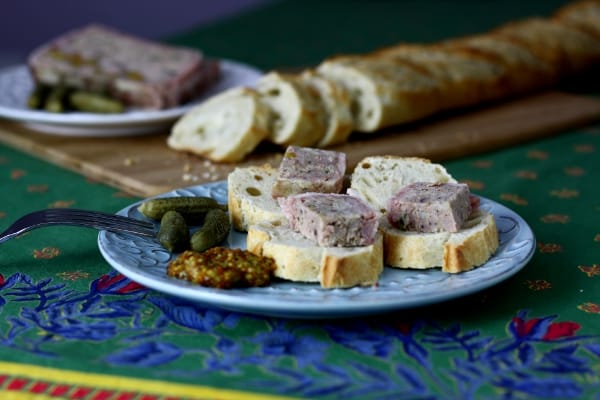 Jump to:
Ways to make terrine
The yield is more than adequate, so you will have plenty to eat, share and even freeze.
The first technique is creating your own blend of spices in the form of quatre epices. Quatre epices is a mixture of four spices that is typically used in making pates and terrines. There are a couple of variations, but the most common one, and the one I use in this recipe consists of black pepper, cinnamon, cloves and nutmeg.
Another key step is to marinate the "center meat" in this case turkey, for a few hours before you bake. Marinating allows for the flavors to really soak into the meat that is placed in strips in the center of the terrine and then released during the cooking process.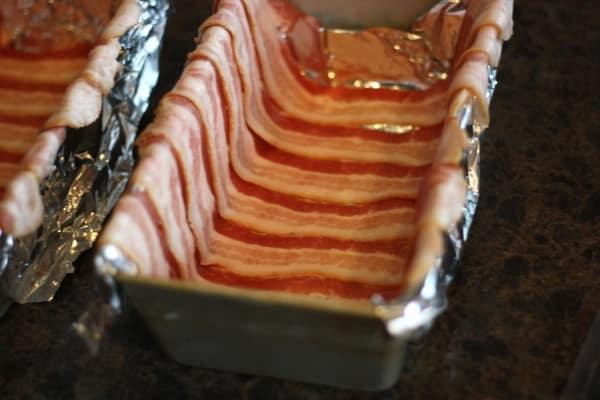 Bacon lines loaf pan to become the outer layer of the terrine when finished. How many recipes do you run into where you can line something with bacon? You had me at "bacon". Yummy!!
Key tips
Check the seasoning of the ground meat. This is called a quenelle test. This process allows you to ascertain that the meat is properly seasoned. Because you cannot taste the meat raw, this is a very important step. You cannot cook the ground meat in a pan as the searing it will change the flavor and it would render out most of the fat.
Take a small piece of meat mixture and roll it into an oval shape. Place in a ziploc bag, and drop it into a pot of scalding water. Allow it to cook through. Remove the bag from water and let it cool to to touch. Taste.
Remember, this dish is baked, then served cold, the seasoning needs to be somewhat stronger that what a hot food would require. You want the flavor of the fat as part of the dish and you must keep the ground meat mixture cold at all times or the fat will render out.
Place your grinder blade, die and hopper in the freezer before beginning. Grind the meat into a metal bowl sitting in ice if possible. Put the bowl of ground meat into the refrigerator while you perform the quenelle test.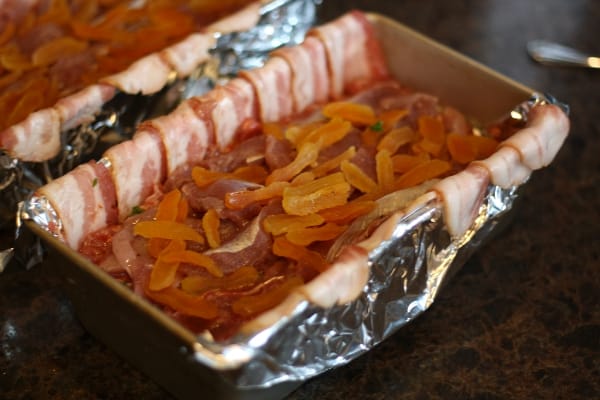 Layered ingredients
The terrine has to be assembled like a strata. Fill the bacon-lined pan half way with the ground pork mixture. Place a layer of the marinated turkey slices and then dried apricots. Do those sliced apricots look like gummy worms? Sorry. Cover with pork up to ½ " from the top. Fold the bacon strips toward the center.
The last process is the cooking of the terrine in a water bath (bain Marie in French). This allows it to cook slowly and moisturizes the meat while it is cooked.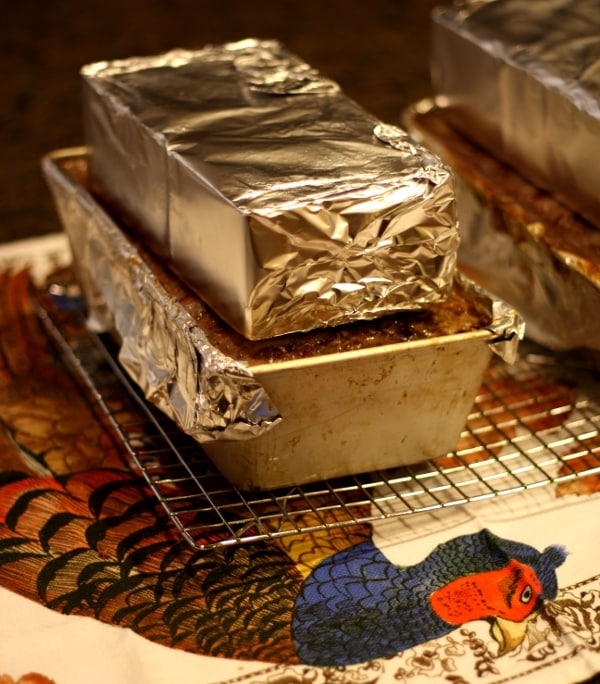 When you bring the terrine out to cool, place loaf pans on a cooling rack and place a brick over it. Kind of strange? Yes. But the terrine has to have some weight to compress it. We use the standard red brick wrapped in foil but you could use a come heavy canned items if you can keep them from rolling off.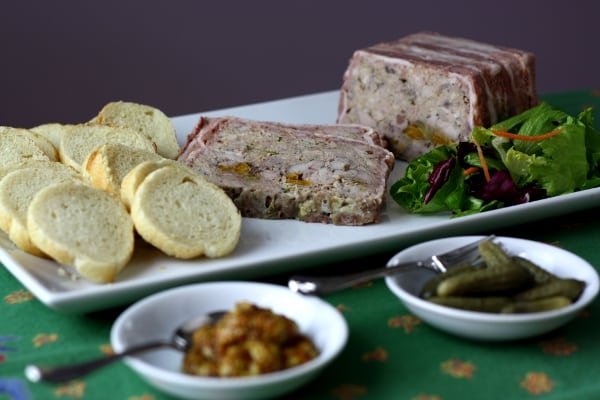 Serve terrine with cornichons (small gherkins), sliced baguette, and whole grain mustard. Your friends will be impressed beyond belief.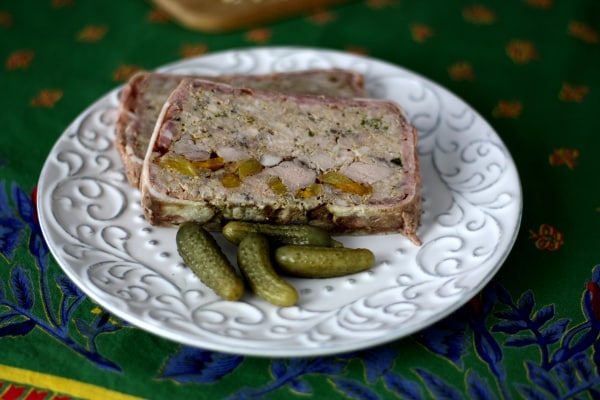 You can dish out individual portions. Decorative plates create a beautiful presentation.
Here are some various terrine dishes
for baking and recipes books
on Amazon.
Storing terrine
My husband and I like to keep terrine on hand so we will take a "loaf" of terrine from a 5x9 pan after it is cooked and cooled to freeze it. I like to split one loaf sized terrine into 4 portions and then I vacuum pack them with my Food Saver
. I have had great results from frozen terrine that has been stored for over 1 year in my Food Saver bags. I believe their site shows 2-3 years for beef or poultry when vacuum packed. My terrine never seems to last to0 long as it is loved by my entire family and is my go-to dish to serve as an appetizer at parties!
If you want to explore some more very interesting French dishes here are a few more you can bookmark for later. Authentic quiche Lorraine is a smooth creamy custard like dish with bacon and cheese. For a dessert I would typically serve this wonderful French patisserie fruit tart that is so easy to make with a baked tart shell and filled with a cream mixture and seasonal fruit. A hearty winter dish I love to make is this Baeckeoffe beef stew which loosely translates into oven baked. Checkout the interesting food history and make this super simple recipe for French onion soup that dates back to Roman antiquity.
Looking for more recipes?
Sign up for my free recipe newsletter to get new recipes in your inbox each week! You can also find me sharing more inspiration in Pinterest and Facebook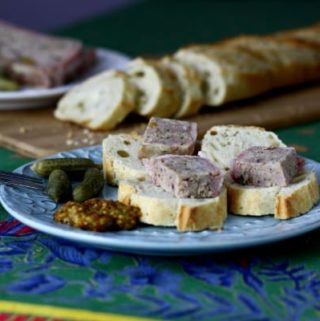 Terrine de Campagne Recipe Card
Terrine de Campagne or country terrine is a rustic pate that consisting of finely ground meats, spices and eggs. This recipe is a labor of love and makes a nice sized batch for several loaves. There are step by step instructions for this classic charcuterie dish you can make in your home and it is a fantastic appetizer. I also like to vacuum pack and seal this dish for freezing.
Print
Pin
Rate
Ingredients
Quatre espice blend: (ka'trehpiece)
To marinate the turkey:
2

lbs

turkey breast sliced in ¼" strips

2

tsp

quatre epices blend

½

cup

white wine

2

tsp

salt

2

Tbsp

cognac
Other ingredients:
4

lbs

pork shoulder

6

eggs

½

lb

chicken livers

2

Tbsp

parsley

chopped

3 ½

Tbsp

quatre epices blend

½

cup

dried apricots

dried, sliced into thin slivers

1

lb

bacon
Instructions
* Quatre epices is a blend of sweet and savory spices.

Marinate for one hour in a shallow dish (a glass pie plate works great) the turkey, with the quatre epices powder, wine, salt and cognac.

For the next step you can either grind your own pork shoulder or buy it already ground. Add the parsley and quatre epices and blend thoroughly. In a food processor place the chicken livers and eggs until liquified. Add this mixture to the pork.

To assemble:

Line two loaf pans-5W X 9L X 3H with aluminum foil, making sure there is some overhang. Take slices of bacon and line the loaf pans across the width of the pan. Place meat mixture half way up the pan. Make a single layer with the turkey breast and top with sliced apricots. Layer the remaining meat on top and fold bacon over meat mixture.

Bake until the center reaches 160°F.

Remove from oven and place on cooling rack and place foil lined bricks on top. Refrigerate after it reaches room temperature with the brick in place until completely chilled.

Serve cold, cut into small pieces with fresh baguette.

This can be frozen and vacuum packed in food saver bags for up to 6 months, just thaw and serve for a quick appetizer.
Nutrition
Calories:
235
kcal
|
Carbohydrates:
4
g
|
Protein:
22
g
|
Fat:
13
g
|
Saturated Fat:
4
g
|
Cholesterol:
137
mg
|
Sodium:
455
mg
|
Potassium:
398
mg
|
Fiber:
1
g
|
Sugar:
1
g
|
Vitamin A:
1265
IU
|
Vitamin C:
2.5
mg
|
Calcium:
38
mg
|
Iron:
2.3
mg