Picnics with friends and families are fun, there is no doubt about that. But, there is an aspect of picnics that in my opinion can be quite scary:food. I am speaking from experience. Face it not everyone is a foodie! Picnic foods don't need to be scary, especially with this great list of 30+ best ever easy summer picnic foods recipes which are all easy and delicious.
As I write this post I am actually scratching my head trying to decide which one of these mouthwatering recipes I am going to make or take to the first picnic of the season. OK, let's take a look at what I have in the bag.
Feta Melon Salad with Lemon and Mint
Just the mention of the ingredients makes my taste buds tingle. This is an explosion of flavor contrasts, and a bowlful of health. This sweet/savory salad or side dish would be perfect for a spring or summer party.
This rainbow of health is a perfect complement to any picnic fare. I especially love the texture of the Israeli couscous. This summer I can't wait to bring this one. I think it will be a big hit and it's so versatile that I could vary it anyway I want.
Grilled Peach Salsa with Mint Cilantro and Ginger
Thinking of summer peaches makes my mouth water. I love the flavor combination of this grilled peach salsa. the ginger adds a fabulous touch. Fresh ingredients are key to grilling fruits and vegetables. There is just something about a bit of time on the grill that brings out the natural sweetness and gives a hint of smokiness. It doesn't take very long to grill peaches.
Gluten Free Ribs with a Sweet and Spicy Dry Rub
I think a picnic isn't a picnic without a slab of ribs on the grill. These look and sound scrumptious. The combination of ingredients in the dry rub is PERFECT and so easy to make. I think you need these in your life!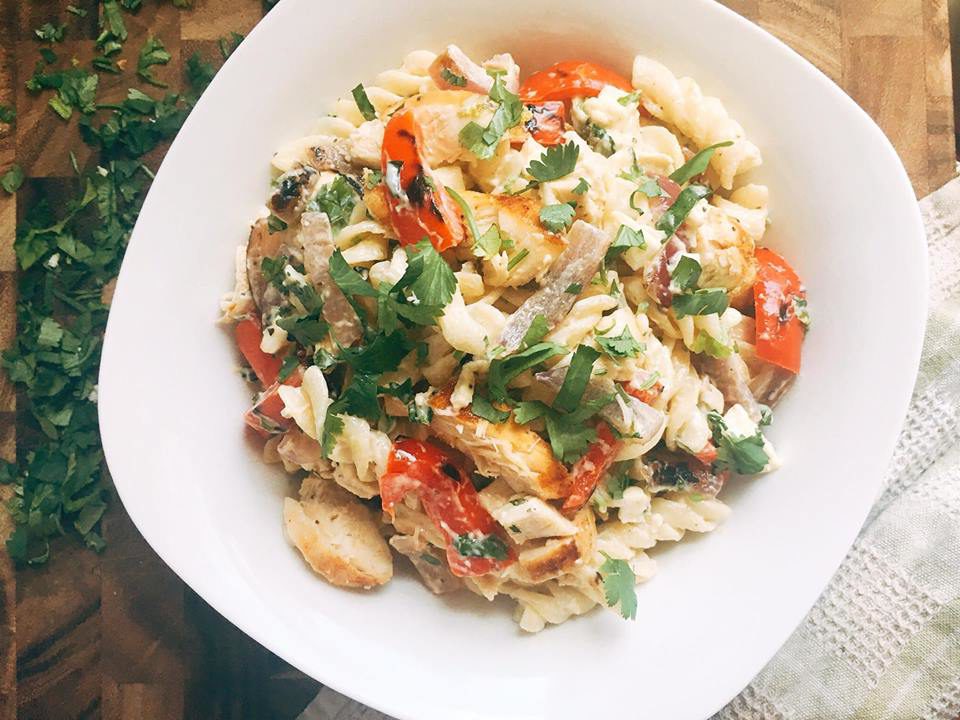 A pasta salad is a picnic staple. Check this one out with chili powder, cumin and red onion is perfect for any picnic party, or even a light summertime meal. Choose any pasta you want. I especially love tortellini.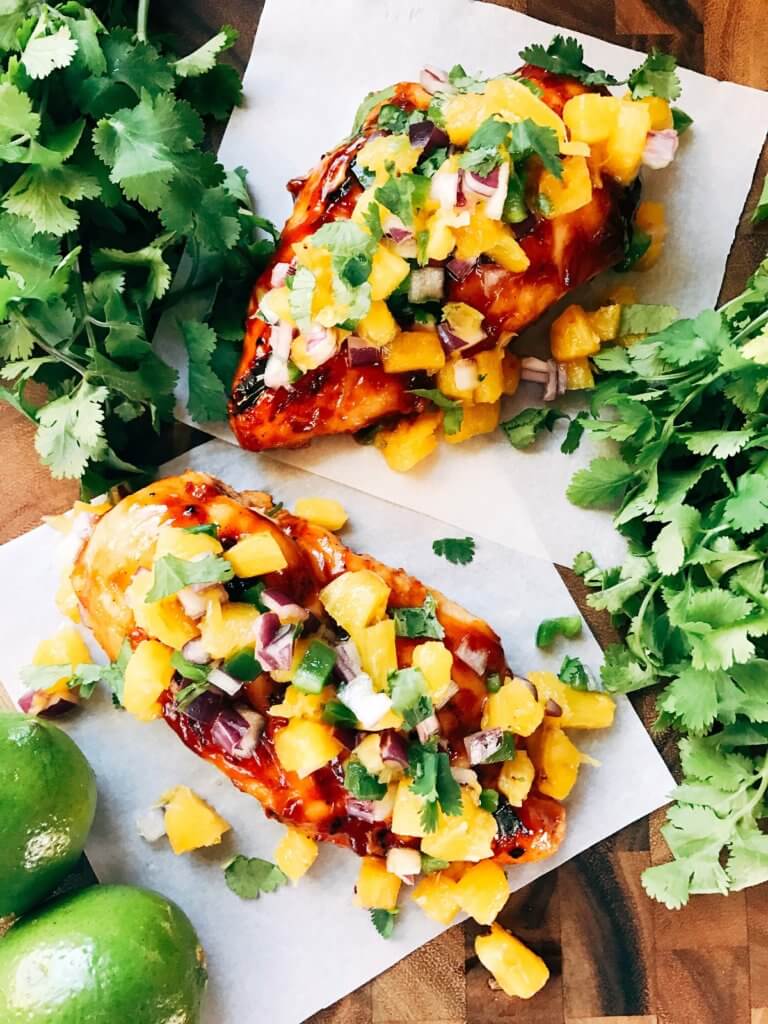 This salsa has summer written all over it. It is such a great balance of sweet yet spicy, full of fresh flavor. And a unique on the classic Pico de Gallo. No one will be expecting this salsa, so it makes quite the impression at your gathering or cookout!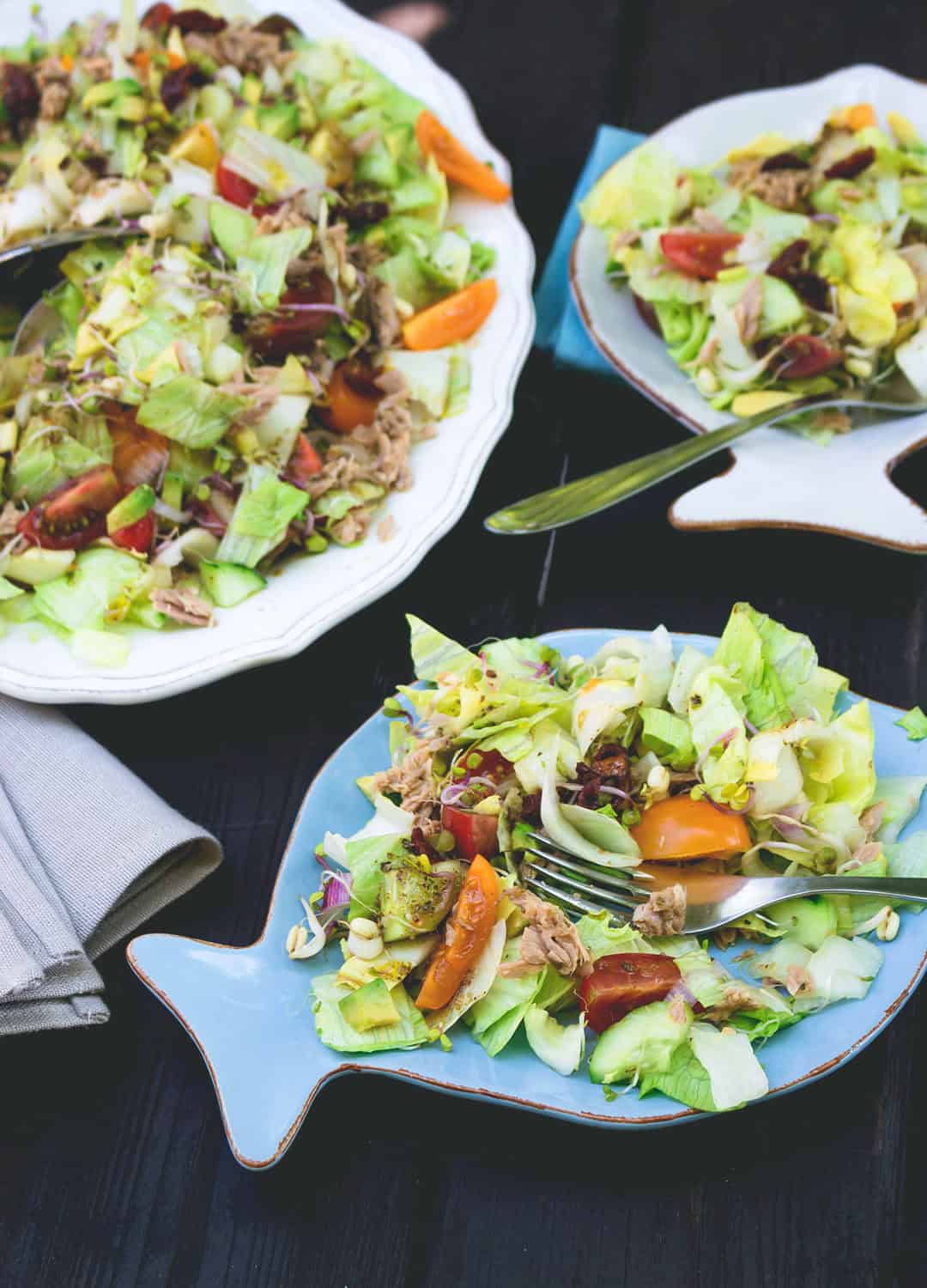 Colorful Salad with tuna and Sun-dried Tomatoes
This salad is indeed colorful, not to mention healthy. Sundried tomatoes are great on everything, from a salad topping, to an omelet, or pasta. The sky's the limit with this versatile ingredient. This salad is so pretty, it will brighten up any picnic table.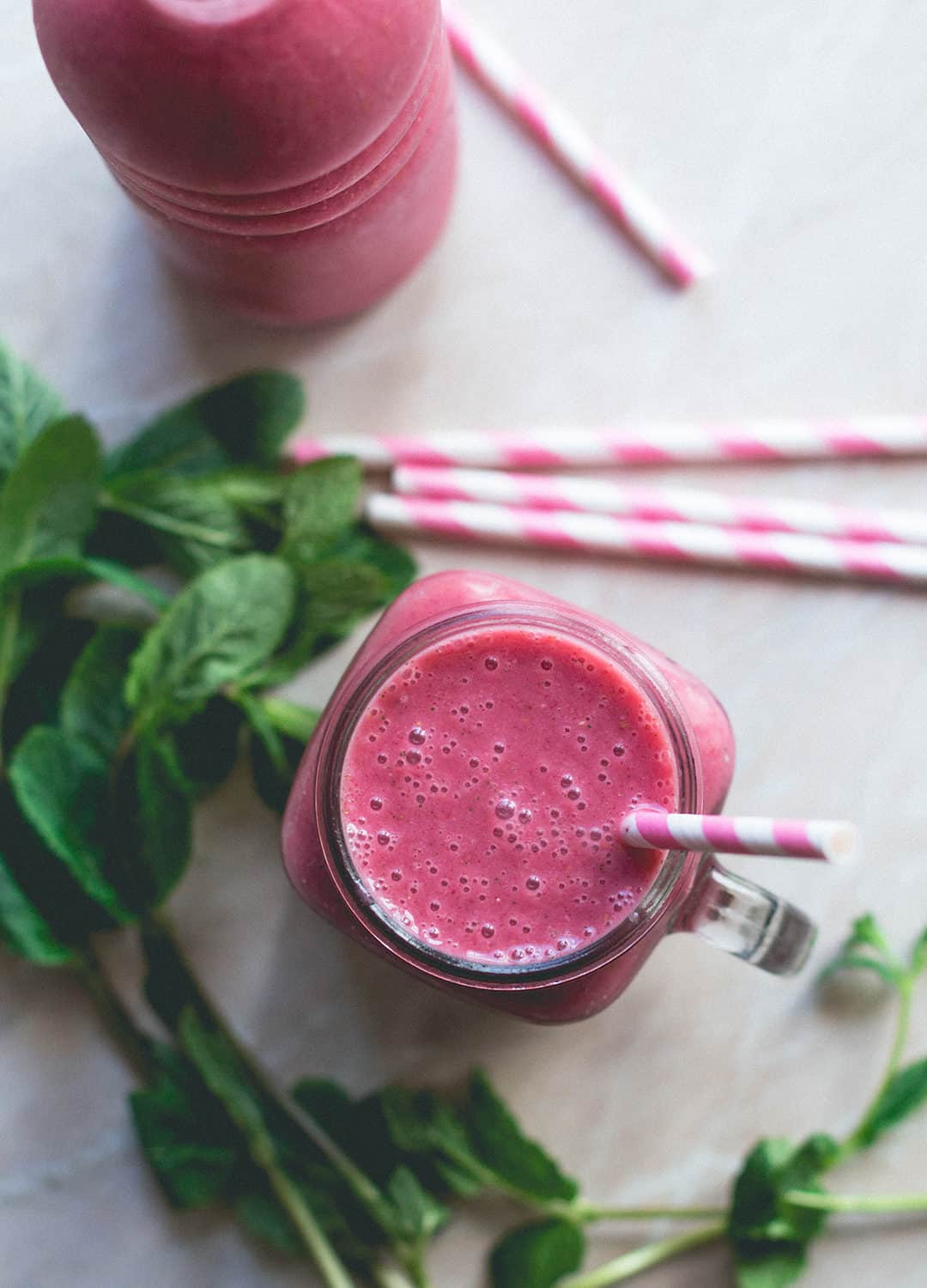 Refreshing Raspberry Mint Smoothie
Smoothies are all the rage, they can be anything you want them to be. This particular raspberry smoothie with mint is right up my alley since I have an out of control mint patch in my backyard. Needless to say, I can't wait to make this recipe, and take along to one of my summer picnics.
Are you totally in love with these 30+ best ever easy summer picnic foods recipes yet? I am! So, let's keep reading!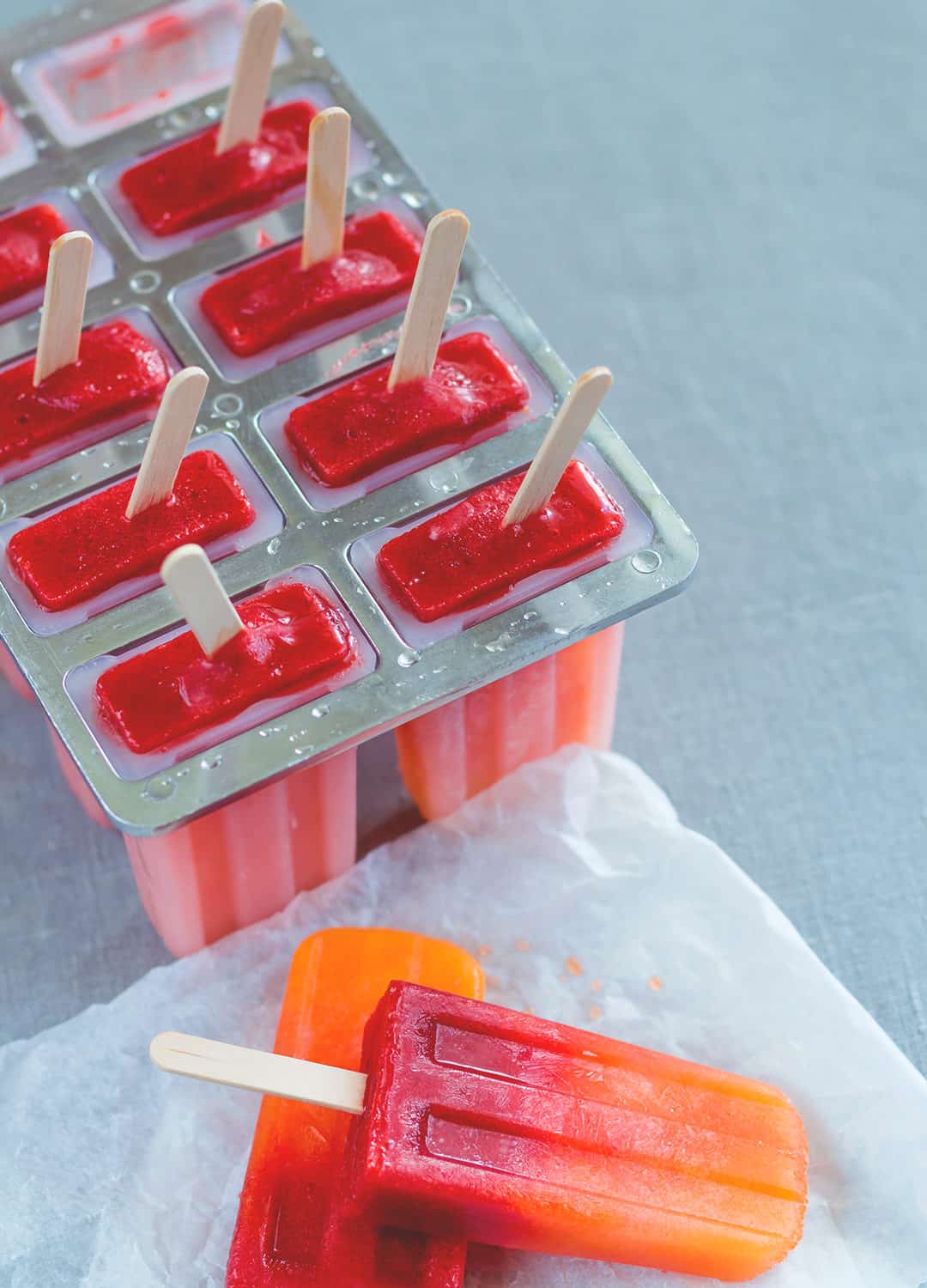 Orange Strawberry Sunrise Popsicles
A successful picnic has something for everyone, and I think these popsicles will be everyone's favorites. Popsicles bring out the kid in everyone.I know I would love to make a batch as soon as I can find my popsicle molds. I hope I didn't give them away!
This cocktail is summer in a glass. The flavor combination of watermelon juice and mint is music to my taste buds. Enjoy on a hot summer day, sitting on your deck, or whip up a batch and take to a picnic. Your friends will love you. I have an ample supply of mint in my backyard, so I am all set.
What a great combination of ingredients we have here: black beans, black eyed peas, corn, cilantro, tomatoes, just to name a few. There are different variations too, so just let your imagination run wild. A perfect side dish or appetizer, that is chock full of awesome protein.
Balsamic Glazed Melon Prosciutto and Mozzarella with Balsamic Glaze
I am in love with this appetizer, and I am currently thinking of all the different variations. Perfect for any picnic because you can put them together quickly, and they don't need to be kept warm or reheated. The flavor combo of sweet, and salty is perfect.
Fruit tarts are among my favorite desserts to make. They are light and so delicious, PLUS it always looks like you slaved in the kitchen. I love the looks of this one, and I am sure it will be making an appearance in a future picnic.
Sweet and Spicy Maple BBQ Sauce
And here's to another recipe for the upcoming grilling season: Sweet and spicy maple BBQ sauce. Aaah, I can almost hear the call of the grill. Summer is just a few weeks away. It can't get here fast enough, because I've come up with this awesome BBQ sauce that combines two of my favorite flavor profiles, sweet and spicy.
Ribs are a summer staple in my house. We eat them once a week, without fail. Aah, the flavors of the Caribbean. Warm tropical breezes, the smell of the ocean, and a slab of spicy mango habanero ribs grilled to absolute perfection. It's not a dream, it's reality! Again, two flavors that I love together: sweet and spicy.
And there's definitely more. Read on!
Visions and scents of tropical islands are right at your fingertips when you bake a batch of these delicious creamy mango lime bars. They are kind of like lemon bars, same baking process, just different fruit. these gems are the perfect ending to a perfect picnic. They also freeze well, just saying.
And now for something completely different..... Coffee jerk pork chops. The taste is undoubtedly amazing! The coffee adds a depth of flavor that is hard to describe. It's sort of woody, smoky, nutty all wrapped into one incredibly delicious flavor. Try them!!!
Just the beautiful bright green color makes me want to eat the whole bowl. Next we have mango tomatillo salsa, an utterly delicious sweet savory salsa to kick your picnic up a notch or two. Oh summer, hurry up and get here. I am ready for you! Serve it with your favorite tortilla chips.
Black Beans, Feta, Basil, Red Onion and Tomato Salad
Well, if this recipe doesn't scream healthy, I don't know what does. This recipe is the perfect side dish for any of your summer meals. I like to eat it just by itself because it is so wonderfully refreshing. And now that I think about it this dish can be eaten as an appetizer with your favorite tortilla chips, just a thought.
What a pretty pink color. Guava juice is sweet and delicious. Stir in some lime juice, a splash of your favorite tequila, give it a quick stir and top with a sprig of mint; you're golden. This refreshing guava lime cocktail can be made in a matter of minutes. No blender needed!
Alright, we're almost done with this lovely list of 30+ best ever easy summer picnic foods recipes. I hope that thus far I've given you some great ideas to add some pizzazz to your picnic.
This seemingly silly little recipe for hot dog sauce is going to totally change the way you feel about the humble hot dog that is typically overlooked at summer barbecues in favor of more "grown-up" fare. BBQ sauce, ketchup, molasses, and cider vinegar among other ingredients. This delicious sauce that came into being on the campus of BYU in Utah will rock your hot dog world.
Summer and peaches cannot exist without each other. A crostata or galette, depending on where you are from is a scrumptious rustic dessert. It consists of pie dough wrapped around fresh fruit and baked to delicious goodness. In my book, and in my head, I consider peach crostata a "healthy" dessert, since it is mostly fruit, right? Right!
Easy Texan Style Smoked Brisket
A tasty and authentic smoked Texas brisket, perfectly seasoned and juicy. Started in an off-set smoker and finished in the oven yields a succulent, perfect brisket. Without a doubt, I can guarantee that this brisket will be a hit at any picnic.
Thai style chicken wings add a cool ethnic flair to any summer picnic, or appetizer party. I know, chicken wings are not exactly Thai fare, but they are a tasty way to enjoy this party staple. The inspiration for these chicken wings comes from a restaurant near my house claiming to have the "best wings in town." I don't know if they are "the best", but they do have about 20 different flavors.
This watermelon gazpacho is so refreshing you wouldn't believe it. Skip the garlic and make it your breakfast smoothie. Serve it for lunch or dinner with a slice of grilled ciabatta bread. Serve it at a party as an appetizer or bring it on a picnic. It's the ultimate summer soup, energizing and hydrating, just exactly what you need on a hot summer day.
A perfect drink to take to a picnic, or to sip while sitting on your favorite chair on your deck. This recipe has become a favorite beverage at our house. Take it to your next picnic, your friends will love it too.
This is the perfect complement to anything, from steak and eggs, to chicken, or BBQ. The intense flavor combination: peppers, parsley, red onion, cilantro and paprika are among the key flavorings in this robust sauce. It will complement any picnic meat to perfection.
Tangy sweet beef kebabs are accented with mango nectar. In addition, red onion, mushrooms, and mango chunks make for a festive, not to mention a scrumptious skewer. These kebabs will the the perfect addition to any summer picnic, and maybe into Fall if we're lucky!
This is one of my favorite desserts during the summer months because it is so light and refreshing. Tangy citrus flavors make your taste buds burst. I have taken it to various picnics and it has always been a big hit. I plan on making it again this summer.
It's vegan and gluten-free; it's packed with dietary fiber and proteins.It's a true rainbow of colors. You can make this salad for so many occasions: picnic, lunch, light meal, etc. The avocado dressing is the perfect way to top this amazing salad.
Mango Black Bean Salsa is what I would call Fusion cuisine. It is neither Latin American or Caribbean, however, it utilizes ingredients that are native to that cuisine. Mango Black Bean Salsa works well as an appetizer, as a side dish, or even a relish. This recipe is a summer staple in my house.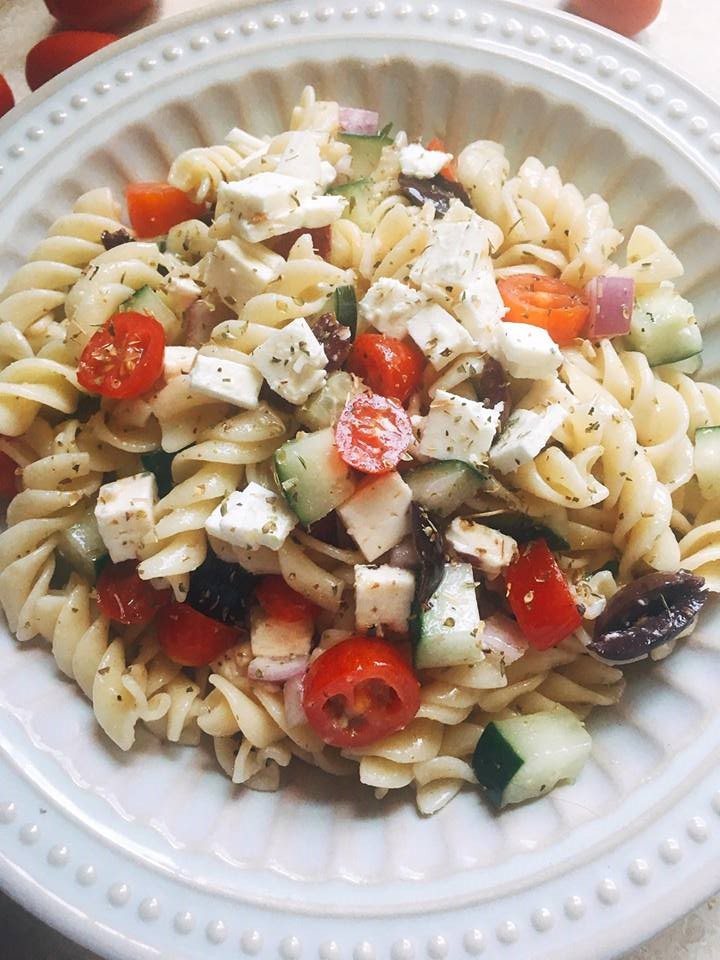 This pasta salad is a crowd pleaser and kid friendly side dish that can easily be made ahead. If it gets a little dried out while chilling, just add a little more olive oil and toss before serving. This Greek salad looks so refreshing, thus making it perfect for any summer gathering.
Finally, I think we've covered all the 30+ best ever easy summer picnic foods recipes. I don't know about you, but for me it's going to be hard deciding which ones to make. Bon Appetit!