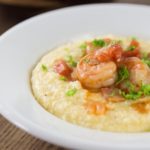 Authentic Southern Shrimp and Grits
When you visit the Southern USA you have a try a bowl of this spicy dish! Some of the best comfort food comes from the American South and shrimp and grits ranks near the top! Shrimp and grits is true Lowcountry cuisine from coastal Carolina and Georgia. Imagine a spicy saucy shrimp with some creamy corn grits with cheese for a nice balance of flavor. This is a must try recipe and feel free to get creative. The grits are a blank canvas to add something spicy to. Like cajun flavors? Add some spicy cajun style shrimp.
Servings: Change to adjust->
6
servings
Bring milk and vegetable oil to a boil, and slowly add the grits 1/4 cup at a time. Stir frequently to avoid clumping.

Mix in the butter, and cook on low for about 20 minutes.

Toss in the cheese and stir to blend.

While the grits are cooking start cooking the shrimp.

To prepare the shrimp.

In a small dish blend together salt, cayenne, and cinnamon.

Begin cooking bacon in a non-stick skillet.

Once the bacon begins to turn brown, add in the onion, and garlic and continue to cook until onion is translucent.

Toss in the shrimp, and cook until the shrimp starts to turn pink. Sprinkle with spice mixture.

Add in the tomatoes, and the vegetable broth.

Cook for 2-3 minutes.

Divide grits equally into 4 bowls, and top with shrimp.
Nutrition Facts
Authentic Southern Shrimp and Grits
Amount Per Serving
Calories 338
Calories from Fat 99
% Daily Value*
Total Fat 11g 17%
Cholesterol 173mg 58%
Sodium 1210mg 50%
Potassium 499mg 14%
Total Carbohydrates 34g 11%
Protein 23g 46%
* Percent Daily Values are based on a 2000 calorie diet.