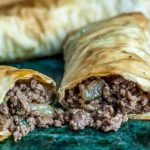 Burek
Burek, or Borek depending on what spelling you use is a dish made with phyllo pastry that is filled with meat or cheese. Burek is thought to have originated in Central Asia; it was then adopted by the Ottoman Turks who took it with them to the various corners of their military empire.
Total Time
1
hour
15
minutes
Servings: Change to adjust->
8
Preheat oven to 350F.

In a small frying pan heat the olive oil and add the onions. Cook on medium heat for about 3-5 minutes until the onions are translucent.

Add the beef and the rest of the ingredients. Cook until the beef is browned.

Remove beef mixture from heat and place in a bowl and chill in the refrigerator. Warm meat with juice will ruin the delicate phyllo.

Take phyllo dough and unroll carefully. Cut in half. Cover with a moist tea towel to avoid drying.

Take 3 sheets of phyllo at a time and place a good amount of meat down the center, leaving about 2" at both top and bottom. Using a pastry brush, brush all around the edges of the dough. Fold in once all around. Fold from the short side up and roll tightly like a cigar. Brush with melted butter and place seam side down on a baking sheet. Bake for about 15 minutes or until the burek are golden brown. Serve with a side of plain yogurt.

Any leftover phyllo can be stored again in the freezer. Make sure you wrap it tightly so it doesn't dry out.
The biggest challenge is keeping the phyllo moist which can be accomplished by keeping it covered with a moist tea towel while assembling.
After cooking the meat be sure to let it cool down completely.  If you place the hot meat mixture on the phyllo dough the juices and ruin it.
Start rolling the phyllo with meat that is fully cooled and you will have a great burek to bake! Good luck!
Nutrition Facts
Burek
Amount Per Serving
Calories 201
Calories from Fat 72
% Daily Value*
Fat 8g12%
Cholesterol 42mg14%
Sodium 491mg21%
Potassium 242mg7%
Carbohydrates 16g5%
Protein 14g28%
Vitamin A 170IU3%
Vitamin C 2.3mg3%
Calcium 13mg1%
Iron 2.3mg13%
* Percent Daily Values are based on a 2000 calorie diet.