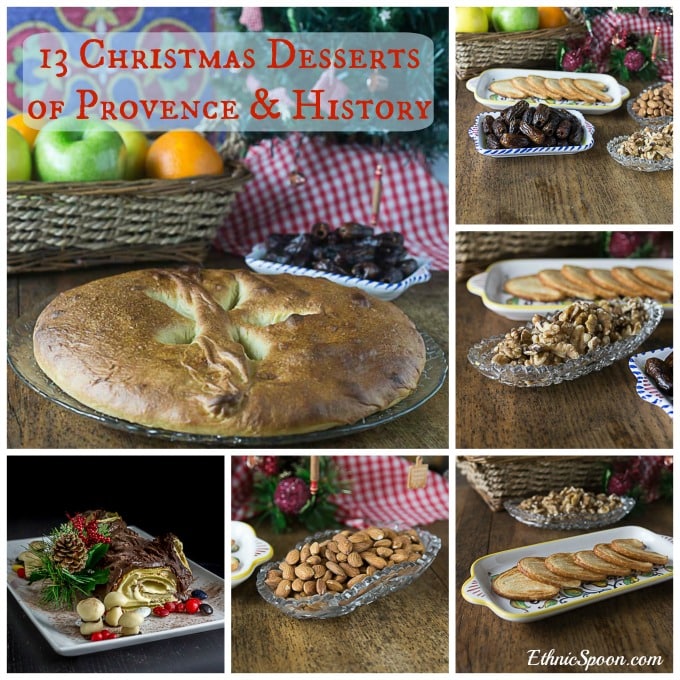 The 13 Desserts is a French Christmas tradition that incorporates a variety of sweets, nuts and other tasty items. Last year I posted my recipe for Buche Noel (Christmas Log), a typical French dessert served all through the Christmas season in France. Following that thread, I am posting not really a recipe, but a tradition throughout France: the thirteen desserts that are served after Midnight Mass, in a culinary feast known as reveillon.
I learned about this beautiful tradition from my French friend Helene when she did a presentation, on Christmas traditions in France, at my son's old elementary school. I was intrigued and amazed at the mention of these thirteen desserts. Not all of them are "desserts" by the way. So, why 13 desserts? Well, there is definitely a religious symbolism here: it alludes to Jesus and his twelve apostles.
If the thought of preparing thirteen desserts sends you into a tizzy, don't fret since many of the items can be purchased at your local supermarket. The tradition of the thirteen desserts is fairly recent, since it only goes back about 100 years or so. For a country as old as France, 100 years represents the blink of an eye.
Before I continue, describing the 13 desserts, I want to share something I recently learned. Around Christmastime, we all see the word Noel written in many places. Until recently, I thought it just meant Christmas and that was it. Well, not so! Linguists believe that the word Noel most likely comes from two sources: one religious, and one secular.
From a secular standpoint, Noel is believed to be a derivative of the Celtic word Noio Hel, literally meaning new sun. Being that Christmas falls right around the time of the winter solstice, this linguistic observation makes perfect sense. The other derivative of the word Noel comes from the Latin Dies Natale which translates into birth of Christ.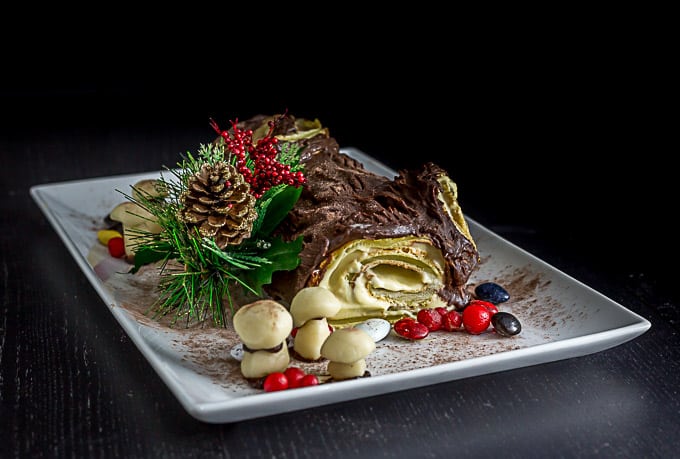 The 13 desserts tradition incorporate nougats (both white and dark), Pompe a l'huile which is a sweet olive oil bread, the traditional yule log (The), candied fruits, fresh fruits, and an assortment of nuts and dried fruits.
So, without further ado, here are the 13 desserts and a brief explanation of their symbolism:
1. Nougat (white)-symbolizes "Good"
2. Nougat (dark)-symbolizes "Evil"
3. Assorted Fresh Fruits-are symbolic of a bountiful harvest
4. Calissons d'Aix- Almond pastries typical of Aix en Provence
5. Pompe a l'huile - a round bread made with olive oil; it is symbolic of the bread eaten at the Last Supper. This bread should be torn and not cut. A cross design is usually incorporated in the center.
6. Buche Noel-Christmas (Yule) Log
7. Various candied fruits or quince jam
8. Dates-Symbolize Christ coming from the East
9. Oreilletes: Fried pastries
10. Mendiants (4) They represent the color of the robes of the 4 religious orders of beggar monks.
walnuts Augustinians
figs Franciscans
almonds Carmelites
raisins Dominicans
After learning about this wonderful tradition, I think I will incorporate it into my family's Christmas feast since I am of French descent.
Merry Christmas to everyone or as the French say Joyeux Noel!