Vaca Frita! Fried Cow? Holy Cow!!
Vaca Frita, a dish made with flank steak, was brought to the United States by the Cuban immigrants. Its rich flavors and funky name has made it a favorite of Americans, especially in Miami and other southern cities that host a large Cuban population.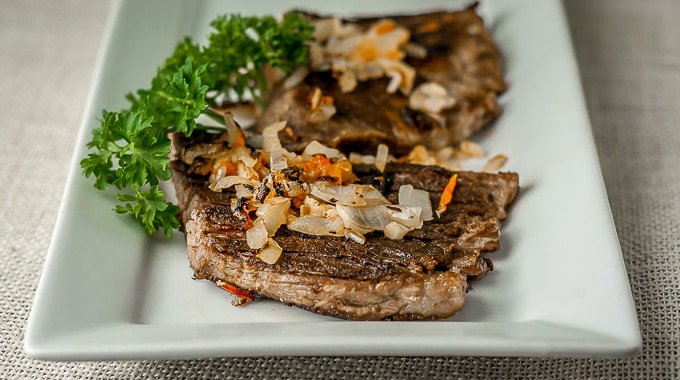 Jump to:
Cuban cuisine
Cuban food has diverse influences, from European to African to Antillean. As with Latin American food, Cuban food is humble, yet incredibly flavorful. Again, the ingredients are basic, easy to obtain and also inexpensive. I will most certainly be including more Cuban recipes in this blog. Stay tuned!
Vaca Frita is a close cousin to Ropa Vieja (check blog), with one basic difference: Ropa Vieja is cooked only once while Vaca Frita is cooked twice: once when the meat is stewed and again when pan-fried, hence its colorful name!
The origins of Vaca Frita are also akin to those of Ropa Vieja, which hails from the Canary Islands (off the western coast of north Africa.) Most likely these beef recipes became popular in the plantations where slaves were given the toughest cut of meat. The ingenuity of these people in turning a not so palatable cut of meat into something flavorful and tender is nothing short of amazing.
My first Cuban meal
My first brush with Cuban food was many years ago. While I was growing up my family owned a condo in Miami for business reasons. I would often tag along on these business trips. Even at an early age, and with an undeveloped palate, I found Cuban food to be exploding with flavor. Vaca frita became an instant favorite of mine. My family has since sold the condo, but my husband and I travel to Florida on occasion, and one of my first items on the agenda, is to eat Vaca Frita, accompanied of course by black beans and rice!!
I think you will find Vaca Frita to be a nice addition to your family mealtime. If you are not fond of rice and beans, french fries or mashed potatoes are a great alternative side dish.
If you love Latin food then you have to try some of my all time favorite dishes or bookmark them for later. Here are some of the most popular ethnic dishes, their history and ingredients to make at home.
Mexican Pork Carnitas: Make this in the slow cooker and then broil for crispy goodness.
Cuban Ropa Vieja: A true comfort food of slow cooked beef served over rice.
Recaito: This is the ingredient used in many Latin soups, stews and black beans.
Sofrito: You need to have this base ingredient for Latin style beans and shredded chicken.
Tilapia Ceviche: A citrus cured fish or shrimp appetizer with some kick.
Looking for more recipes?
Sign up for my free recipe newsletter to get new recipes in your inbox each week! You can also find me sharing more inspiration in Pinterest and Facebook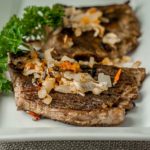 Cuban Vaca Frita Recipe Card
Cuban vaca frita is a classic dish and you will love the crispy bits of beef that is pan seared to finish the flavorful beef dish. This is season, slow cooked and tenderized with all the aromatic flavors and then seared. This is truly one amazing Latin American dish!
Cook Time
1
hour
45
minutes
Servings: Change to adjust->
5
servings
Ingredients
2

lbs

flank steak

6-8

springs

cilantro

tied with kitchen twine

1

tsp

peppercorns

3-4

garlic cloves

minced

2

Tbsp

extra virgin olive oil

1

cup

onion

thinly sliced

1

lime

cut into wedges
Instructions
Season flank steak with all the seasonings and allow to rest for about 1 hour.

In a large skillet saute the onions and garlic until translucent. Add the seasoned flank steak and brown lightly on both sides (about 2 minutes per side.) Add enough water to cover the meat.. Add bay leaves, cilantro sprigs and peppercorns.

Simmer on low heat until tender (about 1.5 hours)

Remove the meat from the liquid, place on a cutting board covered and allow to cool for about 20 minutes.

Slice across the grain into several pieces (about 6). Pound each piece of steak with a meat mallet until it is about half the original thickness.

Strain the liquid, and add the solids back in the pan with a little olive oil. Fry the steak pieces until slightly brown on both sides. Squeeze lime over meat. Rice and black beans are a great sides.
Nutrition Facts
Cuban Vaca Frita Recipe Card
Amount Per Serving
Calories 324
Calories from Fat 126
% Daily Value*
Fat 14g22%
Cholesterol 108mg36%
Sodium 565mg25%
Potassium 712mg20%
Carbohydrates 6g2%
Protein 39g78%
Vitamin A 90IU2%
Vitamin C 7.2mg9%
Calcium 68mg7%
Iron 3.6mg20%
* Percent Daily Values are based on a 2000 calorie diet.