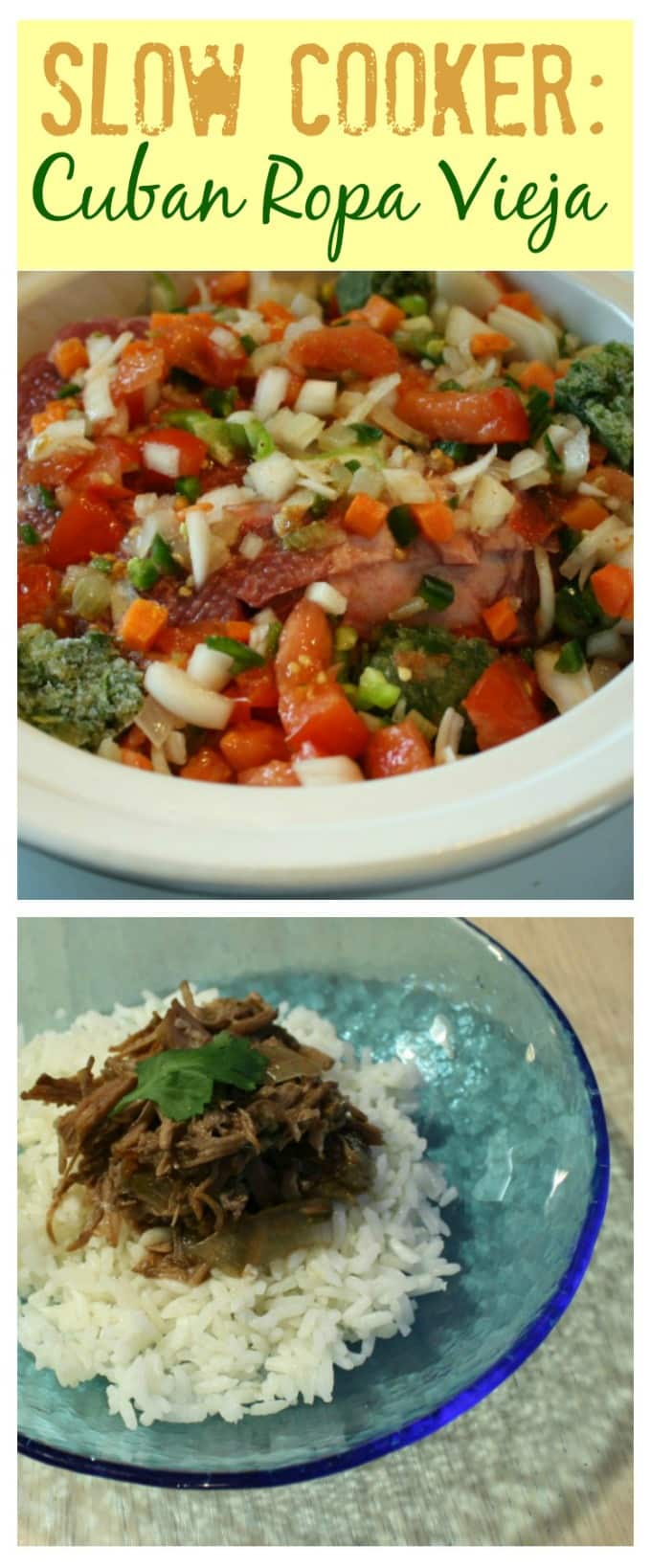 Ropa  vieja, literally translated into old clothes, is a traditional recipe for a tomato-based Cuban dish of Spanish origin , namely the Canary Islands (located just off the northwestern coast of mainland Africa) –a first stop for Spanish galleons going to the Americas and the last stop on the return trip.  This seaport then became a natural vehicle through which the Spanish culture was transmitted to the New World and vice versa. The original dish was prepared in much the same way, but with other vegetables added to it.
Ropa vieja consists of a cut of meat( flank is the choice, but lesser cuts are adequate also) that has been beautifully seasoned  with cumin, paprika , cilantro, oregano and mild peppers among other things and cooked for about 6-8 hours, in a tomato based sauce, on low in a crockpot or stovetop. Now, I don't consider myself a crockpot kind of chick, but this dish lends itself perfectly to this form of cooking.  What I find most amazing about Ropa Vieja is that one can use an inexpensive cut of meat can and it can turn out so tender and juicy that it just falls apart.  Yum!
Like most Caribbean/Latin American food, ropa vieja is a humble, simple dish that is not only flavorful but also very nutritious. Ropa  vieja is traditionally eaten with yellow rice,  black beans and tostones, of course . You can however improvise and make tacos, tostadas or even a sandwich!  Ropa vieja freezes well, so feel free to make a large batch and store the remainder (if there is any left) in your freezer for about 3-4 weeks.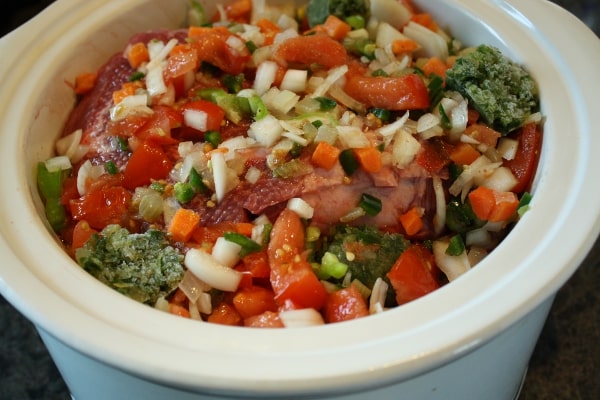 I had some frozen homemade recaito ready to go that I added to the crock-pot.  See the green frosty cubes in the photo?  The sofrito, I just tossed in as  it was slow cooking.  I usually have sofrito ready-to-go frozen into cubes also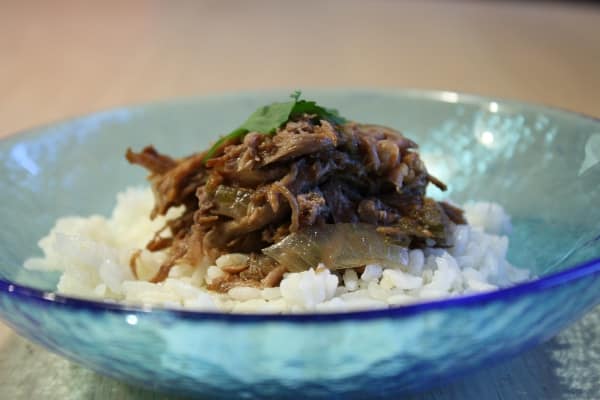 Ropa Vieja Recipe
Authentic Cuban ropa vieja literally translated it means "old clothes" due to its shredded appearance. This rather unappetizing moniker conjures up images of someone's old T-shirt or distressed jeans laying on a plate. Let me tell you, this dish is nothing short of delicious. The blend of spices and the way the meat falls apart will make your mouth water as it cooks and fills your entire house with a delicious aroma. Although the meat will cook down considerably, you will still end up with a fair amount of meat. This is a great slow cooker recipe.
Total Time
6
hours
30
minutes
Ingredients
Instructions
Season the meat with the spices coating it on both sides. Place all vegetables and the water in the crock-pot.

Place the meat on top and turn a few times. Cover and let it cook for about 6 hours.

Every hour or so, flip the meat, so it cooks evenly on both sides.

Also make sure to poke meat with a fork to check for tenderness.

When the meat falls apart and it is fork tender, it is done. Serve with rice and a side of tostones. Enjoy!!!
Nutrition Facts
Ropa Vieja Recipe
Amount Per Serving
Calories 588
Calories from Fat 405
% Daily Value*
Total Fat 45g 69%
Cholesterol 161mg 54%
Sodium 450mg 19%
Potassium 679mg 19%
Total Carbohydrates 2g 1%
Protein 39g 78%
* Percent Daily Values are based on a 2000 calorie diet.