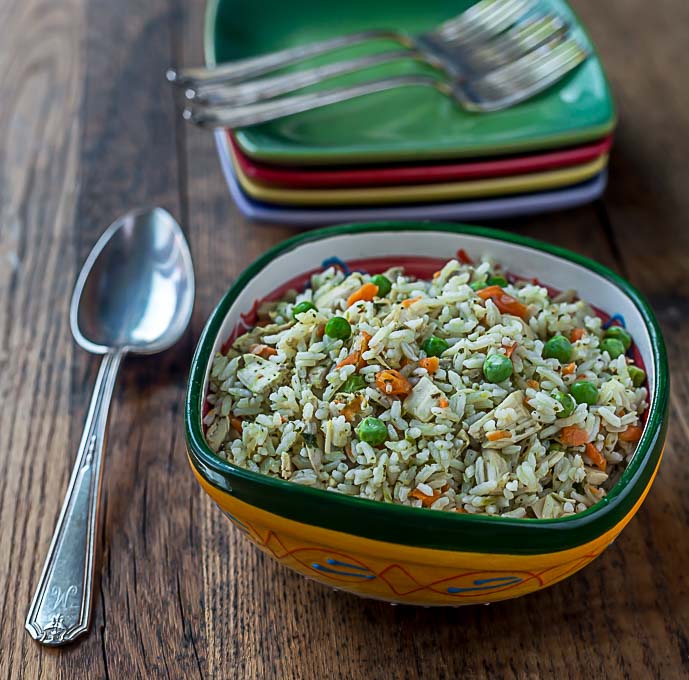 Jump to:
Leftover Turkey Recipes
A delicious, Latin style leftover turkey recipe. Meet arroz con pavo! Turkey day coma is now over, and it is now your fridge that is stuffed with enough leftover turkey to feed another family. What to do? Face it, there are only so many ways to relive Thanksgiving dinner that don't involve a microwave.
So how about something completely different with the leftover turkey? How about giving your turkey leftovers a little Latin twist and make fried rice? Arroz con Pavo (rice with turkey) is the answer! Basically this is a take on the old Latin American favorite: Arroz con Pollo.
Getting the Flavor Right
Arroz con pavo uses the same seasoning as arroz con pollo. The result? Delicate flavors that will give your taste buds a new reason to embrace leftover turkey.
There is no disputing that turkeys came to Europe after the return of the Spanish and other European explorers. Some manorial account books place the turkey in Europe at a banquet given by Phillip II of Burgundy on November 12, 1385. Other accounts place it in France at the wedding of Charles IX in 1570.
Why Call It Turkey?
Why the name "turkey", why not Spain? or China? To complicate matters more dinde in France? The latter might be easier to explain. In French, dinde is a contraction for the phrase poulet d'Inde (chicken from India). The name can certainly be related to the early explorers' belief that they had reached India, when in reality they had landed in the Americas.
In France, turkeys were a very important part of the royal menagerie. So important were they, that there was an individual assigned expressly to their care; his title: Captain of the Royal Turkeys. I hope he had no self esteem issues.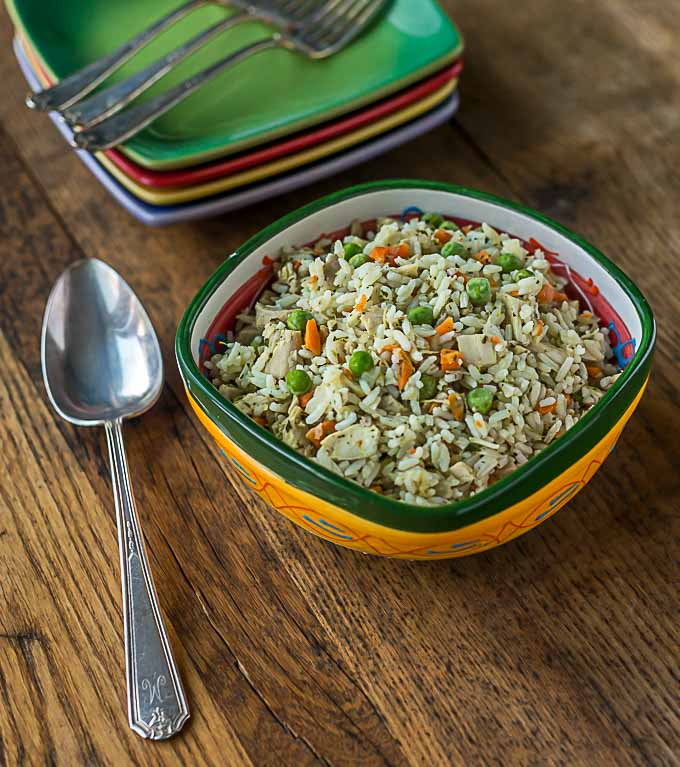 Other Latin Recipes to Try
Its a great and different way to use leftover turkey. For arroz con pavo I use the same recaito and sofrito that I use for arroz con pollo. I really think that arroz con pavo will give you a new reason to love turkey. If you are hosting, you just might want to hoard all that turkey meat this year. As a guest, you might want to beg for a doggie bag.
If you love the flavors of Latin American food here are some easy dishes to make at home. Bookmark these for later or pin them on Pinterest.
You can use a slow cooker for these authentic Mexican pork carnitas and then broil for crispy goodness in the oven.
Latin Style Black Beans: If you have never tried these you are missing out and they are so easy!
Cuban Ropa Vieja: A true comfort food of slow cooked beef served over rice.
Two key ingredients that I make and then freeze into cubes to have ready at all times are sofrito and recaito. Both of these are used in the recipe above.
Recaito: This is the ingredient used in many Latin soups, stews and black beans.
Sofrito: You need to have this base ingredient for Latin style beans and shredded chicken.
Looking for more recipes?
Sign up for my free recipe newsletter to get new recipes in your inbox each week! You can also find me sharing more inspiration in Pinterest and Facebook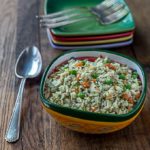 Latin Style Leftover Thanksgiving Turkey: Arroz con Pavo
Here is a great recipe to use up that leftover holiday turkey. This is a variation of the Latin favorite arroz con pollo and in this case arroz con pavo. This is very easy to make and you will love the flavors.
Servings: Change to adjust->
8
servings
Ingredients
For the turkey
1

cup

turkey

diced

1

Tbsp

olive oil

2

carrots

shredded

1

onion

small, diced

1

garlic clove

minced

2

Tbsp

recaito

2

Tbsp

sofrito

¼

cup

peas

½

tsp

salt

¼

tsp

pepper

¼

tsp

oregano

¼

tsp

garlic powder
Instructions
To prepare the rice: In a sauce pan on medium heat place ¾ Tbsp. of olive oil and rice and stir. Add the water and salt. Bring to a boil. Turn heat down to medium, cover. Cook for about 20 minutes. Remove cover and fluff. Leave uncovered until ready to use.

While the rice is cooking: In a small dish, mix together salt, pepper, oregano and garlic powder. Sprinkle over chicken. Allow chicken to absorb the seasonings for about 1 hour. In a skillet on medium heat saute the chicken until brown on both sides. Cover and cook for about 10 minutes on low. Remove chicken from skillet and using a sharp knife dice on a cutting board.

Wipe skillet clean and place 1 Tbsp. olive oil, diced shredded carrots, recaito and onion. Cook until onions are translucent. Add the chicken and toss until well blended.

Add the rice and blend thoroughly. Add the peas right before serving.
Nutrition Facts
Latin Style Leftover Thanksgiving Turkey: Arroz con Pavo
Amount Per Serving
Calories 149
Calories from Fat 36
% Daily Value*
Fat 4g6%
Cholesterol 8mg3%
Sodium 525mg23%
Potassium 187mg5%
Carbohydrates 22g7%
Protein 5g10%
Vitamin A 2610IU52%
Vitamin C 7.7mg9%
Calcium 19mg2%
Iron 0.6mg3%
* Percent Daily Values are based on a 2000 calorie diet.