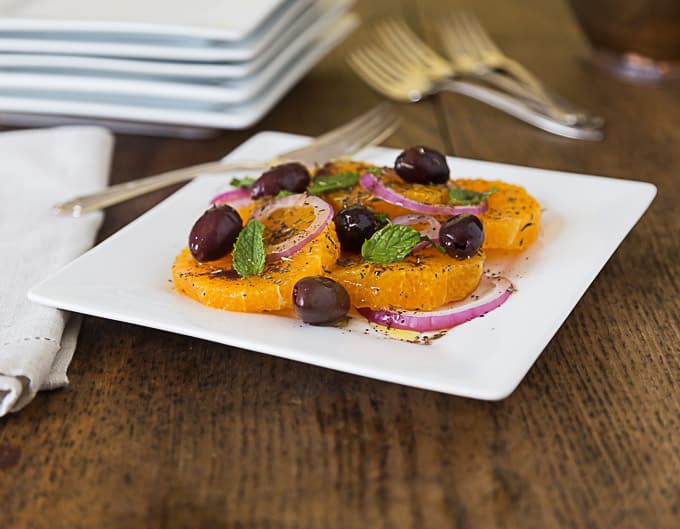 Jump to:
Summer Salad
Orange and onion salad is what you've been waiting for. This Turkish orange and onion salad is a great addition to any summer menu. It's light, refreshing, and a nice deviation from the usual greens. Bonus, no heavy or processed dressings. The simple dressing of olive oil, and herbs doesn't overshadow the sweetness of the oranges. I love this salad!
Dish Origins
Portakal Salatsi aka Orange Salad is the Turkish name for this dish. Portakal is derived from Portugal. What's the connection? Well, at one point in time the best oranges came from Portugal. Oranges were famous. So famous that Arabs changed the name from naranj to porteghal. Interestingly enough, the word for orange in Spanish is naranja. This word comes from an old Sanskrit term naga ranga. Similar words are fascinating! By the way... my Puerto Rican friend told me oranges are called chinas in Puerto Rico.
Orange History
Oranges likely originated in Malaysia (SE Asia). They made their way to China around 2200 B.C. The emperor often received oranges. People admired oranges for their medicinal properties and the aromatic value of their essential oils.
Eventually, oranges made it to Europe via the Silk Road traders. By the end of the second century A.D. they featured at the lavish banquets of the Roman aristocracy. Christopher Columbus brought oranges to the New World. He planted the first orange tree in the Americas. The first American plantation of oranges was in St. Augustine, Florida. Later, during the gold rush in California, certain unscrupulous doctors made a hefty profit by selling orange juice to scurvy afflicted prospectors. The dose? A spoonful!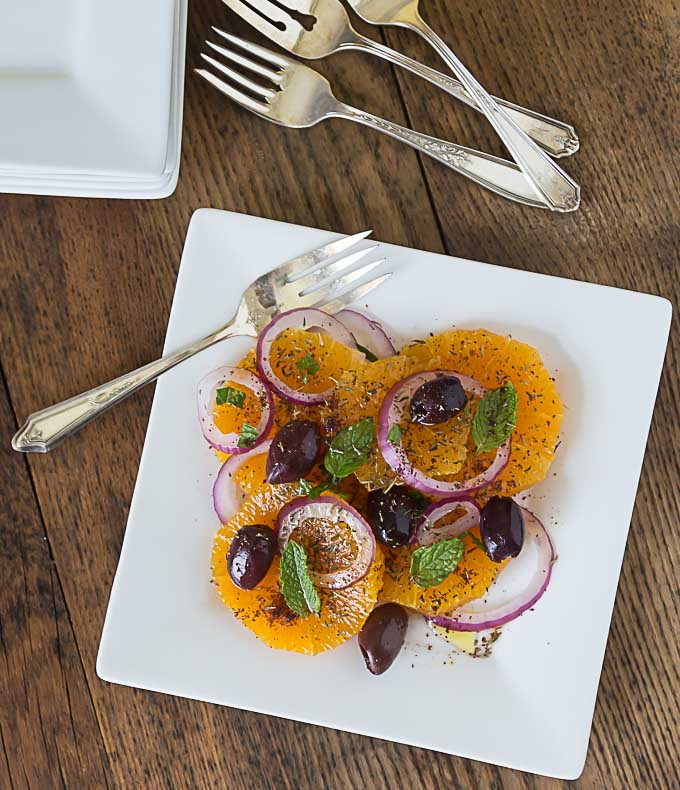 Needless to say, this orange salad goes perfect with grilled kebabs or any other grilled meat for that matter. Take it to your next picnic, and your friends will love you for bringing Turkish food. Or, enjoy it as a quick side to a weeknight meal. It's a great and delicious way to get your vitamin C.
Now, orange you glad I posted this recipe? Sorry, I could not resist!
This recipe was adapted from the book "The Complete Book of Turkish Cooking" by Ghillie Basan
Looking for more recipes?
Sign up for my free recipe newsletter to get new recipes in your inbox each week! You can also find me sharing more inspiration in Pinterest and Facebook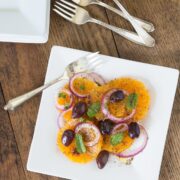 Turkish Orange and Onion Salad Recipe
Turkish or Portakal Salatsi orange and onion salad goes perfect with grilled kebabs or any other grilled meat for that matter. Take it to your next picnic, and your friends will love you. This has a nice contrast of flavors of sweet and savory.
Servings: Change to adjust->
6
servings
Ingredients
3

oranges

cut into slices ( sweet naval oranges work nicely)

1

red onion

sliced thin

½

tsp

Kosher salt
Instructions
Peel the oranges and remove the surrounding pith.

Slice oranges to a thickness of ¼" and place on a large serving platter.

Slice onion thinly. Place in a container and sprinkle with salt. Allow them to sit for about 10 minutes.

Place onions on top of the sliced oranges. Scatter the olives on top.

To prepare the dressing: In a small bowl whisk together olive oil,thyme, and oregano

Drizzle over oranges.

Serve with a sprinkling of sumac, and mint garnish.
Nutrition Facts
Turkish Orange and Onion Salad Recipe
Amount Per Serving
Calories 108
Calories from Fat 63
% Daily Value*
Fat 7g11%
Sodium 277mg12%
Potassium 145mg4%
Carbohydrates 9g3%
Vitamin A 210IU4%
Vitamin C 36.5mg44%
Calcium 36mg4%
Iron 0.2mg1%
* Percent Daily Values are based on a 2000 calorie diet.