Aunt Lou's Chocolate Drop Cookies are on the list today! This one was a challenge as well as an exercise in guesswork. Well, for starters, there were no instructions, just a list of ingredients like I find with many old-fashioned recipes. Another element of guesswork: a nondescript measurement and ingredient-"½ s. milk".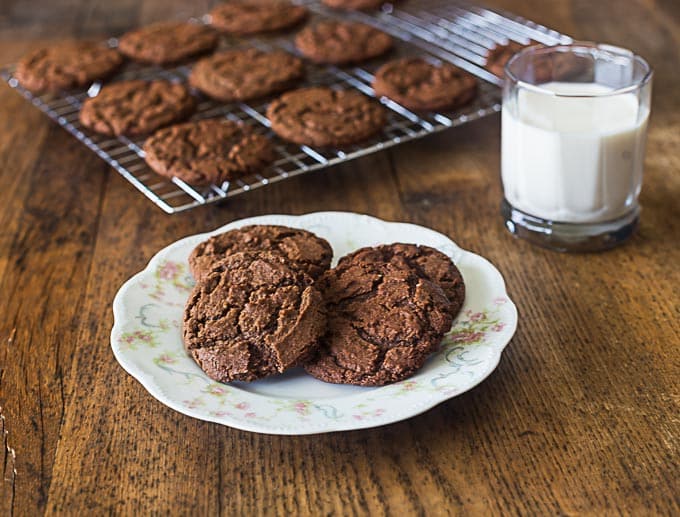 Jump to:
Now, what does this mystery "s" stand for? Your guess is as good as ours. Is it spoonful, scoop? We enlisted the help of my mother in law. She could not figure it out either. In the end we did what anyone would do in this situation. We interpreted! Alright we guessed!!! What else can you do when you are working with a 100 year old recipe?
Our own instructions
Since there were no instructions, we basically followed the unwritten rule of baking: mix the dry ingredients first and then integrate them into the wet ingredients. It works. Although this chocolate cookie recipe has a lot of sugar, the sweetness is balanced by the use of unsweetened chocolate. The texture of this chocolate cookie makes it ideal for dunking in milk or tea. They are especially good crumbled over vanilla ice cream. Yum!
My husband took almost the entire batch to his office the next day. I was able to salvage a few by hiding them in a Ziploc bag in a drawer. Oh my, the things one has to go through to salvage cookies!!!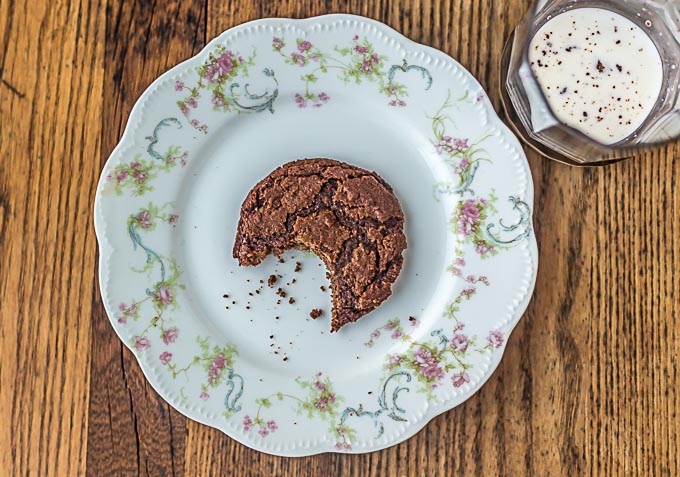 So, back to the mystery measurement and ingredient " ½ s. milk". We ended up by turning it into ½ tablespoon sour milk. In those days, this would have been akin to buttermilk. Guess what? It worked! Whether Aunt Lou intended it or not we will never know, but it worked. Aunt Lou's Chocolate Drop Cookies always make for interesting commentary. It's always fun to try to figure out a mystery ingredient, measurement or the actual procedure for that matter. Although it can be puzzling at times, it is nice to be able to share with everyone old family recipes.
Ingredients for Chocolate Drop Cookies
Brown sugar - I like to use the light version.
Granulated sugar - The standard cane sugar will work just fine here.
Butter - I ALWAY prefer to bake with a European style butter, try Kerry Gold butter. Less water, higher fat content = better bake! You will love the buttery goodness this brings to your cookies.
Flour - All-purpose is the one to use for this recipe.
Unsweetened chocolate - If you want to elevate your cookies, use better chocolate! I like to use Guittard 74% bittersweet chocolate wafers.
Vanilla - Use a high quality vanilla extract like Nielsen-Massey vanilla for the best flavor.
Love old-fashioned recipes? Try my Old-Fashioned Chocolate Cake and Feather Cake. These gems came right from the family vault.
Step by step photos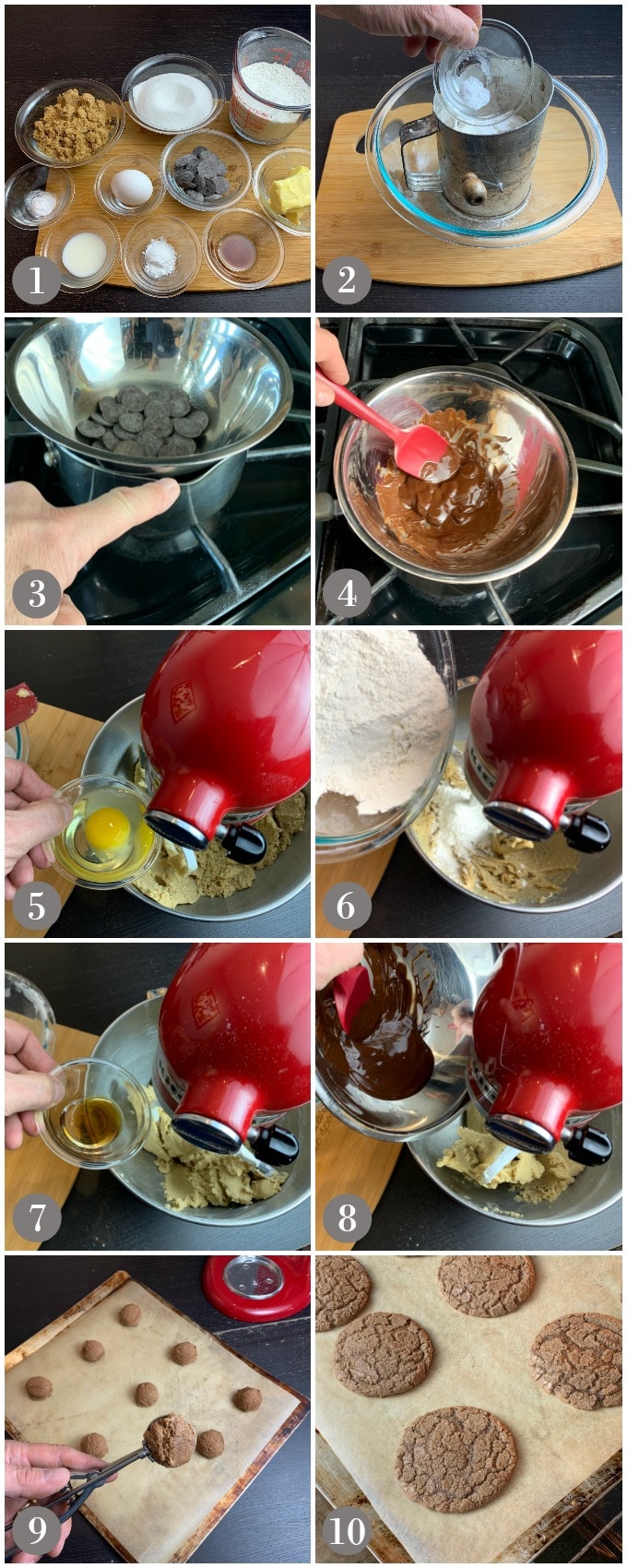 Gather all your ingredients and have them measured and ready to go. I love to use glass prep-bowls to setup the ingredients. Be sure your butter and egg are at room temperature before starting.
Preheat your oven to 350°F. Sift and combine the flour, baking soda and baking powder.
Melt your chocolate in a double boiler. Tip: If you don't have a double boiler use a sauce pan with a fluted side to let the steam escape and place a metal or glass bowl on top.
Stir to melt all the chocolate and once it has liquified turn off the heat. Tip: You can leave it over the pan on the stove to keep it warm until you are ready to add it to the dough.
Cream together the butter and sugar until the mixture is smooth using the beater blade of your stand mixer. Add the egg once the butter and sugar are smooth on medium speed.
Gradually add the flour mixture on slow speed about ⅓ at a time. You may have to stop and scrape down the side of the mixing bowl as you go.
Once the flour is well combined add the buttermilk and vanilla.
Add the melted chocolate to the dough and mix until the color looks even throughout the dough. You may have to stop and scrape the bowl around the sides and bottom to get it all mixed in.
Scoop out balls of dough with a 1 and ½ inch cookie scooper and place on parchment paper about 3" apart.
Bake for about 12 minutes and the cookies will flatten out nicely.

Frequently Asked Questions

How long can I freeze these chocolate drop cookies? You can freeze them in an airtight container with freezer paper between layers of cookies. Be sure they are completely cooled before storing. They will store nicely for up to 6 months. This is a great cookie to make in advance for Christmas.
Do I have to refrigerate the chocolate cookies? No, you do not. You can store these in an airtight container at room temperature for about a week.
Can I store the cookie dough? Yes, wrap the dough tightly and you can store it in the refrigerator for 3-5 days. You can then remove the dough, scoop and bake. You may need to add a minute or two to the bake time if baking from a refrigerated temperature.
Can I freeze the dough? Yes, you will need to scoop the dough and place on a baking sheet in the freezer. Once firm you can place the cookies balls in a freezer bag for up to three months and bake any time. Add 2-3 minutes to the bake time if baking from a frozen state. For more information on freezing and baking check Bake or Break's guide to freezing various cookie dough.

Here are more favorite desserts to make and take!

If you want to try an absolutely fabulous dessert that is easy to make and looks stunning, then you have to make this French patisserie fruit tart. This has a super simple crunchy short crust pastry filled with a vanilla cream and topped with fresh fruit. I am a lover of all things lemon and I often recruit my husband and baker to make this perfect lemon tart for me on my birthday. I will skip the birthday cake every time for this tangy and sweet treat! Here is a very simple cake to bake from Jamaica called toto that has a nice tropical coconut flavor and is so easy to make too!

Leave me a comment and let me know if you try any of these dishes, I would love to hear from you!

Looking for more recipes?
Sign up for my free recipe newsletter to get new recipes in your inbox each week! You can also find me sharing more inspiration in Pinterest and Facebook.

Aunt Lou's Chocolate Drop Cookies Recipe Card

Here is an 100+ year old family recipe for chocolate drop cookies. This is a very easy cookie to make with great chocolate flavor. Cream the butter and sugar together, add the flour mixture, vanilla and melted chocolate and drop spoonfuls on a cookie sheet. So good!

Print Pin Rate

Instructions

Allow the butter and the egg to come to room temperature. Sift and combine flour, baking soda and baking powder in a bowl.

In a double boiler melt the chocolate and keep warm until ready to use.*

Cream butter and sugars together in a stand mixer. Once combined add the egg.

Gradually add the flour mixture into the sugar mixture until well blended.

Add the vanilla, butter milk and the melted chocolate and mix until thoroughly combined.

Using a 1 ½ inch cookie scoop, scoop out balls onto parchment paper spaced about 3" apart. Bake for about 12 minutes.

Notes

*You can melt chocolate in the microwave, however, I find that it can be temperamental when done this way.

Frequently Asked Questions:

How long can I freeze these chocolate drop cookies? You can freeze them in an airtight container with freezer paper between layers of cookies. Be sure they are completely cooled before storing. They will store nicely for up to 6 months. This is a great cookie to make in advance for Christmas.
Do I have to refrigerate the cookies? No, you do not. You can store these in an airtight container at room temperature for about a week.
Can I store the cookie dough? Yes, wrap the dough tightly and you can store it in the refrigerator for 3-5 days. You can then remove the dough, scoop and bake. You may need to add a minute or two to the bake time if baking from a refrigerated temperature.
Can I freeze the dough? Yes, you will need to scoop the dough and place on a baking sheet in the freezer. Once firm you can place the cookies balls in a freezer bag for up to three months and bake any time. Add 2-3 minutes to the bake time if baking from a frozen state. For more information on freezing and baking check Bake or Break's guide to freezing various cookie dough.

Nutrition

Calories:

115

kcal

|

Carbohydrates:

24

g

|

Protein:

1

g

|

Fat:

1

g

|

Cholesterol:

6

mg

|

Sodium:

19

mg

|

Potassium:

83

mg

|

Sugar:

17

g

|

Vitamin A:

10

IU

|

Calcium:

22

mg

|

Iron:

1

mg