Korean barbecue pork chops have a sweet and spicy taste that will make your taste buds burst into song. They go with just about anything: picnic favorites, jasmine rice, delicious salad greens, you name it!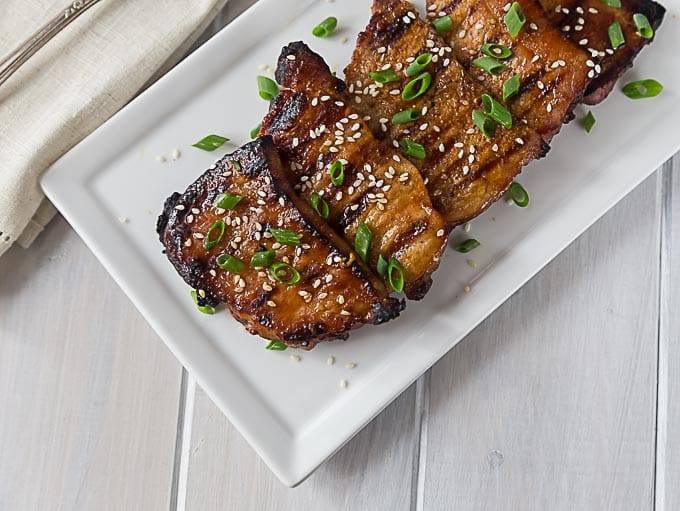 Jump to:
I've been reading up on food trends lately, and have found that Korean barbecue ranks very high. More Korean barbecue spots have been popping up in the U.S. because of how fun and unique the experience is. You pay a flat fee for your meal, anywhere from $20-$40, and you order all kinds of meats and vegetables. When you sit at the table, there's typically a grill in the middle on which you cook your food. There's usually a sauce and sides bar, where you can curate your own sauce combinations and pick up some pickled vegetables or kimchi to eat on the side. And of course, it's all eaten with a serving of fluffy white rice. It's an engaging way to go out to eat, and is definitely fun. Go and try it if you live close to a Korean BBQ spot!
The seasonings featured at Korean BBQ spots sound mouthwatering, so for this occasion I decided to create a recipe with a Korean twist. I love all the different ways in which you can make pork. This recipe for Korean barbecue pork chops is great for a quick weeknight meal.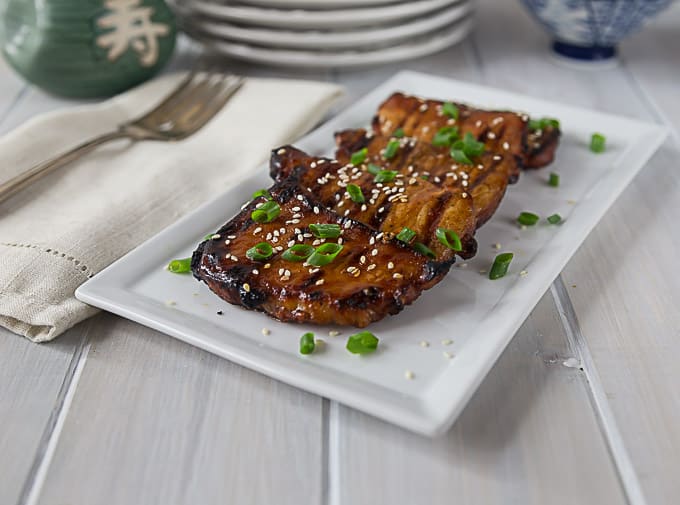 According to what I've been reading, Koreans love their pork. Many of Korea's culinary traditions comes from China, since for centuries China heavily influenced the culture of East Asia. The domestication of pigs for example came first from China and spilled over into Korea.
What is gochujang?
A key ingredient in Korean cuisine is gochujang. It's a savory paste made from red chilies, glutinous rice, soy sauce, and fermented soy beans. It is thought to have been used first in 18th century Korea, after trade with China, Europe and Japan introduced chili peppers to the area. Gochujang is a staple in the Korean diet; it is usually mixed with another ingredient because its taste is too strong. It adds a little bit of sweet heat to whatever you put it on. There are so many ways to use it too: put some in your marinade, mix it in with your rice or udon noodles, or simply spread some on the side for your meat and vegetable dinner. Gochujang is also very shelf stable. It lasts for a really long time in the refrigerator. So after you open it, be sure to put it in the fridge.
Easy to prepare, juicy and delicious. If you love your pork medium rare, you should cook it to an internal temperature of 145'F, followed by a three minute rest. If you like your chops a little more done, you can cook them to an internal temperature of 160'F.
Korean style BBQ sauce and marinade step by step: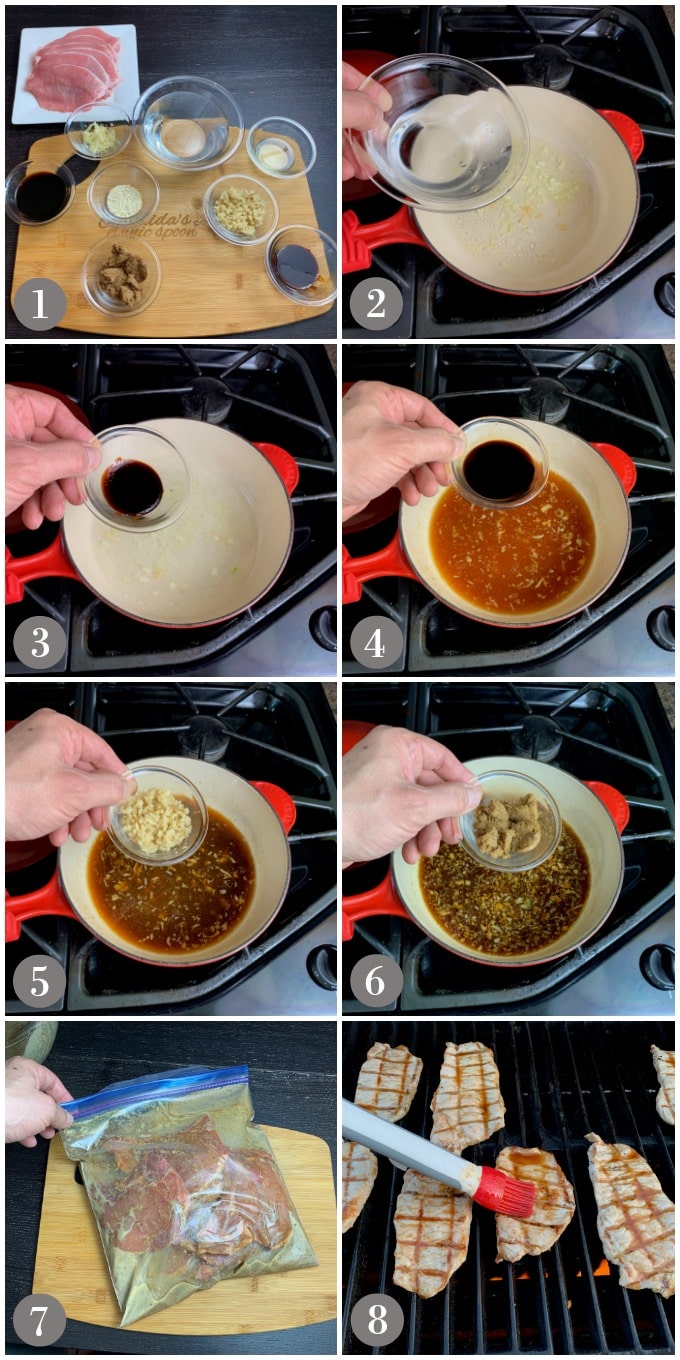 Gather all your ingredients and have them chopped, measured and ready to go.
In a sauce pan (I love my Le Creuset Saucier for this.) on medium heat add the oil then the garlic. Stir fry the garlic until is just start to turn slightly brown. Add the water slowly.
Add the gochujang and stir well.
Add the soy sauce.
Add the ginger.
Add the brown sugar then bring to a boil. After it boils turn down the heat to low and simmer for about 20 minutes. Remove from the heat and allow to cool in a small pitcher for 15 minutes.
Place the pork chops in a zip top bag and pour in the BBQ sauce and reserve ¼ cup for basting. Purge the air and seal the bag. Place in the refrigerator for 2 hours.
Grill on high and baste with the sauce. Continue grilling until the internal temp hits 145° F or for more done 160° F. Sprinkle with sesame seed and green onion. Enjoy!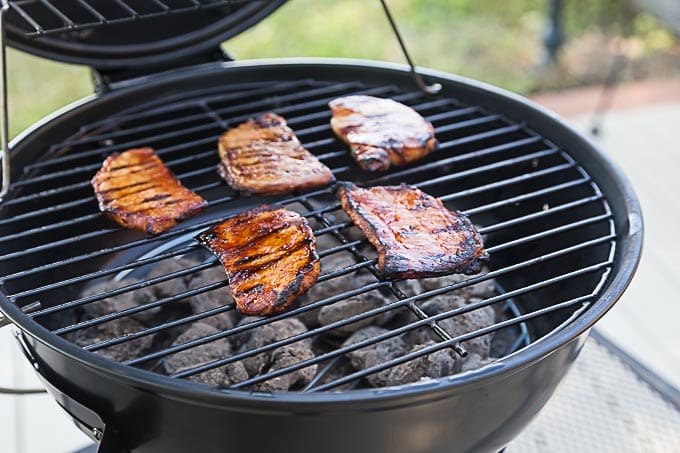 Korean barbecue pork chops are a great way to serve an old picnic favorite. They can be grilled in less than 30 minutes, a definite plus for busy weeknight meals. It also comes in handy for when I am hosting. The pressure of coming up with a new dish to make, especially when I am hosting. The expectations of guests who know I have a food blog, and have spent the day speculating: "What will she make?" Now that I've come up with this tasty recipe so I feel no pressure. I am ready for my next picnic. When my friends text me and ask: "What are you making?" I will confidently say: "Korean barbecue pork chops!"
Looking for more recipes?
Sign up for my free recipe newsletter to get new recipes in your inbox each week! You can also find me sharing more inspiration in Pinterest and Facebook.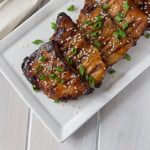 Korean Barbecue Pork Chops Recipe Card
A perfect meal on the grill for those busy nights. Perfect blend of flavors come from gochujang, ginger, and soy. You will love these.
Total Time
2
hours
30
minutes
Servings: Change to adjust->
4
Ingredients
1

lb

Pork Chops

boneless

2

garlic cloves

minced

1

Tbsp

vegetable oil

1

cup

water

2

tsp

gochujang

2

Tbsp

soy sauce

2

tsp

ginger

fresh, minced

4

tsp

brown sugar

½

tsp

sesame seeds

for sprinkling
Instructions
In a small saucepan on medium heat oil and stir fry the garlic until it begins to turn color.

Add water, and slowly mix in the gochujang until well blended.

Stir in the soy sauce, ginger, and brown sugar.

Bring to a boil. Turn down heat to low, and cook for about 20 minutes. The sauce should change to a deep color. it will not be thick like a traditional barbecue sauce. Remove from heat. Let cool for 15 minutes

Place the pork chops in a zip top bag and pour the sauce. Reserve ¼ cup for basting on the grill. Purge the air and seal the bag. Place in the refrigerator for 2 hours to marinate.

Preheat grill to medium. Spray with non-stick oil spray to avoid chops from sticking.

Place individual pork chops on the grill and baste with sauce. Cook for about 3 minutes on each side. If the chops are kind of thin, so make sure you don't overcook them.  Cook until the internal temperature reaches 145°F or for more done 160°F.

Place pork chops on a plate, cover and let rest for about 5 minutes. Sprinkle with sesame seeds.
Nutrition Facts
Korean Barbecue Pork Chops Recipe Card
Amount Per Serving
Calories 233
Calories from Fat 99
% Daily Value*
Fat 11g17%
Cholesterol 76mg25%
Sodium 1266mg55%
Potassium 451mg13%
Carbohydrates 6g2%
Protein 26g52%
Vitamin C 0.9mg1%
Calcium 13mg1%
Iron 0.8mg4%
* Percent Daily Values are based on a 2000 calorie diet.