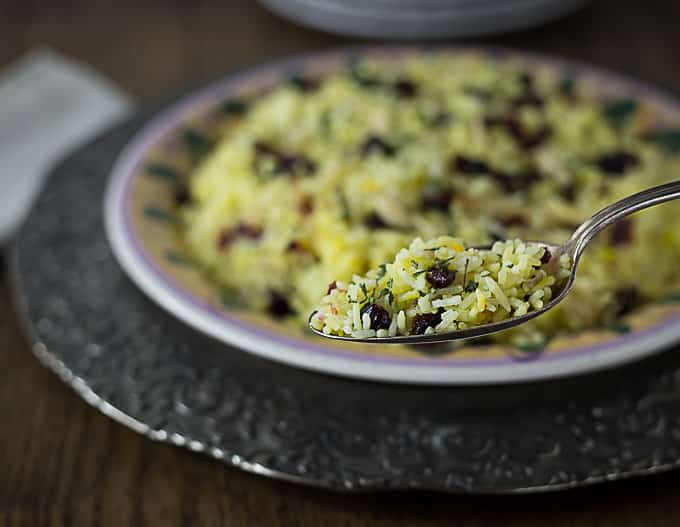 Jump to:
Let's face it, dried cranberries are just plain delicious
Aaaaand healthy too because just ¼ cup equals ½ cup serving of fruit. It goes without saying that they also add great taste and texture to ANY recipe. So, what about those textures? Well, if you're anything like me, you'll love the texture varieties in this dish. Soft dried cranberries, crunchy almonds. My taste buds are thinking: saffron with rice, YEAH! And finally, the visual contrast: yellow saffron rice, and deep red dried cranberries with sprinklings of toasted slivered almonds. So pretty!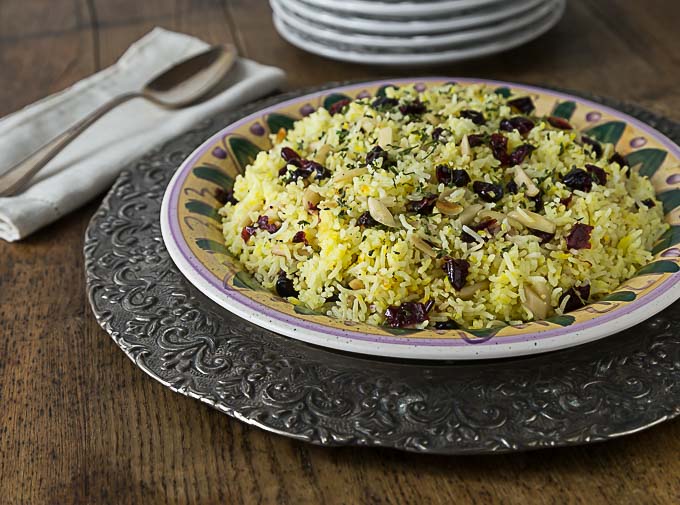 By the way, today's saffron recipe with dried cranberries and almonds is a take on a Persian rice dish (Albalou Polow) that is made with sour cherries. So, I decided to improvise and use dried cranberries instead. Why not? Cooking is about experimenting and mixing things up a bit, right? Also, I used basmati rice because it is very aromatic and furthermore it is the traditional rice used in Albalou Polow.
What does saffron taste like?
Saffron by nature is subtle. Other than the brilliant yellow color, the flavor is lightly sweet and aromatic. If you're making dishes that specifically call for it like paella or bouillabaisse, it's a must.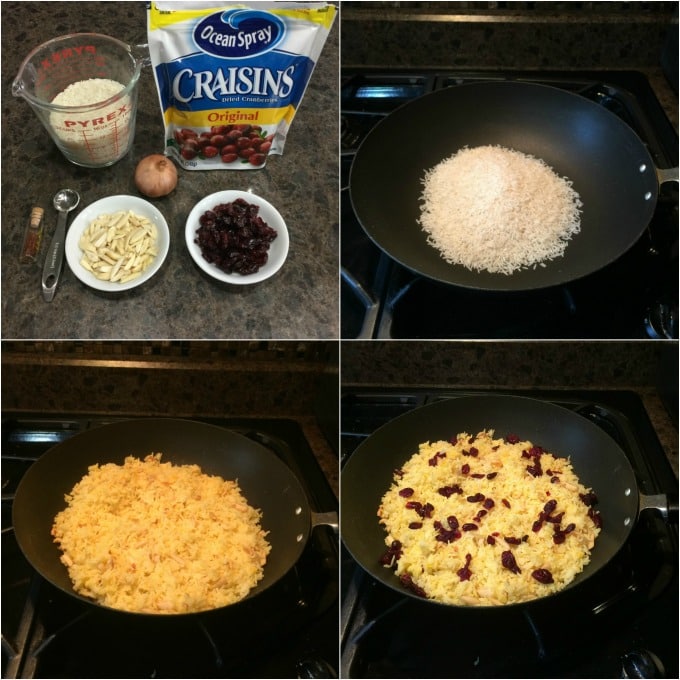 Next, making saffron rice with dried cranberries and almonds is so easy because you only need a few ingredients. First, begin by placing the rice in the pot, add water, salt, saffron, and oil. Stir. Bring to a boil. turn down the heat and cook for about 15-20 minutes. While the rice is cooking you need to saute the shallots, and almonds, and then add them to the cooked rice. Finally, toss to mix, and then add the dried cranberries. That's it!!!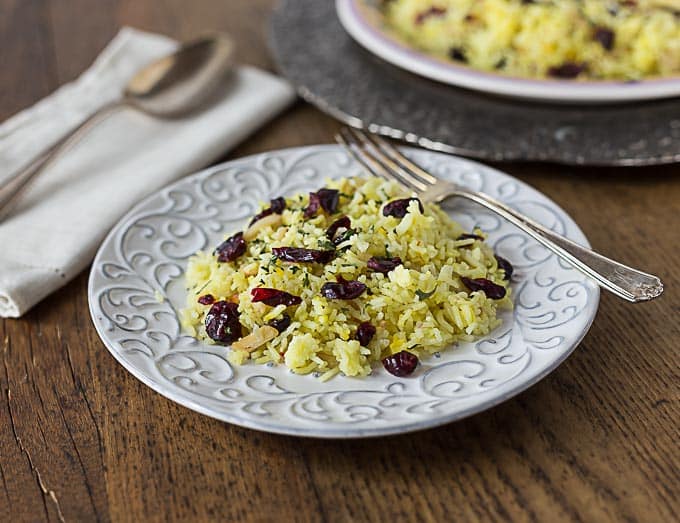 Give this saffron rice with dried cranberries and almonds a try, and let me know what you think because I REALLY want to hear your input.
If you want to try more delicious dishes with from my blog. I definitely recommend the following:
Moroccan Saffron Chicken Tagine - This North African dish has the amazing aromatic taste of saffron and is amazingly easy to make.
Creamy Cauliflower Soup With Saffron - This low-carb and creamy soup just got an aromatic upgrade with the addition of saffron. Try it this week.
Chicken in Creamy Saffron Sauce - This decadent dish can come together in less than 30-minutes. Your taste buds will be amazed.
Looking for more recipes?
Sign up for my free recipe newsletter to get new recipes in your inbox each week! You can also find me sharing more inspiration in Pinterest and Facebook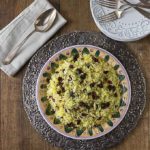 Saffron Rice with Craisins and Almonds
Try this delicious Persian style saffron rice with almonds and Craisins or dried cranberries brings a contrast of flavors and textures. This is similar to the dish Albaloo Polow.
Servings: Change to adjust->
8
servings
Instructions
Place basmati rice in pot, and add the water, salt, saffron, and 1 tsp. of olive oil. Stir well, and bring to a boil. Turn down heat, cover and cook for 15-20 minutes. Remove from heat, fluff, and cover again until ready to use.

In a non stick skillet heat the remaining olive oil, and saute the shallots and the almonds, until they begin to brown slightly.

Add the shallots and almond to the rice and toss. Finally, mix in the Craisins®.

Sprinkle with parsley.
Nutrition Facts
Saffron Rice with Craisins and Almonds
Amount Per Serving
Calories 183
Calories from Fat 36
% Daily Value*
Fat 4g6%
Sodium 297mg13%
Potassium 92mg3%
Carbohydrates 32g11%
Protein 3g6%
Vitamin C 0.5mg1%
Calcium 26mg3%
Iron 0.5mg3%
* Percent Daily Values are based on a 2000 calorie diet.