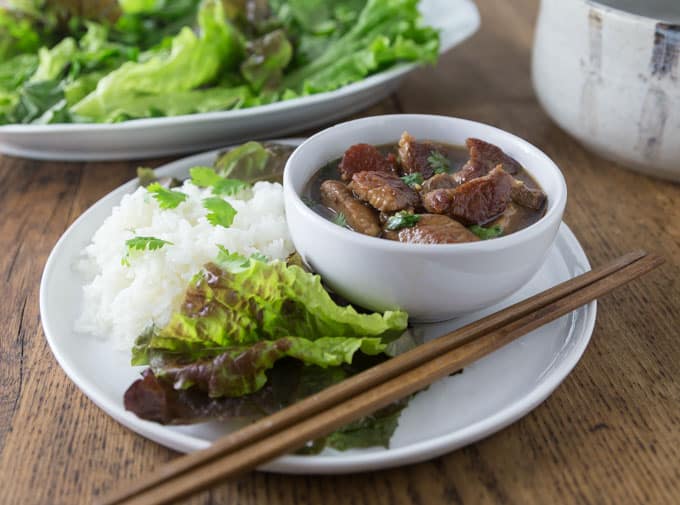 Xin Chao! That's Vietnamese for hello, and today I have another tasty recipe full of piggy goodness. I learned to make Vietnamese coconut braised pork (Thit Kho Tau) from Thanh (Tang), my daughter's Vietnamese friend.
My family and I met Thanh in Hanoi, Vietnam last December when we traveled to visit my daughter who works there as an English teacher. On our last day Thanh hosted us in her house for an authentic Vietnamese meal, and also a  cooking class. This was undoubtedly one of the many highlights of our trip. Thanh was such a gracious hostess and we learned  A LOT from her.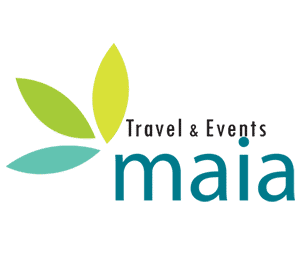 Thanh is an enterprising young woman who runs a Maia Travel agency which offers multiple services, among them street food tours and home cooking experiences. I certainly recommend both.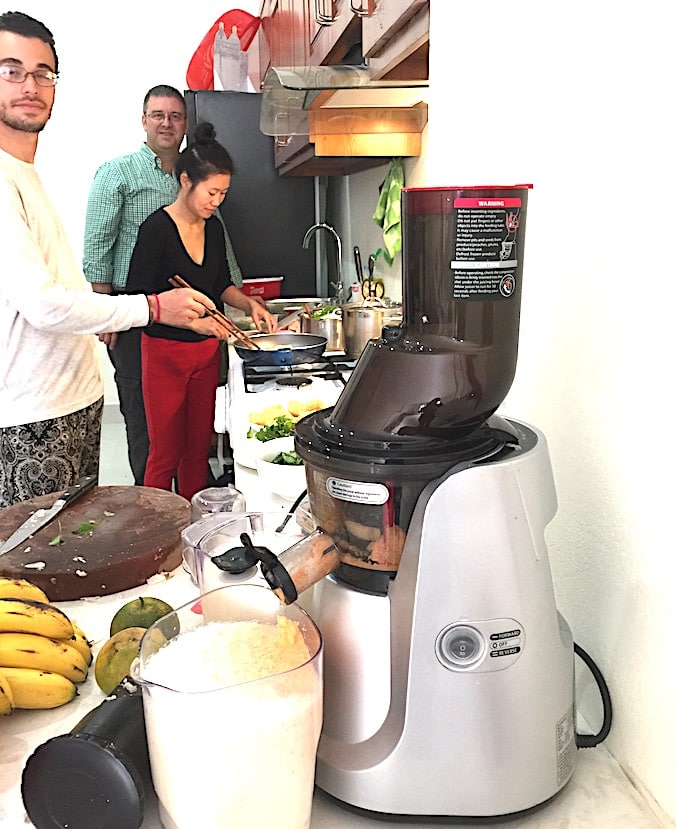 Vietnamese people cook the old fashion way, by eyeballing it, or for instance by equating quantities to a common object. All in all, we made four different dishes. Thanh admitted that Vietnamese coconut braised pork is one of her favorite dishes, and I can certainly see why. Given its fabulous rich flavor, you would think that this is a complicated dish, but it really isn't.
Making Vietnamese coconut braised pork is super easy. The key here is to saute the pork until it is golden brown, and then add in the remaining ingredients. This dish is served with whole hard-boiled eggs which Thanh likes to saute in order to give them a golden color before placing them into the dish.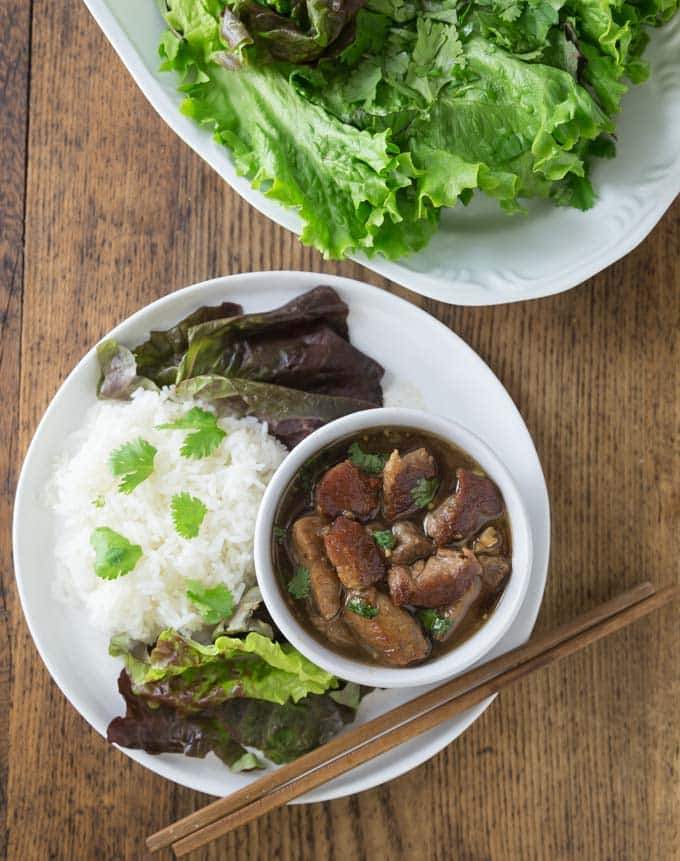 One of the ingredients in Vietnamese coconut braised pork is palm sugar, which I bought at the market during my visit. Thanh said that you can also use regular brown sugar as a substitute. I have also read that you can make a mixture of brown sugar and molasses.
We had a great time without a doubt. We all chopped, sliced, diced, stirred, and everything in between. One of the funniest moments of the afternoon was when Thanh's mom returned from the market and saw my husband sweeping the floor. She said to Thanh in Vietnamese: "You  need to find a husband like that." Thanh translated and we all laughed.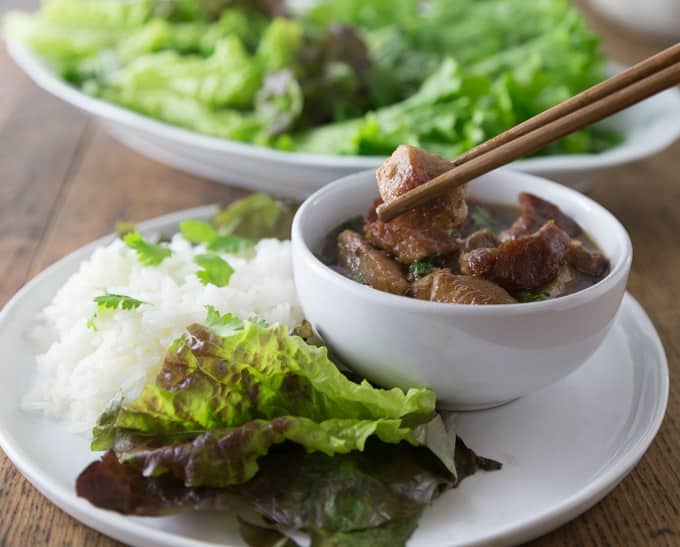 All things considered, I think the recipe turned out great, at least according to my husband and son. Too bad Thanh is not here to give me  her seal of approval.
Vietnamese Coconut Braised Pork
Traditional Vietnamese Thit Kho Tau, braised pork in coconut sauce. Tender and delicious in a light sauce.
Servings: Change to adjust->
10
Instructions
To prepare the eggs, place them in a pot with cold water and bring to a boil. Allow the water to boil for 6 minutes. Remove from heat and place the eggs in a container with cold water so they are easy to peel. Set them aside.

Next, heat oil in a small skillet and brown the peeled eggs slightly.

On medium heat saute the pork belly with the shallots, 5 spice powder, garlic and palm sugar, and allow the sugar to caramelize slightly.

Pour in the soy sauce, fish sauce, and the coconut water. Turn down the heat, cover and simmer for about 30-40 minutes. Place the eggs in the stew for an additional 5 minutes.

Serve with steamed rice and garnish with cilantro.
Nutrition Facts
Vietnamese Coconut Braised Pork
Amount Per Serving
Calories 586
Calories from Fat 450
% Daily Value*
Total Fat 50g 77%
Cholesterol 139mg 46%
Sodium 817mg 34%
Potassium 345mg 10%
Total Carbohydrates 18g 6%
Protein 13g 26%
* Percent Daily Values are based on a 2000 calorie diet.