What is spaetzle?
Spaetzles are a German egg noodle or small dumpling which are simple to make and can be frozen for later use. They are a great complement to a beef, pork roast, chicken, and can be eaten plain. You can toss in some onions sautéed with bacon or serve with an onion soup broth too.
Jump to:
Besides Germany; they are also common in the Alsace region, Hungary, Austria and the German part of Switzerland.
German spaetzles are extremely easy to prepare and so cheap!I was first introduced to spaetzles by my husband's German grandmother. It was one of her favorite things to make for Christmas and other holidays too. The ingredients are humble to say the least, but the possibilities are endless. Spaetzles mainly consist of flour, water and eggs, pretty simple, huh? Spaetzles can be eaten plain, with sauerbraten (look for my recipe soon) or with the traditional German sausages-knockwurst and bratwurst (only the authentic ones will do).
To make the perfect spaetzles you will need a kitchen gadget though, and there are a couple of them in the market. The readily available one in the US is a wooden board with and knife. I own a Kull spaetzle press. It looks almost like a potato ricer, and is made of aluminum. My German friend Iris gave it to me. I have yet to spot one like mine in the United States. I have not even seen them in the high end kitchen stores. However, thanks to the wonderful world of the internet you can purchase it through Amazon and I included links to various types of spaetzle "devices" below. The press type I have is heavy duty and you can rest assured that it will last forever. I have had mine for over twenty years.
Discovering spaetzles
Spaetzles are boiled in water or broth, removed quickly, and for added flavor sautéed in chopped onions. Many people also enjoy spaetzles with chopped bacon garnished with parsley.
Now, I must warn you, spaetzles are a bit messy to make, but it's certainly worth it. My kids love them, even my picky one. Although spaetzles are sold in the ethnic section of most grocery stores, what you can make at home; it is so much better and cheaper too!
This first recipe was given to me by my German friend after she gave me the press many years ago. It is a family favorite. Spaetzles are easy to make and don't require a lot of ingredients. Carmelized onions, or even an onion broth go nicely with this dumpling like dish. Be ready to scoop them up with a large slotted spoon or strainer when they float.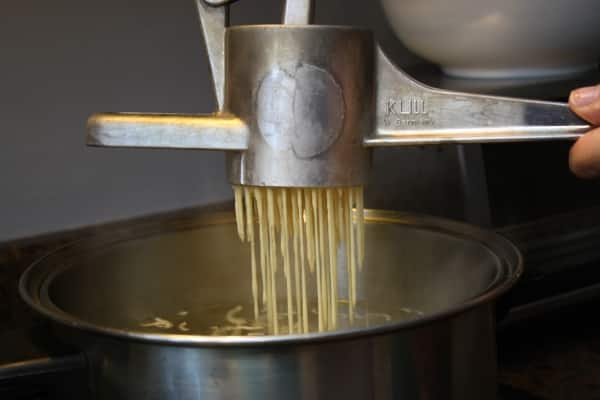 Amazon offers various spaetzle press
kitchen tools.
Now, my husband's grandmother made spaetzle the "old school" way: with a cutting board, and she flicked or cut the dough with scissors into the water. It took a loooong time to make a batch. So, I have 2 recipes, a softer stickier one used with the press above, and my husband's grandmother's which was thicker. My mother in-law uses grandma's recipe, and she found yet another type press that works well with the firmer dough. Once again, Amazon has it all! You can click the link above and it will show you a variety of spaetzle makers on Amazon. If you order one I will get a small commission from the same to help support my site at no extra cost to you.
Tips for making spaetzles
When you are making a batch it is great to have a large slotted spoon ready to scoop them out of the boiling water as they float.
I tend to work in batches. When I use the spaetzle press, I squeeze out just enough to cover the top of the boiling water as they hit the surface and then they drop to the bottom. If I would squeeze the entire amount of dough into the pot I would be afraid they would stick together.
Once they all seem to be floating and cooked I scoop them up, give them a little shake to remove and excess water and toss them in a bowl with a small pat of butter. It is only about 1 or 2 tablespoons of butter, and I give them a stir to coat them with the butter so they don't stick together.
After that, I move on to squeezing in another bit of the dough and repeat the process until all the dough is cooked.
While you are making the spaetzle you can have another pan with some finely chopped bacon cooking and getting crispy. Once the bacon is nicely done you can drain off any excess bacon fat but leave a little (1 or 2 tablespoons) and toss in some finely chopped onion and get them soft. When you are ready to serve you can toss your spaetzle into the onion and bacon mix, turn up the heat a bit and even brown the spaetzle a little. This is kind of like a stir fry if you like. Believe me, you will love those crispy brown edges of the bacon-onion laden mini-dumplings!
If you want to make a big batch for freezing leave out the bacon and onion and prep until you're are ready to serve. Once your large batch of spaetzle is done and completely cooled to room temperature you can separate into freezer bags. These should last in the freezer for about 4 months.
Looking for more recipes?
Sign up for my free recipe newsletter to get new recipes in your inbox each week! You can also find me sharing more inspiration in Pinterest and Facebook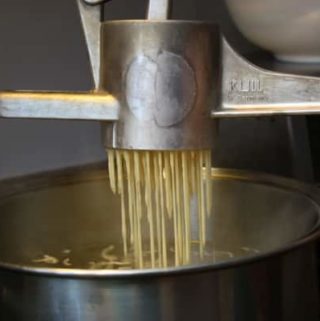 Spaetzle Recipe Card- German Noodles
This German side dish is easy to prepare and cook. It can be enhanced with chopped onions, bacon and parsley. I am including two recipes, one from my German friend and another from my husband's grandmother. Both are very easy to make.
Print
Pin
Rate
Ingredients
Recipe #1 from my German friend Iris.
2

cups

flour

3

eggs

medium

½

cup

water

1

tsp

salt

1

Tbsp

oil
Recipe #2 from my husband's grandmother. The texture of the dough is a little thicker and you will need a different gadget or the board with the knife.
3

eggs

¾

cup

water

combine with milk

¾

cup

milk

2 ½ to 3

cups

flour
Build a "well of four" put in eggs, water and milk. Add more flour as need to a thick consistency
Instructions
Using a wooden spoon or an electric mixer with a double attachment mix all ingredients. Work the dough until it forms large bubbles, and let it rest. While the dough is resting, bring a pot of salted water to a boil. Add the oil. Fill the spaetzle press up to 1" from the top. Hold about 6" from the top of the water. Slowly press over the boiling water. You can use a knife to cut the spaetzle close to the bottom of the press. Wait until the spaetzles float to the top and transfer with a slotted spoon to a bowl. Repeat the process until done.

In a skillet saute ⅓ cup of chopped onion and 3 slices of thick bacon cut into small pieces. Toss in the spaetzles and brown slightly. Garnish with chopped parsley.
Nutrition
Calories:
253
kcal
|
Carbohydrates:
33
g
|
Protein:
10
g
|
Fat:
7
g
|
Saturated Fat:
2
g
|
Cholesterol:
166
mg
|
Sodium:
466
mg
|
Potassium:
145
mg
|
Fiber:
1
g
|
Sugar:
1
g
|
Vitamin A:
285
IU
|
Calcium:
65
mg
|
Iron:
2.7
mg