One of the first French dishes I ever tasted was an authentic quiche Lorraine. My young taste buds embraced the flavors with gusto. At the tender age of 12 I felt like a sophisticated woman for having experienced French food, albeit a simple dish. From that day on, there is and was only one quiche for me: Authentic Quiche Lorraine!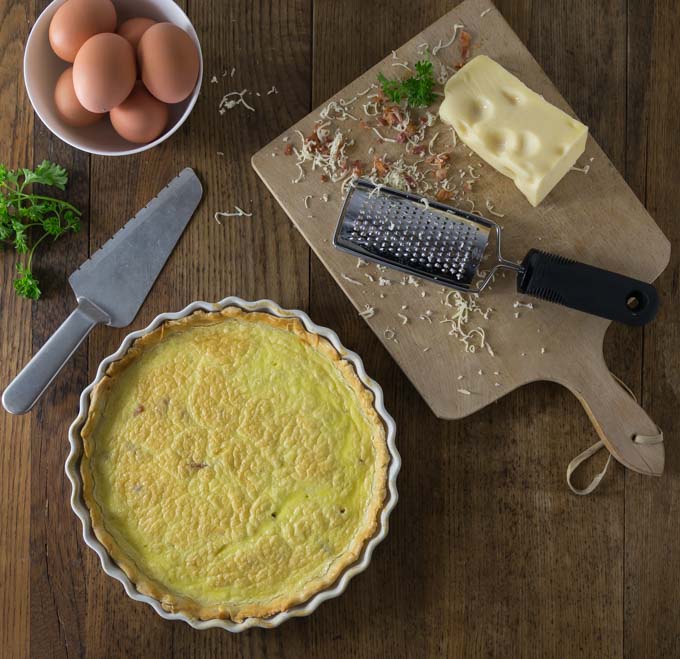 Jump to:

This soft, melt in your mouth quiche with its heavenly texture gets its name from the Lorraine region of north eastern France. The name Lorraine in turn comes from the medieval kingdom of Lotharingia which was named for its ruler Lothair (grandson of Charlemagne). The cuisine of the Lorraine is simple but delicious and bacon is an integral part. What doesn't taste good with bacon, right?

Is it hard to make quiche lorraine?
Making a quiche Lorraine is really simple business. For one, you only need a few ingredients: eggs, bacon, and cream. I don't make it often enough at home because it's not exactly "health food", but it is so tasty. To get that soft interior texture I highly recommend biting the health bullet and using cream; it makes a difference. I have used lower fat substitutes before, and they just don't work. Besides, you are already using bacon, right? You might as well go for it!
Can I use store-bought frozen crust?
Totally. Now, about the crust. I know most people don't like to make their own crust, and in the interest of time this is totally valid. I like my home made crust better than store bought, but it is not necessary.
Different fillings for quiche lorraine
If you're a vegetarian, this delicious, buttery quiche can still be for you. You can add spinach, mushrooms, caramelized onions, or even vegan bacon or "fake-on" as I jokingly call it. While the classic recipe does call for bacon, it's not a requirement and the quiche lorraine police aren't going to punish you for subbing ingredients.
What do people serve with quiche lorraine?
Quiche lorraine is a great brunch, lunch or dinner dish. It's not a light meal with all of the butter, bacon, and cream but it is a delicious one. Some would consider this dish to be more of an entree. Many people enjoy it with a side of salad greens, roasted potatoes, fresh fruit, or a glass of wine. Why not?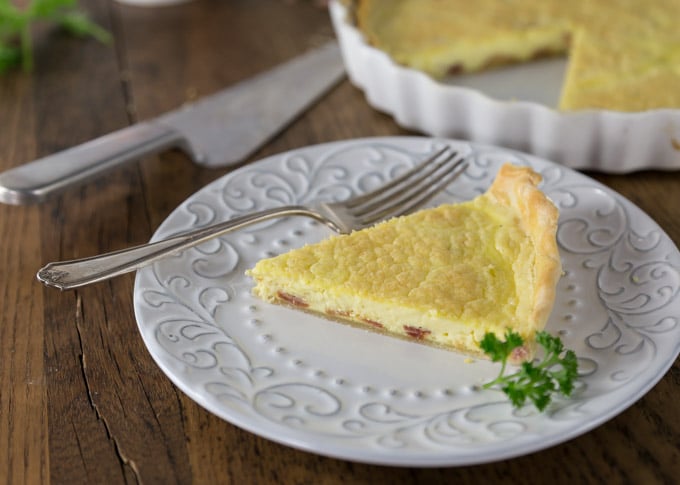 How to make quiche lorraine:

Gather all your ingredients and have them measured, grated and ready to go. The French call this "mise en place" or everything in place and it is the only way to begin a recipe. Prep all items and then start the procedure, trust me. Preheat the oven to 375°F.
To make the crust place the flour, butter and salt in a food processor.
Pulse until it looks like a fine meal.
Add 1 Tbsp cold water and pulse.
Add more water, 1 Tbsp at time until it forms a ball.
Drop the dough onto a lightly floured surface and roll out into a 12 inch circle. This should be the correct size for a 10 inch quiche pan.
Tip: I like to roll the dough over the rolling pin and then lift over the pan.
Press the dough firmly into the sides of the pan. Press over the edges and remove the excess. Take the scraps and press into the edges so there is no waste.
Drop a piece of parchment paper onto the dough and then add your pie weights or dry beans. Blind bake for 15 minutes. Beat 1 egg for an egg wash and set aside.
While the crust is baking cook the bacon in a pan until just slightly crisp. Place the cooked bacon on paper towel to drain then chop into half inch pieces. In a mixing bowl combine 4 eggs, heavy cream, pepper and nutmeg until well blended.
When the crust has baked promptly remove from the oven, take out the beans and parchment. Brush the egg wash over the hot crust immediately.
Add the cropped bacon to the crust then the grated cheese. Try to distribute evenly.
Pour in the egg-cream mixture over the bacon and cheese.
Bake for 20 minutes and the quiche should puff up. If you like a nice brown top, turn the broiler on and keep a close watch.
Enjoy an authentic quiche Lorraine for a lunch or dinner. It's even good enough to take to work the next day, providing there are leftovers.
Frequently asked questions:
How long can I store the finished quiche? It is best to eat this fresh baked. It will last for 3 days in the refrigerator but the crust will start to get a bit softer. Wrap the tart with foil or plastic wrap while in the refrigerator.
Can I freeze quiche lorraine? Yes, allow it to completely cool first. You can freeze it in an airtight container or wrapped tightly in freezer plastic or foil for up to 3 months. Allow it to completely thaw in the refrigerator before reheating.
Can I reheat the quiche in the oven from the refrigerator? Yes, preheat the oven to 200°F and heat for 15-30 minutes until warm in the center. A smaller portion will take less time. If half of the tart is left it will take less time to heat up the center.
Is quiche meant to be eaten hot or cold? You'll be surprised to know that quiche is meant to be eaten at room temperature. You can warm it up but it's not meant to be piping hot when you eat it.
If you want to explore some other French-style recipes here are a few to bookmark for later or pin on Pinterest. The French patisserie fruit tart is easy to make and the cream filling just divine with a topping of fresh fruit of your choice and then glazed. If you are a soup lover then you have to try homemade French onion soup and learn a little about the history of the dish too. My all time favorite chicken dish has to be chicken tarragon that is cooked so tender and served with a creamy rich sauce.
Looking for more recipes?
Sign up for my free recipe newsletter to get new recipes in your inbox each week! You can also find me sharing more inspiration in Pinterest and Facebook.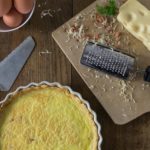 Authentic Quiche Lorraine
Quiche Lorraine is from the North East region of France which borders, Belgium, Germany and Luxembourg. This is a dish for all meals: breakfast, brunch, lunch or dinner. This has such a rich custard like texture with a salty cheese and bacon flavors what is not to love!

Total Time
1
hour
5
minutes
Servings: Change to adjust->
8
servings
Ingredients
Dough
1

cup

flour

plus 2 Tbsp.

5

Tbsp.

unsalted butter

cold, cut into pieces

¼

cup

water

cold

⅛

tsp.

salt
Instructions
Prepare the crust:
Place flour, butter and salt in a food processor and pulse until the mixture becomes a coarse meal. Slowly add the water 1 tablespoon at a time until the mixture comes together like a ball.

Place on a lightly floured surface and flatten out to form a 12" disc. Fit into a quiche pan. Freeze for 30 minutes.

Put a piece of parchment paper on the top of the dough, and top with pie weights.

Bake for 15 minutes.

Remove from oven, and remove pie weights and parchment paper. Brush bottom and sides with one beaten egg while still hot.
Prepare the filling:
While the dough is baking, cook bacon slices in a pan until almost crispy. Transfer to a plate lined with paper towels to drain. When cooled, chop into ½ inch pieces.

In the bowl of a mixer beat 4 remaining eggs and add heavy cream, pepper, and nutmeg.

Beat until it begins to thicken, and it is a light yellow color.
Assemble the quiche and bake:
Sprinkle bacon and Gruyere onto the top of the dough. Pour egg mixture on top.

Bake for about 20 minutes. the quiche should puff up. The quiche should also have a light golden color on the top.
Nutrition Facts
Authentic Quiche Lorraine
Amount Per Serving
Calories 348
Calories from Fat 252
% Daily Value*
Fat 28g43%
Cholesterol 175mg58%
Sodium 211mg9%
Potassium 108mg3%
Carbohydrates 13g4%
Protein 11g22%
Vitamin A 825IU17%
Vitamin C 0.2mg0%
Calcium 160mg16%
Iron 1.3mg7%
* Percent Daily Values are based on a 2000 calorie diet.
Originally published January 2018 and updated January 2021.