Tarragon Chicken (or Chicken Tarragon) is one of my favorite all in one meals. It is a French Provencal dish that is healthy, hearty, aromatic, and not to mention wonderfully delicious. The ingredients are pretty basic, which is a definite plus in my book. The first time I ever came across chicken tarragon was in a cookbook (Betty Crocker's International Cookbook) that was given to me as a birthday gift MANY years ago.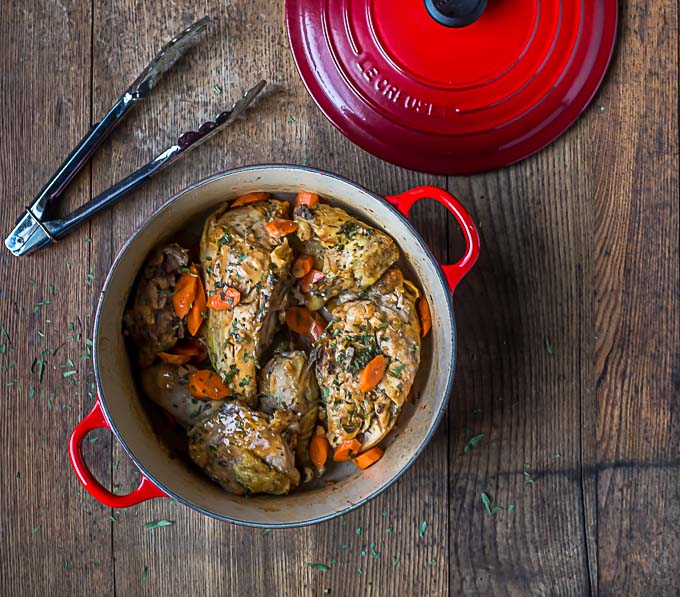 Jump to:
This is the book that sparked my interest in ethnic cooking. As a matter of fact, I think Chicken Tarragon was the first thing that I ever made out of this book. Although this dish consists of a few steps, don't let that hold you back. They are easy, well timed steps.
What is tarragon?
The botanical name for tarragon is Artemisia dracuncula. The name comes from Artemis, the Greek goddess of wisdom and draconis, the word for dragon in Latin. Unlike other herbs in antiquity tarragon's medicinal uses appear to be somewhat restricted. The ancient Greeks used it to cure toothaches. Another common use for tarragon was as a treatment for snake bites. Huh? Snake bites? Really? Yes, really. Sounds weird I know. This use actually stems from a medieval medical belief that a plant's shape was an indication of what is was good for from a medical standpoint. Tarragon has a serpentine shape, thus the assumption that it was an adequate remedy for snake bites. This medical theory was known as the Doctrine of Signatures. So now you can impress your friends with this little trivia tidbit.
Tarragon origins
Tarragon is thought to be original to Mongolia and Siberia. French tarragon
has a minty/licorice flavor. In culinary circles it is referred to as the "king of herbs." This is not surprising since its is so aromatic and unique. There is a Russian version of tarragon which has a more bitter taste than its French counterpart. Although tarragon has been around since antiquity, it is estimated that cultivation has only taken place for about 700 years. In the context of human history, that's the blink of an eye.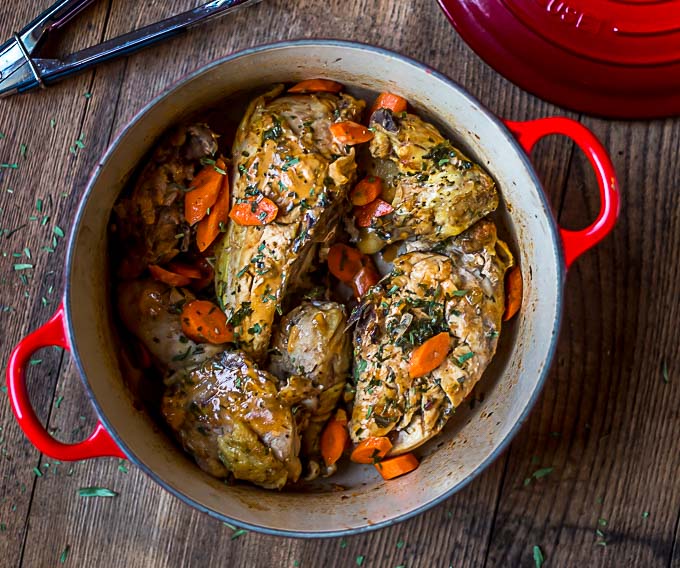 Tarragon Chicken is a perfectly balanced meal. The chicken provides the protein, carrots provide the vegetable and served with rice, you have your grains. You can make this dish in a Dutch oven
or a braising pan. I actually prefer the Dutch oven because I can take it straight to the table. Chicken tarragon goes well with mashed potatoes or white rice. Traditionally this dish is prepared using whole pieces of chicken, bone and all. The bones add a lot of flavor. Now that Fall is upon us, this is a great dish to serve your family.
Here are some tips on preparing this dish.
You want to brown the chicken in the Dutch oven until it is about ¾ done or just firm. The chicken will finish cooking by baking in the oven. While the chicken is finishing in the oven you make the rich stock for basting and reserve half of the stock for making the white wine cream tarragon sauce. The process is very easy and creates a rich flavorful chicken you will want to make again! If you make this I would love to hear from you.
Step by step photos:

Gather all your ingredients and have them measured, chopped and ready to go before you begin the dish. Preheat your oven to 300°F.
Sprinkle the chicken with salt and pepper. If you need instructions on how to cut up a whole roaster chicken I have instructions on my Moroccan chicken tagine recipe.
Heat a Dutch oven over medium heat and place 1 Tbsp of olive oil, add the chicken and brown on both sides until it is about ¾ of the way cooked.
Remove the chicken from the Dutch oven and place in a 13"x9" oven safe baking dish along with the carrots. Sprinkle with tarragon and bake uncovered for about 35 minutes.
Scrape out the Dutch oven and toss the scrapings. Heat on medium and add 1 Tbsp olive oil then sauté the shallots and celery until the shallots turn slightly brown.
Add the stock, bay leaves and wine then up the heat to high and bring to a boil. Let it boil two minutes then reduce the heat to medium.
Stir in the tomato paste and reduce the sauce to about two cups.
Remove 1 cup of the sauce and set aside. This will be used for the cream sauce.
Take the remaining sauce in the Dutch oven and pour it over the chicken and baste every 5-10 minutes.
To prepare the cream sauce, heat a sauce pan on medium and heat the cream. Slowly add the reserved cup of sauce stirring constantly.
Reduce the sauce until it thickens to a nappe consistency or coats the back of a spoon.
Transfer the chicken back to the Dutch oven, pour the cream sauce on top and serve.
Frequently asked questions:
How long can I store the chicken tarragon in the refrigerator?
Once the chicken has cooled you can store it in the refrigerator in an airtight container for 3-4 days.
How do I reheat the chicken?
Reheat the chicken in the microwave for 2-3 minutes and stop to stir every 30-45 seconds until hot. Once reheated do not cool and store again in the refrigerator, consume it right away. So only reheat the amount you will consume.
Can I freeze the chicken tarragon?
I would avoid freezing the cream sauce because when it thaws it will have a grainy unpleasant texture. You can separate the chicken and freeze just the meat. Allow the chicken to cool and you can freeze in airtight containers for up to 2 months. Thaw completely in the refrigerator and then reheat in the microwave.
Looking for more recipes?
Sign up for my free recipe newsletter to get new recipes in your inbox each week! You can also find me sharing more inspiration in Pinterest and Facebook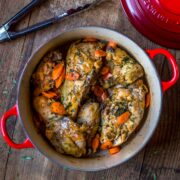 Chicken Tarragon Recipe Card
A French classic recipe for tender creamy and delicious roasted chicken with a white wine tarragon sauce. This is a must try recipe and your family will love it. The recipe is simple to make and some great aromatic and herb flavors.
Total Time
1
hour
20
minutes
Servings: Change to adjust->
6
servings
Ingredients
2-3

lbs

roaster chicken

cut into pieces

1

tsp

salt

¼

tsp

pepper

2

Tbsp

olive oil

1

Tbsp

tarragon

dried

2

cups

chicken stock

2

tbsp

tomato paste

½

cup

white wine

½

cup

heavy cream

2

carrots

peeled and thinly sliced

¼

cup

celery

minced

4

shallots

minced
Instructions
Preheat oven to 300F.

Sprinkle chicken pieces with salt and pepper. In a Dutch oven over medium heat place 1 Tbsp. of olive oil and brown the chicken on both sides until it is about ¾ of the way cooked.

Remove chicken from Dutch oven and place in a 13"x9" oven safe glass dish along with the carrots. Sprinkle with tarragon and set in oven uncovered for about 35 minutes.

Scrape out the Dutch oven and toss out the scrapings.

Add the remaining tablespoon of olive oil to the Dutch oven and saute the shallots and the celery until shallots begin to brown slightly.

Add the stock, bay leaves and the wine and bring to a boil. Let it boil for about 2 minutes and turn heat down to medium. Stir in the tomato paste. Reduce the sauce to about 2 cups.

Remove 1 cup of the juice and set aside.The other cup will be used to baste the chicken that is cooking in the oven. Baste every 5-10 minutes.

For the cream sauce: Place cream in a small saucepan on medium heat. Slowly add the reserved 1 cup of juice stirring constantly. Reduce the sauce until it coats the back of a spoon(nappe consistency).

Transfer the chicken from glass dish back to the Dutch oven to serve.

Pour cream sauce over chicken.
Nutrition Facts
Chicken Tarragon Recipe Card
Amount Per Serving
Calories 337
Calories from Fat 216
% Daily Value*
Fat 24g37%
Cholesterol 84mg28%
Sodium 623mg27%
Potassium 445mg13%
Carbohydrates 10g3%
Protein 16g32%
Vitamin A 3905IU78%
Vitamin C 5.2mg6%
Calcium 45mg5%
Iron 1.4mg8%
* Percent Daily Values are based on a 2000 calorie diet.
Originally published October 2014 and updated October 2021.