Toffee cookies are an amazing upgrade to chocolate chip
Today's recipe for English toffee chocolate chunk cookies was adapted from Bon Apetit magazine, one of my favorite culinary sources. Every month my husband and I anxiously await this lovely publication. So in one of the previous issues there was a recipe for this cookie; we both thought it would be a great idea to share with our readers.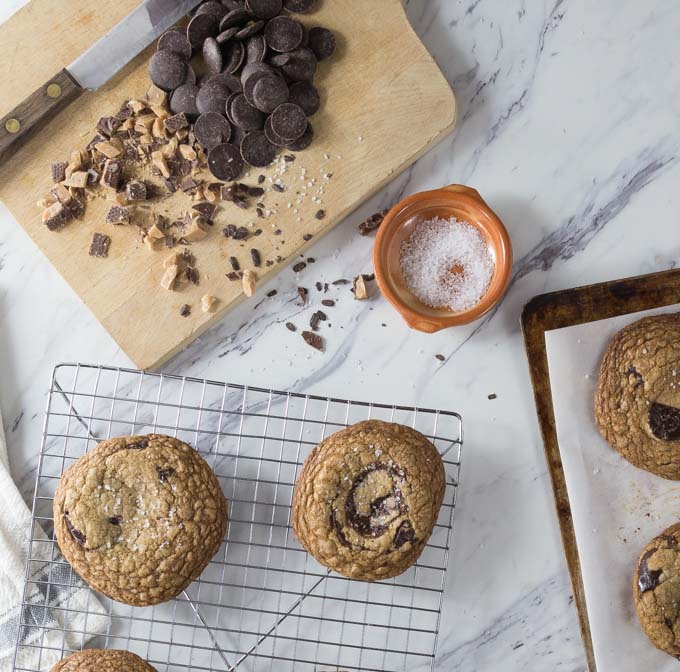 Although the name was different in the magazine, we thought it fitting to name it English toffee chocolate chip cookies, since it is exactly what is in them.
This cookie with a cup of coffee or tea is heavenly.

English Toffee is not really that old.
It dates from early 19th century England. The key to good English toffee is high quality butter. It appeared around 1825 in the Oxford dictionary. Sometimes English toffee is referred to as "butter crunch." The difference is that toffee is traditionally made with brown sugar, and butter crunch with white sugar. So why did the name English toffee persist? Well, probably because the name English toffee has a nicer ring than butter crunch.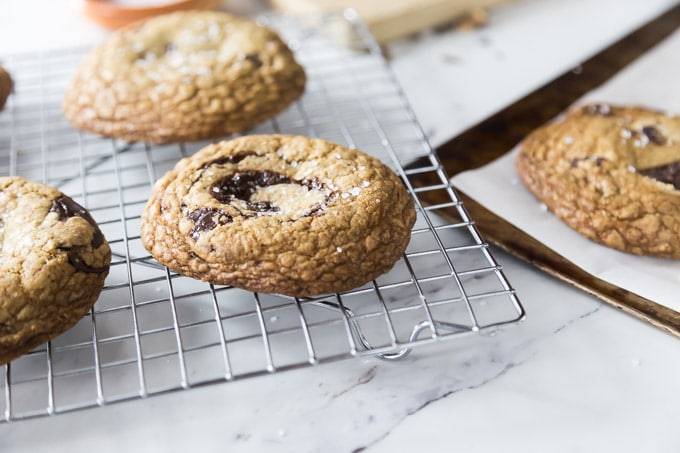 Are these British biscuits?
There are also regional variations: The English version does not use nuts, while the American version does. And, now that you know more about English toffee than you ever thought possible, let's talk a bit about the recipe and the ingredients.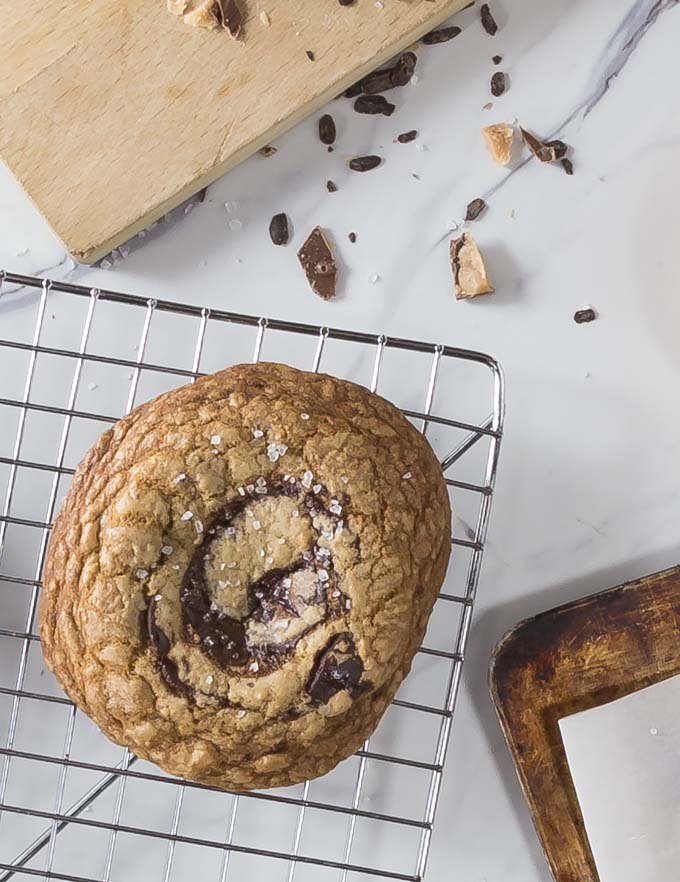 The best toffee cookies, hands down
These English toffee chocolate chip cookies are so delicious because of the quality of ingredients. If possible use European butter. Use a high quality chocolate wafer instead of chocolate chips. I used Guittard
organic bittersweet chocolate baking wafers. Don't buy the ones sold in bulk, you want a chocolate that is 70 percent cacao or more! It pays to read the label, trust me.
Another aspect of this recipe I want to share with you is the bit about the brown butter. It will take the taste of your cookies to a new level. Brown butter will give these English toffee chocolate chunk cookies an interesting depth of flavor that is nutty and complex.
Step by step photos:

Gather all your ingredients and have them measured, chopped and ready to go. Preheat your oven to 350°F.
Place the butter in a sauce pan on medium heat stirring it often. It will start foaming and brown flecks will start to form. Let it brown and do not let it burn.
Pour the browned butter into a glass pitcher and allow it to cool completely. Be sure to scrape out all the bits. It will have a clear appearance with brown particles as shown.
In a bowl, mix together the flour, baking soda and Kosher salt.
Using your stand mixer bowl, add the brown sugar, white sugar and brown butter. Mix on medium speed until well combined.
Add the eggs and vanilla then beat for 30 seconds.
Reduce the mixer speed to slow and add the flour gradually until well combined and not dry spots.
Remove the mixer blade and stir in the chocolate chips and then the toffee chunks with a spatula.
Using an ice cream scoop, take a level scoop and place on parchment paper about 3 inches apart as they will spread a bit. Sprinkle with flakey salt or sea salt.
Bake in the center rack for 9-12 minutes until the edges start to turn golden brown. Repeat for the entire batch.
Tips for great cookies
European butter will have richer flavor, use it if possible. I like Kerry Gold Irish butter.
Use a high-quality chocolate wafer instead of chocolate chips.
You want 70% cacao or more.
Frequently asked questions:
How long can I store these cookies? Most cookies will keep nicely for 2-3 weeks in an airtight container or cookie jar.
Can I freeze the cookies? Yes, these cookies can be frozen and for 6-8 months in a sealed container.
If you are interested in more traditional ethnic type desserts here are a couple more to check out below. You can bookmark them and try them later or pin them on Pinterest. Enjoy!
Polvorones de limón are a Spanish sweet shortbread cookie with a hint of lime and dusted with powdered sugar.
Pistachio rosewater cookies are a Middle Eastern style shortbread cookie with just a hint of rosewater.
Tusenbladstarta is a Swedish dessert that is like baking 6 big cookies and layering with custard cream.
Here is a very unusual no-bake cookie from Lithuania called tinginys. Perfect for summer when you don't want to turn on the oven.
Looking for more recipes?
Sign up for my free recipe newsletter to get new recipes in your inbox each week! You can also find me sharing more inspiration in Pinterest and Facebook.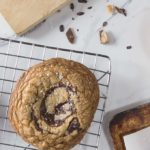 English Toffee Chocolate Chip Cookies
If there was one new cookie recipe to try this is it! You might like chocolate chip cookies but this English toffee, brown butter chocolate chunk cookie with sea salt is nothing short of amazing! Trust me this needs to be on your bucket list of things to bake.
Servings: Change to adjust->
20
servings
Instructions
Cut the toffee bar into ¼" pieces and place in a bowl.

Cook butter in a medium saucepan over medium heat, stirring often until it foams.

Brown 5-8 minutes, then scrape into a large bowl and let it cool completely. (Don't let it burn.)

In a separate bowl mix flour, baking soda, and kosher salt.

Add both sugars (brown and white) and mix well, then add to the brown butter to your mixing bowl. Use an electric mixer on medium speed to incorporate everything.

Next add the eggs and the vanilla, and beat for about 30 seconds. The mixture will begin to turn light and thicken.

Reduce the speed of the mixer to low, and begin to add the flour mixture gradually. Continue to beat until well combined. Remove the mixer blade.

Slowly add the chocolate wafers and the toffee pieces while mixing with a large spatula by hand. The dough will seem a bit runny.

Allow the dough mixture to rest at room temperature for about 30 minutes. This will allow the dough to thicken.

Line a cookie sheet with parchment paper.

Using a 1 ½ oz. ice cream scoop portion out 10 balls of dough onto the lined cookie sheet. The cookie balls should be about 3" apart since they will spread out.

Sprinkle with the flaky salt or coarse sea salt.

Bake in center rack for 9-12 minutes, or until the edges begin to turn golden. The center should be soft.

Remove from the oven and let them cool for about 10-15 minutes before transferring them to a cooling rack.

Place the remaining 10 balls on another parchment lined baking sheet, and repeat the baking procedure.
Recipe Notes
European butter will have richer flavor, use it if possible.
Use a high-quality chocolate wafer instead of chocolate chips.
You want 70% cacao or more. 
Nutrition Facts
English Toffee Chocolate Chip Cookies
Amount Per Serving
Calories 191
Calories from Fat 81
% Daily Value*
Fat 9g14%
Cholesterol 40mg13%
Sodium 476mg21%
Potassium 36mg1%
Carbohydrates 24g8%
Protein 1g2%
Vitamin A 305IU6%
Calcium 16mg2%
Iron 0.8mg4%
* Percent Daily Values are based on a 2000 calorie diet.
Originally published March 2018 and updated May 2021.