On a recent trip to Ireland, after a visit to the Foynes Flying Boats museum our tour guide with the willing help of my brother-in-law demonstrated how to make a true Irish Coffee. I find Irish Coffee to be absolutely delicious, given my undying love for two wonderful things: coffee and whiskey!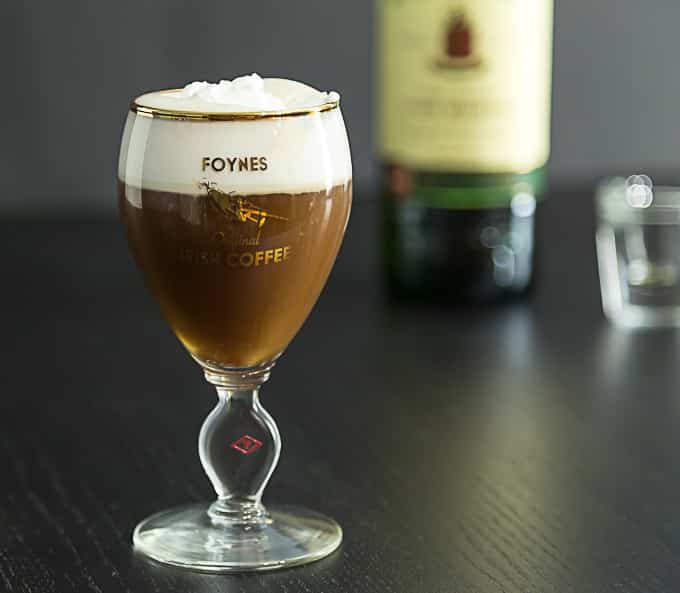 Jump to:
There, you learned something sordid and interesting about me. The reason for this love? Whiskey warms your spirit (no pun intended) and your body too. And coffee? Well, what's not to love?
Irish Coffee History
Until recently I had no idea where Irish Coffee recipe originated or how it came to be. Was it just a made up name for coffee drinks? Restaurants are notorious for making up names to make dishes/beverages sound better than what they really are! The story about Irish coffee however, is far from made up. It is truly romantic and fascinating to boot. So, at the request of a good friend, I am sharing with you the true origins of Irish Coffee and of course, the recipe too!
Irish Coffee was born in Foynes, Ireland, a small village in Limerick on the Shannon River. Foynes is closely linked to the era of transatlantic aviation in the 30's and 40's. Early transatlantic planes did not possess the flying range to make it across the Atlantic in one shot. Foynes happened to be the last port of call before crossing the pond. If the weather was bad, the planes could not fly or would have to return to Foynes until the weather conditions improved.
What is the Foynes lounge?
The base at Foynes had a small restaurant that catered to patrons of air travel. Our guide told us that on a certain day in 1942 when the weather was exceptionally bad, a group of weary passengers, pilot and crew, were forced to return to Foynes to await better flying conditions. Chef Joseph Sheridan felt sorry for these weary travelers. At the request of his boss, he came up with a coffee cocktail to warm up the passengers and crew.
Sheridan mixed coffee, Powers Irish whiskey, raw sugar and topped it with whipped cream (the real stuff of course). Passengers were delighted with the alcoholic coffee drinks. One of them asked: "Is this Brazilian coffee?" Sheridan replied: "No, it's Irish Coffee." And thus it began. I told you it was a great story! Unfortunately I have not been able to find Powers Irish whiskey in the US, major bummer, but Jameson's works quite well.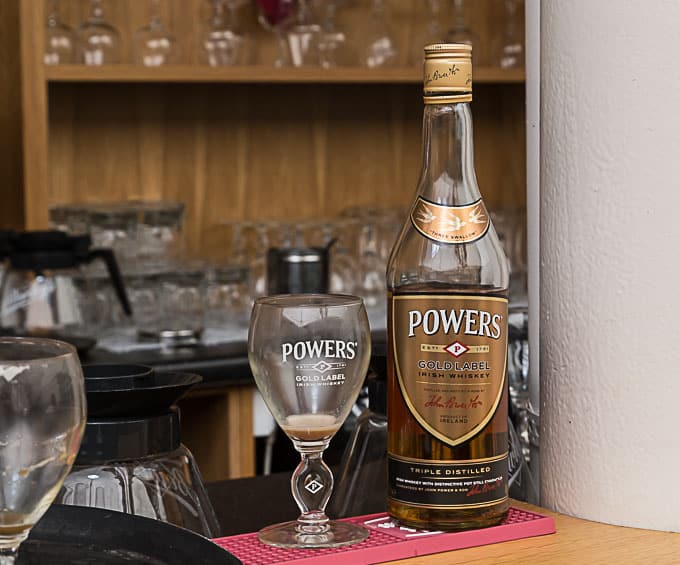 The Irish coffee we enjoyed at Foynes is without a doubt the best Irish Coffee I have ever had. Living in the frigid Northeastern U.S. I can tell you for sure that I will be enjoying my fair share of this Irish cocktail in the winter months to come. Slainte!
BTW... if you are ever in Ireland, make sure to visit the Foynes Flying Boats Museum. It is fascinating.
If you are looking for more Irish recipes to make for Saint Patrick's Day or anytime at home here are a few of my favorites to try. Irish butter cookies are favorite melt in your mouth shortbread cookie recipe that does call for Irish butter, no substitutes. If you want to make a hearty meal for your family then you have to try Dublin coddle with Irish bangers and vegetables or Guinness beef stew. Serve these two hearty dishes with Irish soda bread or a sweeter version, Irish brown bread.
Looking for more recipes?
Sign up for my free recipe newsletter to get new recipes in your inbox each week! You can also find me sharing more inspiration in Pinterest and Facebook
This post contains affiliate links. Ethnic Spoon may earn a small commission if you buy something from the retail links.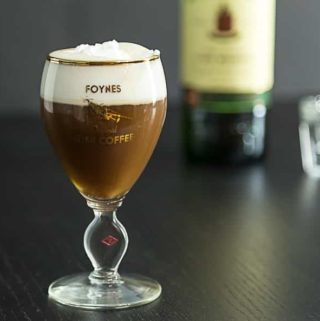 Irish Coffee Recipe
Here is the authentic recipe and story of how Irish coffee came to be back in the early days of Trans-Atlantic flight from Foynes Ireland.
Print
Pin
Rate
Ingredients
1

cup

coffee

strong, black

1

tsp

sugar

raw is best

1.5

oz

whiskey

Irish

¼

cup

whipped cream

Use real whipped cream
Instructions
For this recipe you should use a glass ( a wine glass works well).

Heat the glass by pouring boiling water in it and allow it so sit for a minute or so. Dump out the water.

Place raw sugar in the glass and add the coffee and stir.

Add the whiskey and stir.

Top with whipped cream.
Nutrition
Calories:
163
kcal
|
Carbohydrates:
6
g
|
Fat:
3
g
|
Saturated Fat:
2
g
|
Cholesterol:
11
mg
|
Sodium:
5
mg
|
Potassium:
116
mg
|
Sugar:
5
g
|
Vitamin A:
105
IU
|
Calcium:
15
mg