Spanish patatas bravas are probably one of Spain's most popular tapas dishes. So what are they? Basically potatoes served with a spicy tomato sauce made with onions, garlic, and accented with paprika. Just about every bar in Spain serves patatas bravas, each with their own twist.
When I was in my teens I spent three weeks in Salamanca, Spain visiting my cousin who was attending school there. She lived in a small two bedroom apartment within walking distance of the town. We had a fantastic time going to the different bars and sampling from the huge array of all the interesting tapas dishes. I will never forget the experience; she and I still talk about it. I was introduced to Spanish patatas bravas at one of those bars.
Jump to:
Tapas History
Tapas are an integral part of Spanish culture; it's like pizza and beer for Americans. No one really knows where the custom came from, but the legend goes something like this: A Spanish king from the Middle Ages fell ill, and his physician recommended that his staff prepare him small plates of food accompanied by a glass of wine. Whether there is truth to this or not, it makes for an interesting story. Other stories say that tapas developed in the countryside where field workers apparently held off hunger by munching on small portions of food until meal time.
Selecting Potatoes
You can prepare this dish with a variety of potatoes. I like to use russets or an Idaho baking potato as they will have a nice creamy interior and crunchy exterior. I would avoid potatoes with waxy skins as those tend to be more firm when cooked and less fluffy on the interior. Waxy types are great for soups and stews as they hold up nicely in liquids. Go a step further and serve Spanish patatas bravas as a side dish instead of an appetizer.
As I mentioned at the beginning of this post, these spuds are indeed spicy. Feel free to reduce the amount of paprika if spiciness is not your thing. Paprika is one of the many spices that came to Europe from the New World. It was brought back allegedly by Christopher Columbus during his second voyage and supposedly served to King Ferdinand and Queen Isabella who found it a bit too spicy for their taste. Fast forward 500 years and paprika is as common as wine in Spanish cooking.
Step by step photos
Gather your ingredients and have them measured, chopped, minced and ready to go.
Heat a large sauce pan or braiser on medium and add the olive oil. Once the oil is hot add the red pepper flake and stir for a few minutes to allow the oil from the flakes to infuse the oil with some spicy heat. Be careful not to burn the red pepper flakes.
Add the onion, garlic and salt and sauté until the onion is translucent. Once the onions are translucent add the smoked paprika and stir to combine. Simmer the onions in the paprika for a couple minutes and be careful not to burn the paprika.
Add the tomato, white wine, tomato paste and bay leaf.
Turn up the heat to medium-high and bring to a boil. Reduce the heat to low, stir in the nutmeg and simmer for 30 minutes.
While the sauce is simmering wash the potatoes and pat dry. Preheat your oven to 375°F. Cut them into about 1-2 inch chunks and toss in a bowl with some olive oil, salt and pepper. I have three methods of cooking the potatoes below: oven roasted, deep fry and air fry. I will detail the oven method here.
Place the potatoes on a baking tray with sides and bake for about 45 minutes.
While the potatoes are baking and the sauce has finished simmering you can blend. Using a hand blender add the sauce to a container and blend until very smooth. You can also use a standard blender for this step.
Pour the sauce into a fine mesh strainer over a pot or large bowl and add a little at time. Force the sauce through the strainer until all the sauce has been strained. Discard the leftover pulp from the stainer. The sauce should be smooth and not too thick. Thin with water if necessary.
Once the potatoes are golden brown and crispy you are ready to serve with the bravas sauce.
Frequently asked questions:
How long can I store the bravas sauce and potatoes?
The sauce will keep nicely for 7-10 days in the refrigerator sealed in an airtight container. The potatoes can be stored in an airtight container for 3-5 days.
Can I freeze the bravas sauce and potatoes?
You can freeze the sauce in a container and it will keep nicely for 4-6 months. Heavy duty freezer bags also work well. The potatoes can be frozen but they are not really optimal when thawed and reheated. Fresh is best when it comes to potatoes for patatas bravas.
How do I reheat the bravas sauce and potatoes.
The sauce can be reheated in the microwave. I typically reheat the potatoes in the oven at 250°F for 10 minutes until hot in the center or 250°F for 5 minutes in the air fryer. I would not reheat the potatoes in the microwave as they will not get crispy.
Here are some other Spanish recipes to try for your next tapas party.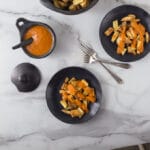 Spanish Patatas Bravas
Here is an easy recipe for a classic Spanish tapas dish: patatas bravas. Three cooking methods are explained: oven roasting, air frying and deep frying.
Servings: Change to adjust->
4
servings
Ingredients
Potatoes:
2

lb.

potatoes

I like russets

1

Tbsp.

olive oil

¼

tsp

salt

¼

tsp

pepper

fresh ground
Bravas sauce:
1

tbsp

olive oil

¾

tsp

red pepper flake

optional: 1 or 2 Chile de Arbol crushed

1

onion

large, diced

2

garlic cloves

minced

2

tsp

smoked paprika

6

Roma tomatoes

diced

1

cup

dry white wine

1

tbsp

tomato paste

1

tsp

brown sugar

1

bay leaf

½

tsp.

salt

⅛

tsp.

nutmeg
Instructions
Prepare the potatoes - 3 methods for cooking:
Rinse and thoroughly wash the potato skins. If you prefer you can peel the skins. I like mine left on. Pat them dry.

Cut the potatoes into 1-2 inch chunks.
Method 1: Deep frying the potatoes
Heat 2-3 cups of canola, peanut or safflower oil to 375°F. (Use your favorite high temperature frying oil.)

Place the potatoes in a bowl and sprinkle the potatoes with the salt and pepper. Allow them to sit for 10-15 minutes and the salt will draw out some water. Place them in a strainer to drain off the water after letting them sit.

Drop them in the hot oil and fry until golden brown and crispy.

Remove them from the oil and place them on paper towels to soak up any additional oil. Add salt to taste.
Method 2: Oven roasting
Add the potato chunks to a bowl then toss to coat with olive oil. Sprinkle them with salt and pepper.

Preheat your oven to 375°F.

Place the potatoes on a baking tray and bake for 45 minutes until golden brown and crispy.
Method 3: Air frying
Preheat your air fryer to 375°F.

Add the potato chunks to a bowl then toss to coat with olive oil. Sprinkle them with salt and pepper.

Place the potato chunks in an air fryer basket and fry for 20 minutes. Half way through or at 10 minutes of air frying pull the basket and flip them over and finish frying.
Prepare the bravas sauce
While the potatoes are cooking heat olive oil on medium heat in a large saucepan or braiser and add red pepper flake. Stir the red pepper flakes in the oil for a few minutes to infuse.

Add the onion, salt and garlic then sauté until the onions are translucent. Do not brown the onions.

Add the smoked paprika and stir into the onions thoroughly. Stir and allow the paprika to simmer in the onions for a couple minutes being careful not to burn the paprika.

Add the tomatoes, white wine, tomato paste, and bay leaf. Bring to a boil and reduce heat. Sprinkle in the nutmeg. Simmer for 30 minutes.

Allow the tomato sauce to cook for about 5 more minutes.

Blend the sauce in a blender or in a large container with a hand blender.

Strain the sauce through a fine mesh strainer and force through with a ladle. Discard the pulp left in the strainer.

The sauce should be smooth and not too thick. Thin with water if necessary.

Serve the sauce over potatoes.
Nutrition Facts
Spanish Patatas Bravas
Amount Per Serving
Calories 155
Calories from Fat 72
% Daily Value*
Fat 8g12%
Sodium 432mg19%
Potassium 384mg11%
Carbohydrates 11g4%
Protein 2g4%
Vitamin A 1442IU29%
Vitamin C 16mg19%
Calcium 31mg3%
Iron 1mg6%
* Percent Daily Values are based on a 2000 calorie diet.