Spicy shakshuka eggs? Now that sounds interesting.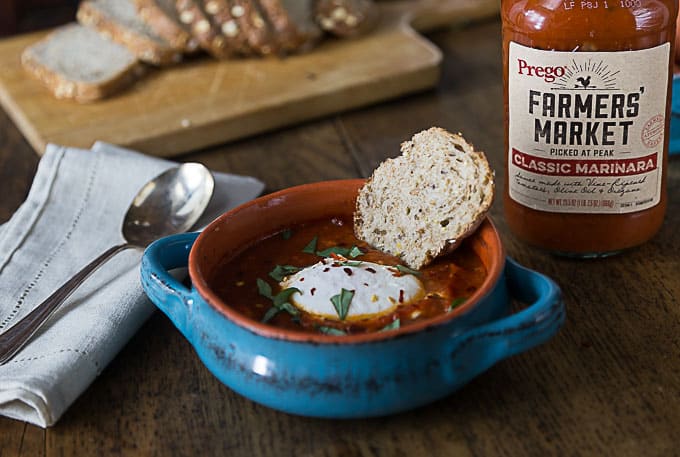 Jump to:
What is shakshuka? Well, it's a simple dish that uses tomato sauce, eggs, basil and red pepper flakes. It can be prepared in less than 30 minutes; so in my opinion a fabulous dish! Spicy shakshuka (also known as eggs in purgatory) are perfect for a weeknight meal.
Why use farm fresh eggs?
This farmers' market near my house sells fresh eggs. They are the best. The yolk is bright yellow and the taste is so much richer. I am totally drooling just thinking about it. The basil used in this dish, I grow in my back yard. Basil is easy to grow, it loves sunshine which my yard gets plenty of during the summer months. Basil is also hardy, which is a definite BONUS since I am not known for my green thumb. My family and I always love using fresh ingredients; it's really the best way to achieve intense fabulous flavors. In the summer time we try to buy as many ingredients as possible from our nearby farmers' markets.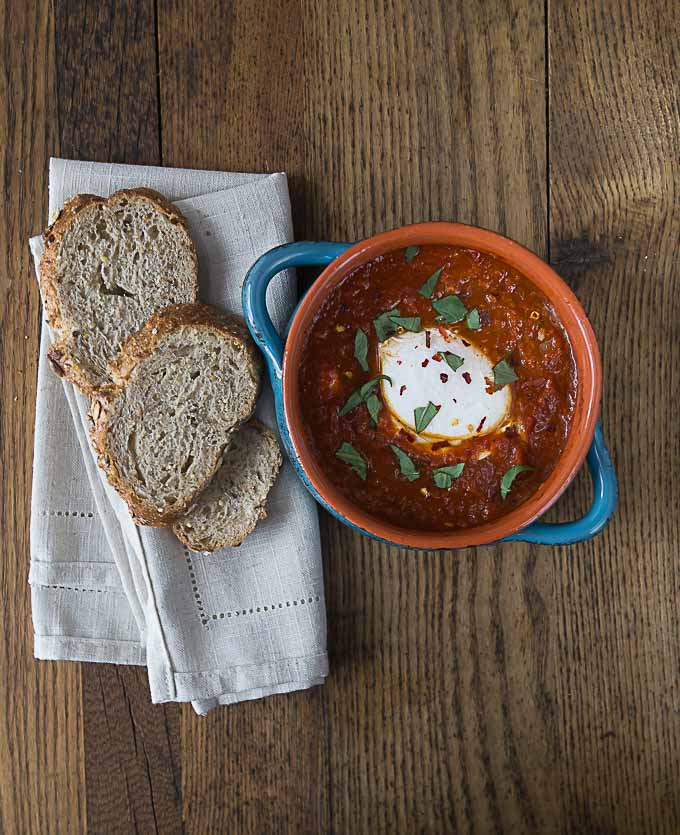 Dish Origins
Someone, long long ago went into the kitchen and said: "Hmmm, well, I have tomatoes, garlic, eggs, basil and a bit of red pepper. What to make?" Voila! The dish was born. Necessity is indeed the mother of invention. Spicy shakshuka actually has origins in the Middle East. This dish is also popular in North Africa, and a close cousin of a Mexican favorite: huevos rancheros.
So there are two processes with this shakshuka recipe: boiling the sauce and poaching the eggs. Pretty simple!
On medium heat bring sauce to a slow boil (about 200'F). Add the red pepper flakes, nutmeg and stir. That's it, really.
To poach the eggs: Place each egg in a ramekin, and bring about 1" of water to a simmer (180'F). Add salt and 2 teaspoons of vinegar to the water. Swirl the water with a spoon or small spatula. This trick I learned from my son who is in culinary school. He said the swirling helps the egg achieve a compact shape. Gently lower the egg into the water. Cook egg for about 4 minutes for a medium yolk.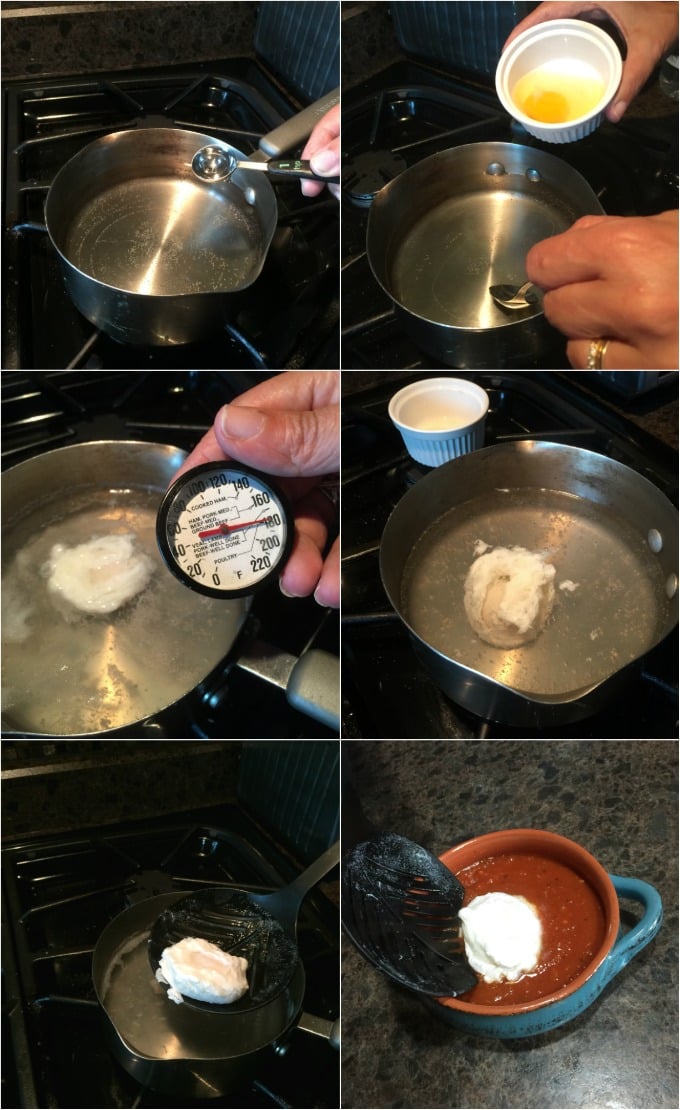 Portion sauce into bowl. Remove egg from water with a slotted spoon.
Slide the poached egg on top of sauce and top with strips of fresh basil and red pepper flakes. Enjoy with crusty wholegrain artisan bread. This is so easy!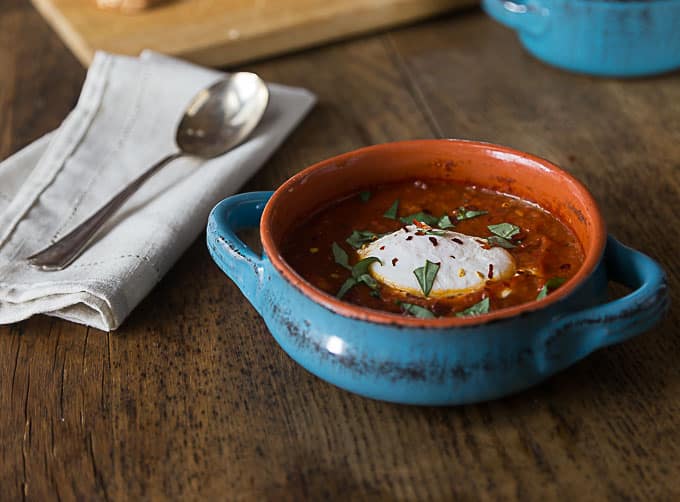 I opted for using pasta sauce today for lack of time. Prego is usually my go-to. I love garlic, and the taste of this sauce is so fresh. Now, don't be afraid about the garlic part. It's not like "keep the evil spirits away" garlicky, just a nice fresh tasting garlic taste. The overall flavors in this sauce are truly "farm fresh" tasting. The red pepper flakes add a punch of heat. A little heat I said, not the eternal fires of hell, just clarifying.
Serving spicy shakshuka
By the way, make sure you have some nice, fresh artisan bread. Whole grain is my choice. I like to toast my bread for extra texture. And also, feel free to dip the bread into the sauce as it heats, I do! When it comes to good bread and tomato sauce my will power vanishes. I am like a kid who is told not to get into the cookie jar!
Looking for more recipes?
Sign up for my free recipe newsletter to get new recipes in your inbox each week! You can also find me sharing more inspiration in Pinterest and Facebook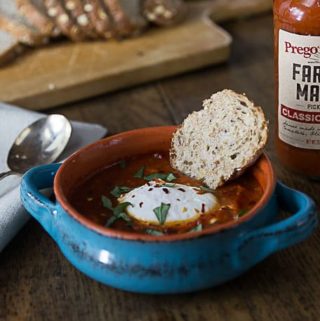 Spicy Shakshuka Recipe
Spicy and delicious eggs in purgatory with fresh basil! Serve this with a nice crusty bread.
Print
Pin
Rate
Instructions
In a sauce pan on medium heat, bring the sauce to a slow boil.

Add the nutmeg, red pepper flakes, and stir.

To poach the eggs:

Place each egg in a ramekin

In a small saucepan place 1" of water, salt and vinegar and slowly bring to a temperature of 180'F.

Carefully swirl the water and slide each egg in to the water. continue to gently swirl a few more times. Cook for about 4 minutes for a medium yolk.

Once the sauce is thoroughly heated, transfer ¾ cup of sauce to each bowl.

Remove egg from water with a slotted spoon and gently slide an egg into each bowl.

Sprinkle with basil strip and red pepper flakes.

Enjoy with plenty of crusty bread.
Nutrition
Calories:
112
kcal
|
Carbohydrates:
10
g
|
Protein:
8
g
|
Fat:
4
g
|
Saturated Fat:
1
g
|
Cholesterol:
164
mg
|
Sodium:
2226
mg
|
Potassium:
668
mg
|
Fiber:
2
g
|
Sugar:
8
g
|
Vitamin A:
1135
IU
|
Vitamin C:
12.9
mg
|
Calcium:
49
mg
|
Iron:
2.6
mg