Sweet onion quiche or Zwiebelkuchen is a typical German filled pastry, potato pie, or quiche if you will. To-may-to, To-mat-oh. This easy quiche recipe was given to me by my friend Angela. I told her I would give her a shout out, and she agreed to share this simple yet delicious recipe with me. Angela brought this delightful dish to my house for a party. One bite and I had to ask her for the recipe.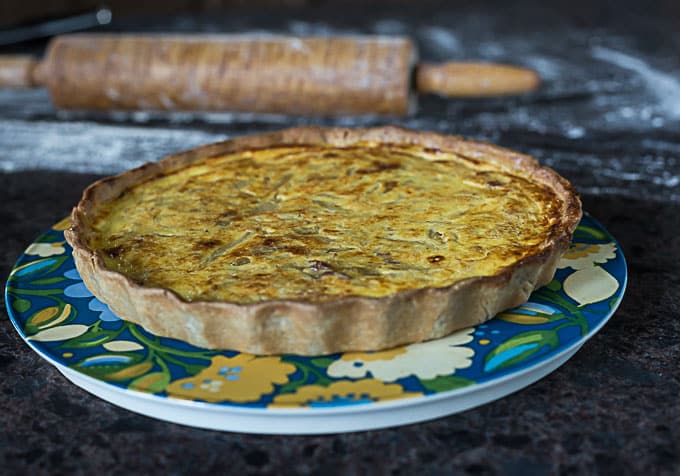 Jump to:
History of Zwiebelkuchen
Zwiebelkuchen is another example of European frugality. You don't need fancy ingredients to create this caramelized onion quiche. Because you are using sweet onions, the taste is not overly "oniony" for lack of a better word. Eggs, milk or in this case "half and half" along with sour cream create and incredible rich custard filling. It vaguely reminds me of the Spanish Potato Pie which appears in this site.
Angela uses sour cream in her Sweet Onion Quiche. This is a great addition to the because it gives the egg mixture a really soft creamy consistency, almost like scrambled eggs. I also like that Angela confessed that she uses store bought crust (gasp) when she is in a pinch. This recipe also uses a small amount of "speck" a German ham similar to prosciutto, but different in that it is first brined and then cold smoked. It is fantastic. Angela says that you can use a wood smoked bacon if you are unable to find speck.

What does caraway seed taste like?
To be honest with you I had never used caraway before in cooking. The amount the recipe called for was so small that I considered skipping it altogether. Holy cow, am I glad I didn't skip it. Caraway (carum carvi) is popular in European and Mediterranean cuisine. It has a warm, sweet and peppery taste and aroma. Believe me its subtle taste is felt on the palate even in small amounts. It comes from the same family as dill, anise, fennel and cumin. Caraway
also happens to have some medicinal benefits such as anti-oxidant and digestive properties.
Is baking this quiche hard?
This savory pie recipe uses some very easy baking techniques. First, if you have your favorite pie crust recipe feel free to use it. I also have a crust recipe included on my potato, bacon and Gruyère tart that works perfectly for this dish. When pressed for time then the store bought crust works great.
How to make sweet onion quiche step by step

Gather all your ingredients and have them measured, chopped and ready to go. This dish uses just a few simple ingredients.
Heat the olive oil on medium heat then add the onion and salt. Sauté until translucent then reduce the heat to low.
While the onions are cooking, preheat the oven to 350°F. Roll out the pie crust and poke holes in the bottom with a fork.
Add the parchment paper and pie weights or dry beans to the dish. Bake for 10 minutes then remove and allow to cool.
Place the eggs, sour cream, half and half in a large bowl.
Whisk together until well combined.
Add the ground caraway and smoked paprika to the onions while they cook.
Stir in the chopped crispy bacon pieces.
Continue to cook the onions until they begin to caramelize slightly.
Add the onion mixture to the egg mixture.
Combine the onions thoroughly into the egg mixture.
Remove the pie weights and parchment paper from the quiche shell and pour in the filling.
Bake for 20 minutes at 350°F. Check with a cake tester or toothpick for doneness.
Turn on the broiler and allow the top of the zwiebelkuchen to brown on top for about 2 minutes. Watch closely and do not allow to burn. Enjoy!
Frequently Asked Questions:
How long can I store the finished Zwiebelkuchen? It is best to eat this fresh baked. It will last for 3 days in the refrigerator but the crust will start to get a bit softer. Wrap the tart with foil or plastic wrap while in the refrigerator.
Can I freeze the finished quiche? Yes, allow it to completely cool first. You can freeze it in an airtight container or wrapped tightly in freezer plastic or foil for up to 3 months. Allow it to completely thaw in the refrigerator before reheating.
Can I reheat the quiche in the oven from the refrigerator? Yes, preheat the oven to 200°F and heat for 15-30 minutes until warm in the center. A smaller portion will take less time. If half of the tart is left it will take less time to heat up the center.
If you make this recipe I would love to hear from you! Leave me a comment below.
Here are some similar recipes to try if you love baking savory dishes. One of the most popular to make would be the French classic quiche lorraine with all its cheesy goodness. A great seafood option would be salmon quiche with lightly poached salmon and rich flavors of Swiss cheese and thyme. If you like mushrooms then a great one to try is my wild mushroom and Gruyère mini quiches. Enjoy!
Looking for more recipes?
Sign up for my free recipe newsletter to get new recipes in your inbox each week! You can also find me sharing more inspiration in Pinterest and Facebook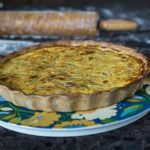 Sweet Onion Quiche: Zwiebelkuchen Recipe
A savory rustic and delicious dish for German onion pie that is similar to quiche. This goes very nicely with a glass of white wine.
Servings: Change to adjust->
8
servings
Ingredients
1

Vidalia onion

large, sliced thinly

1

Tbsp.

olive oil

4

eggs

2

Tbsp.

smoked bacon

cooked crispy and chopped, or German speck if you can find it

½

cup

sour cream

1

cup

half and half

1

tsp.

salt

⅛

tsp.

caraway seeds

ground

¼

tsp.

smoked paprika
Instructions
Prepare the crust:
Roll out pie dough and fit inside quiche pan (a pie pan will also work well) and using the tines of a fork poke holes in it or dock it.

Place a piece of parchment paper on top of dough. Add pie weights or dry beans and blind bake for about 10 minutes and remove promptly.

Once cooled slightly remove the pie weights or beans and parchment paper.
Prepare the filling:
In a skillet on medium heat sauté onion with salt in olive oil until translucent. Reduce heat to low and allow onions to caramelize. Add paprika and caraway.

In a large bowl whisk eggs with sour cream and half and half. Add the onions and mix well.

Pour egg mixture into crust.

Bake for about 20 minutes in the middle of the oven. Test for doneness with a toothpick or cake tester.

Turn oven to broil and allow quiche to broil for about 2 minutes or just until the top starts to brown.
Nutrition Facts
Sweet Onion Quiche: Zwiebelkuchen Recipe
Amount Per Serving
Calories 231
Calories from Fat 144
% Daily Value*
Fat 16g25%
Cholesterol 102mg34%
Sodium 417mg18%
Potassium 172mg5%
Carbohydrates 15g5%
Protein 6g12%
Vitamin A 390IU8%
Vitamin C 2.4mg3%
Calcium 72mg7%
Iron 1.1mg6%
* Percent Daily Values are based on a 2000 calorie diet.