Thai style chicken wings add a cool ethnic flair to any summer picnic, or appetizer party. I know, grilled chicken wings are not exactly Thai fare, but they are a tasty way to enjoy this party staple. The inspiration for this chicken wings recipe comes from a restaurant near my house claiming to have the "best wings in town." I don't know if they are "the best", but they do have about 20 different flavors.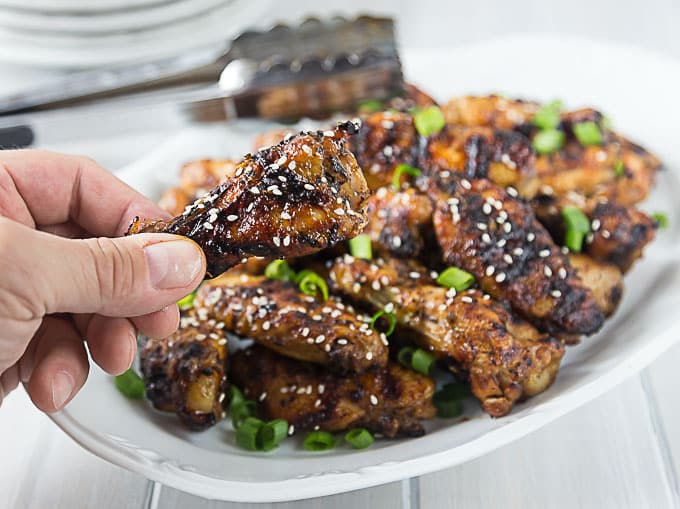 Jump to:
I love wings. My husband and son dig into wings like it's their last meal or something. My daughter has a bit more decorum than her father and brother. I love them too, but I will admit to being "one of those people" who eats wings with utensils. I know, that's really weird!!! What can I say? I can't stand getting sauce on my hands. Everyone has a pet peeve; dirty and sticky hands is definitely mine.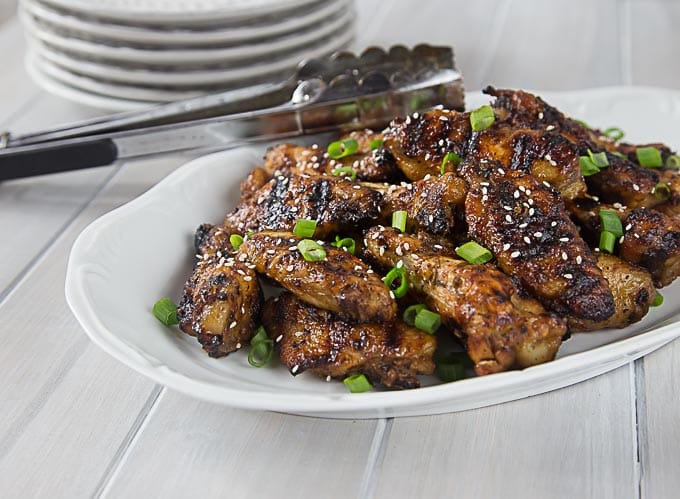 Flavor Profile
Thai chicken wings bring together two awesome ingredients. Thai flavors, and chicken wings! The contrast of flavors in Thai cooking is sensational: sweet and savory, salty, sour, and spicy! In my opinion, when you blend all these flavors together, the result is culinary perfection. I've experimented with the seasonings for these wings to get the right Thai flavor profile, and I think I got it pretty close. This Thai style chicken wings recipe uses Thai basil leaves which is slightly different in appearance and taste from the traditional basil. Thai basil has short narrow leaves, purple flowers and licorice overtones.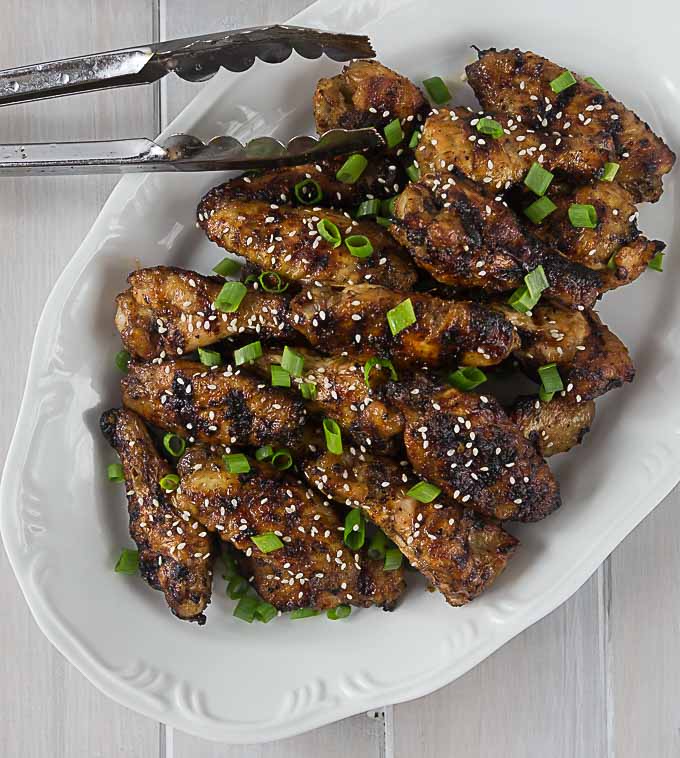 Tips for less mess
How to cook chicken wings with less mess? Chicken wings are normally fried and then tossed in a sauce. To cut down on the frying, my Asian chicken wings are baked and then grilled. Yes, grilled chicken wings! Serve these at your next appetizer party and don't forget to share this post with your friends.
Love Thai food. Check out some of my other Thai recipes from Ethnic Spoon.
Thai-Style Lettuce Wraps - Bibb lettuce makes little "cups" that are filled with spicy, Thai-spiced ground turkey.
Thai Coconut Chicken Soup - Creamy coconut, Thai spices, and aromatic herbs make this coconut soup an absolute treat.
Thai-Style Pork Loin with Peanut Sauce - Succulent grilled pork with a creamy, spicy peanut sauce will be the star of your next BBQ Party
Thai Red Curry Chicken - Tender chicken cooked in red curry sauce with notes of lemongrass, thai basil, and lime leaf. Delish!
Looking for more recipes?
Sign up for my free recipe newsletter to get new recipes in your inbox each week! You can also find me sharing more inspiration in Pinterest and Facebook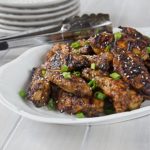 Thai Style Chicken Wings Recipe Card
Spicy and saucy Thai style chicken wings will bring a tear to your eye! Baked them and finish on the grill for a nice crispy wing!
Cook Time
1
hour
15
minutes
Total Time
1
hour
40
minutes
Servings: Change to adjust->
36
servings
Ingredients
* If you don't have fish sauce, soy sauce is an acceptable subtitute.
Instructions
Preheat oven to 300'F.

Cut off the end piece (tip) and then separate the wing into two parts: drumette and the flat piece

In a small bowl mix together fish sauce, vinegar, sriracha, and lime juice.

In another small bowl, stir together brown sugar, salt, and cayenne pepper.

Heat oil in a small sauce pan and saute the onion and garlic until translucent. Add in the water and the fish sauce mixture. Stir until well blended. Mix in the brown sugar mixture. Bring to a boil. Add the lemongrass, cilantro and Thai basil.

Turn down heat to medium and cook sauce for 20 minutes.

Allow sauce to cool to room temperature.

Place in a heat proof container and use an immersion blender to chop up the solids.

Pour half the sauce into a separate container. This is what you will use to toss the wings after they are grilled.

Arrange wings in an oven safe glass baking dish. Drizzle with half of the sauce. Cover with aluminium foil and bake for one hour.

Preheat grill to 500'F.

Grill wings, turning them frequently until they are golden brown and crispy. This will take about 15 minutes.

Place wings in a large bowl. Pour sauce over the wings and toss to coat evenly.

Sprinkle with sesame seeds.

Garnish with green onions.
Nutrition Facts
Thai Style Chicken Wings Recipe Card
Amount Per Serving
Calories 71
Calories from Fat 36
% Daily Value*
Fat 4g6%
Cholesterol 20mg7%
Sodium 231mg10%
Potassium 52mg1%
Carbohydrates 1g0%
Protein 5g10%
Vitamin A 50IU1%
Vitamin C 1.2mg1%
Calcium 8mg1%
Iron 0.3mg2%
* Percent Daily Values are based on a 2000 calorie diet.