Tres Leches was my first poke cake and still my go to after all these years. This cake is sure to please a crowd with its sweet, moist and creamy texture created by drizzling three different types of milk onto the cake after it's been baked. This is where the pastel de tres leches got its name, the "cake of three milks!"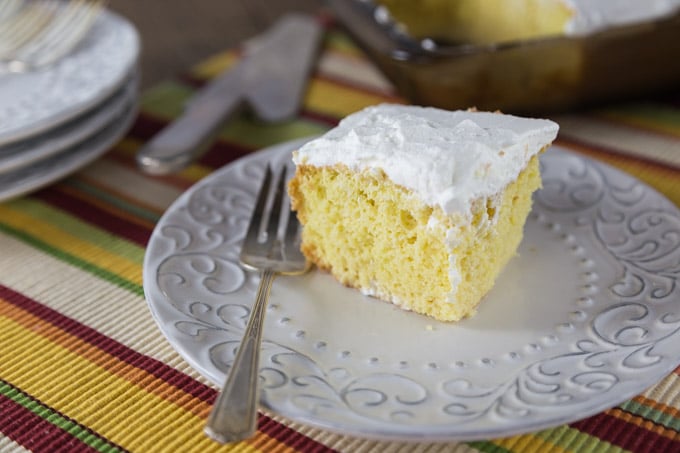 Jump to:
Tres leches cake background
A traditional tres leches cake has to be one of my all time favorite desserts. I have loved it ever since I was little. Every time my family and I would go out to dinner, I usually asked for a traditional tres leches cake for dessert. Sometimes I had to share, sometimes I didn't.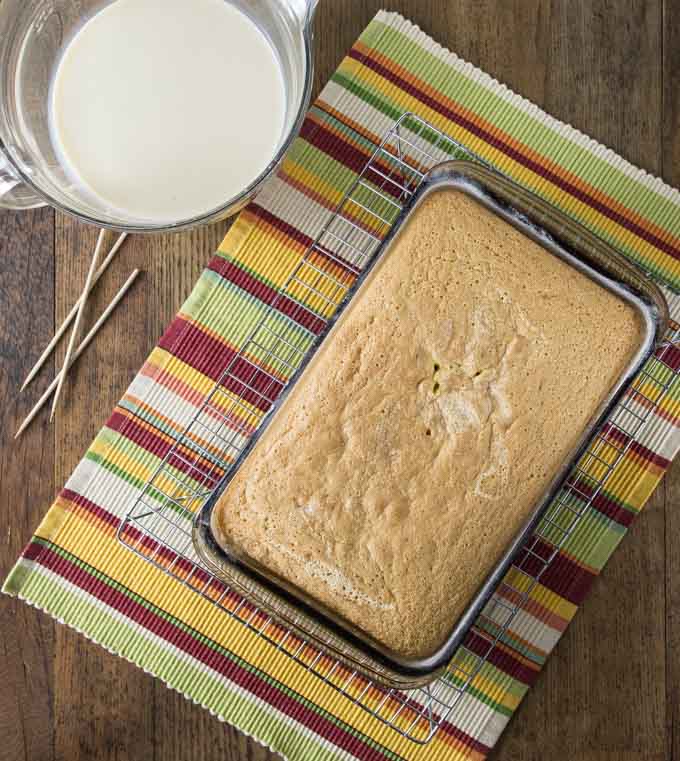 When I moved to the U.S., people at first looked confused when I talked about this cake. For many of my friends "baking" a cake involved a box! This is an abomination if you come from a culture that values food made from scratch. Things have definitely changed for the better as more and more people are learning to cook and bake from scratch again.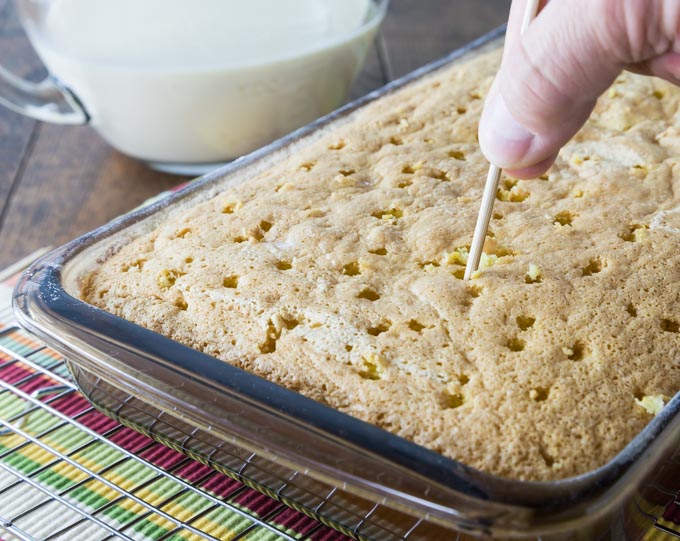 Next, you want to poke some holes in it with a skewer when the cake has cooled. Don't poke it while it is hot or poke holes too close together. By the way, my husband pointed out that recently there is a rising popularity in what are known as "poke cakes" where a cake is poked full of holes, and then drenched in some glorious liquid. Well, it all started with tres leches cake - the original poke cake!
When my kids were growing up and wanted to take something special into school, I was quickly recruited to bake one of these. What I love the most about this dessert, is that you can adapt it to any occasion. I think for the upcoming holidays, it would be a lot of fun to give it a festive look. Fresh fruit, like strawberries or mango, are my favorite tres leches cake decorations. A sprinkle of cinnamon can complement the cake nicely as well. This made from scratch recipe can be divided and made into tres leches cupcakes as well!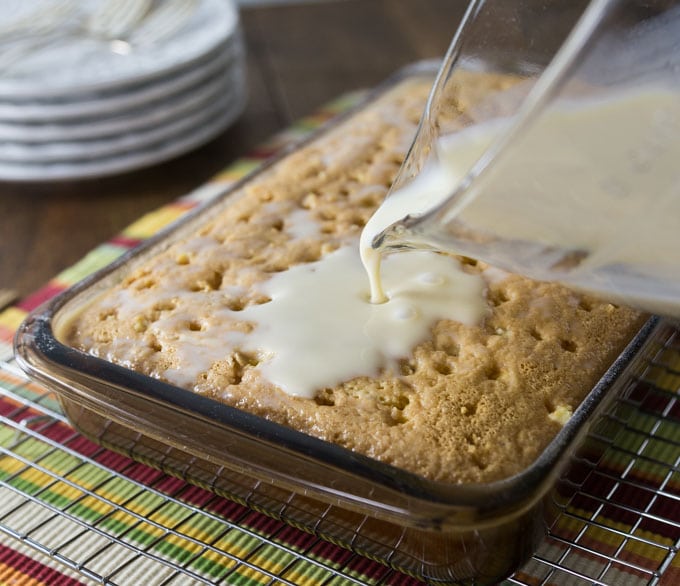 MMmm time to pour
After you've poked all the holes in the cooled cake, it's time to pour the sweet milky elixir all over your cake. The milk sinks right into the light, airy cake. The absence of oil and butter creates the perfect "spongey" cake that doesn't fall apart with the addition of all the sweet milk soaking in. (You won't miss the additional calories of the oil and butter in this cake either!)
When making a traditional, made from scratch tres leches cake it's really important that you use good quality milks, all three of them. Having said this I will be using Carnation Evaporated Milk, as one of the milks in the tres leches mixture. The other two milk types are: heavy cream, and La Lechera sweetened condensed milk. I bought all of these products at my local Walmart which is only five minutes from my house.
Nestlé products are great! They are very affordable, and high quality too. I would encourage everyone to purchase any of their delicious products for your recipe needs. Years ago, the milk industry wanted to promote their condensed milk, and Nestle added a pastel de tres leches recipe onto their condensed milk label in the early to mid-1900's. In part, this helped drive popularity of the tres leches cake across Latin America.

Origins of tres Leches
As far as the origins of this delicious cake are concerned, no one is really sure. However, some food historians think that a version of this cake had its origins in Medieval Europe. Cakes soaked in a liquid, like rum cakes and trifles, were popular during these times. Cultures crossed paths throughout the years, and some say the tres leches origin is Nicaragua, and some say Mexico, Guatemala, or Puerto Rico. You can find pastel de tres leches and tres leches cupcakes throughout the U.S. in most Hispanic bakeries. I've even been seeing them at my local food market as they continue to gain popularity.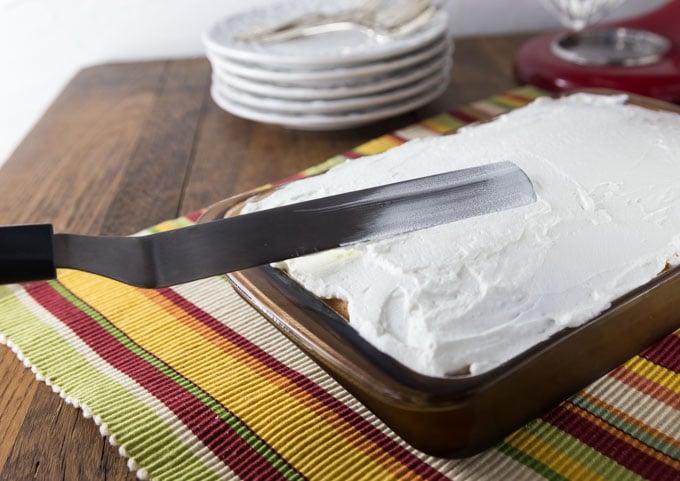 When the liquid has soaked in, it is time to frost the cake with nothing more than whipping cream. Again, feel free to decorate your tres leches before serving with fresh fruit, or maybe even a maraschino cherry!
Step by step photos:

Gather all the ingredients and have them measured out and ready to go. Preheat your oven to 350°F.
Coat a 9" x 11" glass pan with butter and shake some flour around to coat it evenly as shown. This will help prevent sticking.
Take the egg yolks you have separated from the whites and whip with the sugar. Whip until they have approximately doubled in size and the mixture will form a ribbon when drizzled back into the mixing bowl. This is ribbon stage.
Sift the flour, baking powder and salt together until well combined.
Beat the egg whites in a separate bowl until they form soft peaks.
Slowly and gently fold the whites into the whipped yolks trying not to deflate them.
Add the flour mixture in small amounts while folding. I like to use my sifter for this to drop a thin layer of flour onto the whipped egg mixture a little at a time.
Once combined, pour the batter in your cake pan. Bake on the center rack for 35-40 minutes.
Use a cake tester to be sure it comes out clean before removing from the oven. Allow the cake to completely cool.
While the cake is cooling, mix together the evaporated milk, sweetened condensed milk and whole milk in a large pitcher for pouring.
Once the cake has cooled poke holes all over the top with skewers or chop sticks.
Pour the milk mixture over the cake slowly and allow it to soak in all over then chilled the cake until you are ready to add the frosting.
Whip the heavy whipping cream with the powdered sugar until firm with stiff peaks.
Spread the whipped cream over the top of the cake and refrigerate until ready to serve.
It is important to keep this dessert refrigerated before serving, and quickly stored after as there is quite a bit of dairy in it. I recommend no more than 3-4 days covered and refrigerated. If you are making this cake ahead of time for an occasion, it freezes quite well. Let thaw in the refrigerator before serving.
Traditional tres leches cake is popular throughout Latin America. It is also a favorite in the Caribbean. My Puerto Rican friend, loves it.
In the whole scheme of things, this cake is not really that old. Condensed milk came into existence in the 1850s, and evaporated milk in the 1870s. This cake recipe probably came about as a way to moisten a sponge base, just my guess. Actually this cake kind of reminds me of a similar dessert: Jamaican Toto.
Looking for another dessert to wow your guests? Try my Creamy Walnut Tartlets.
Frequently Asked Questions:
How do I know how long to beat the egg yolks and sugar mixture?
You want to beat the yolks until they are fluffy and are at the ribbon stage. When you remove the beater and drizzle the yolks back into the bowl it forms a ribbon on the surface. Check out Crafty Baking for everything you want to know about beating eggs as a resource.
How do you pronounce tres leches? Keeping in mind the tres leches name is Spanish for three milks. Most pronounced tres leches as: treys ley-cheys or trace ley-chase.
How many calories are in the tres leches? My made from scratch recipe for pastel de tres leches has about 262 calories per serving, without the addition of any added fruit or decorations.
Looking for more recipes?
Sign up for my free recipe newsletter to get new recipes in your inbox each week! You can also find me sharing more inspiration in Pinterest and Facebook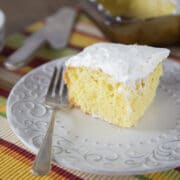 Traditional Tres Leches Cake Recipe
A deliciously moist cake made with three types of milk: sweetened condensed, cream, and evaporated milk. Perfect for any occasion.
Total Time
1
hour
5
minutes
Servings: Change to adjust->
15
servings
Ingredients
Frosting:
1 ½

cups

whipping cream

1

Tbsp

powdered sugar
Instructions
Prepare the cake:
Butter a 9"x11" glass pan, then lightly flour.

Separate the eggs from the yolks and place them in different bowls.

In the bowl of a stand up mixer place the yolks. Slowly add the sugar while beating on high. Continue to mix until the yolks are fluffy and ribbon stage. (Forms a ribbon on top when drizzled back into the bowl.) Mix in the vanilla.

Sift together the flour, baking powder and salt into a bowl. 

In another bowl beat the whites until they form soft peaks.

Slowly fold the whites into the yolk mixture using a spatula. Next, slowly sift the flour mixture into the yolk mixture and fold ingredients carefully. Try not to deflate the air whipped into the eggs.

Pour the batter into the prepared pan. Place in center rack, and bake for about 35-40* minutes or until cake tester comes out clean. Allow the cake to cool completely before adding the milk mixture.
Prepare the soaking milks:
In a large bowl whisk together evaporated milk, sweetened condensed milk, and whole milk. 

Pour milk mixture all over the cake, and allow it to soak for about an hour before frosting.
Prepare the frosting:
Beat whipping cream with the powdered sugar until thick and forms stiff peaks. Spread over cake using a flat frosting spatula.

*I usually check my tres leches cake with a cake tester after about 35 minutes to make sure it does not overcook. 
Nutrition Facts
Traditional Tres Leches Cake Recipe
Amount Per Serving
Calories 262
Calories from Fat 126
% Daily Value*
Fat 14g22%
Cholesterol 103mg34%
Sodium 206mg9%
Potassium 248mg7%
Carbohydrates 26g9%
Protein 7g14%
Vitamin A 560IU11%
Vitamin C 1mg1%
Calcium 176mg18%
Iron 1mg6%
* Percent Daily Values are based on a 2000 calorie diet.
Originally published December 2017 and updated July 2020.