Thai Style Pork Loin with Peanut Sauce brings together a multitude of flavors. The contrast that is present in Thai food is what makes me love it so much. Thai cuisine is full of contrasts, not only in flavors but also in presentation, colors and textures. If you need a good recipe for Asian pork, my Thai style pork loin brings you such contrast.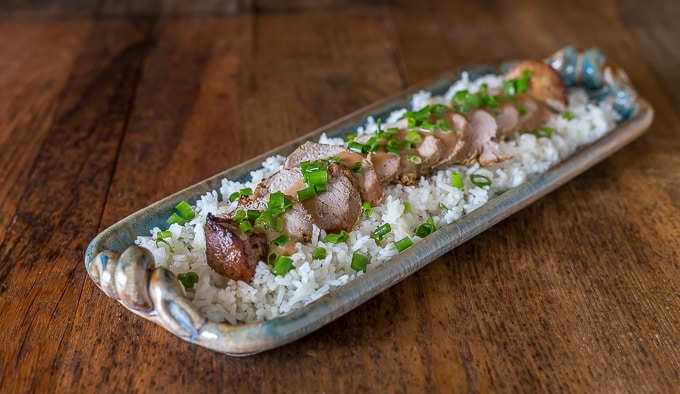 Jump to:
Thai Food Influence
Thai cuisine is a combination of culinary tradition of neighboring countries. To the north we have Laos and Burma and Cambodia and Vietnam to the southeast. The Chinese introduced noodles to Thailand, an essential ingredient in the famous pad thai. Out of all the Asian foods I have tried, it is my favorite. There is such variety. The use of coconut and peanuts for me is a great combination.
Thai food is also deeply influenced by Indian cuisine.This is evidenced in the use of various curries (red, yellow and green). Spices typical of Thai cuisine are lemongrass, galangal (Thai ginger) and Thai basil (horapha). Thai pork recipes are plentiful and served with an endless variety of sides.
Serving Thai Food
Jasmine rice is a long grain rice with a slightly nutty aroma. You can however serve it with anything you want, from steamed vegetables to noodles. My preference is the rice, but next time I make this dish I will definitely try to expand my horizons and try it with something else, just to mix things up a little.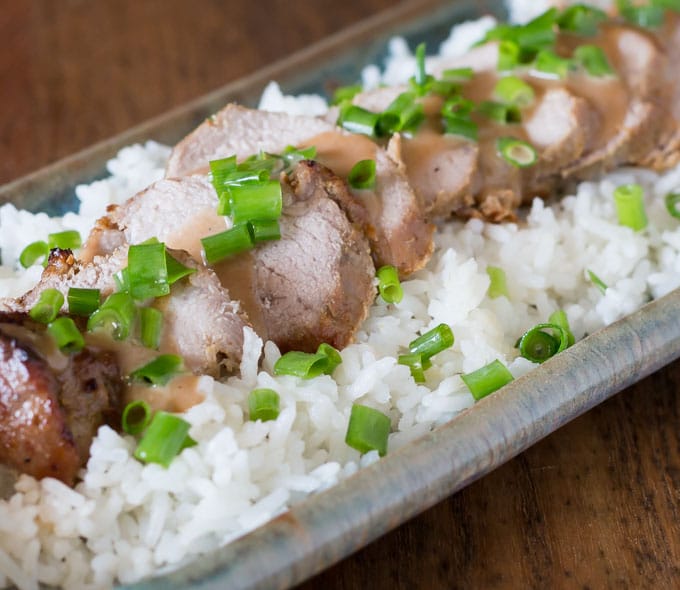 I must confess, I did a great deal of experimenting with the sauce in order to get it to the right consistency. In my opinion, this sauce lends itself to chicken as well as beef, especially if you are doing kebabs or satay.
Step by step photos: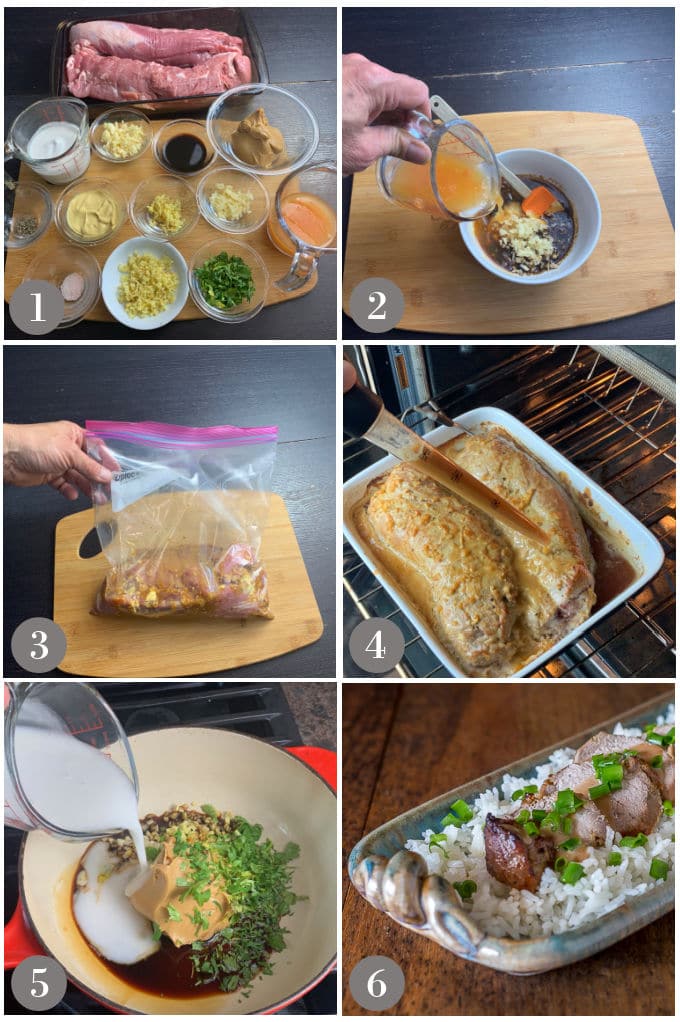 Gather all your ingredients and have them measured, chopped and ready to go.
In a bowl mix together the garlic, mustard, soy sauce, orange juice, salt and pepper. Stir to combine all the ingredients.
Place the pork loin in a zip top bag and pour the marinade over. Try to remove as much air as possible then seal and coat the loin well. Refrigerate for 6-8 hours.
Preheat your oven to 350°F. Place the pork loin and marinade in an oven safe dish and cook uncovered until the internal temperature reaches 150°F. Baste while cooking every 10-15 minutes.
While the pork is cooking prepare the peanut sauce. In a sauce pan in medium heat add the peanut butter, coconut milk, soy sauce, garlic, cilantro and ginger. Stir while heating until all the ingredients are well integrated. You should have a smooth consistency.
Slice and service with rice, peanut sauce and garnish with some chopped scallions.
Frequently Asked Questions:
How long can I store the cooked pork loin in the refrigerator? Once the pork has cooled you can store it in the refrigerator in an airtight container for 3-4 days.
How do I reheat the pork loin? Reheat the pork in the microwave for 2-3 minutes and stop to stir every 30-45 seconds until hot. Once reheated do not cool and store again in the refrigerator, consume it right away. So only reheat the amount you will consume.
Can I freeze the cooked Thai pork loin? Yes, allow the pork to cool and you can freeze in airtight containers for up to 2 months. Thaw completely in the refrigerator and then reheat in the microwave. If you vacuum pack the pork it can last 2-3 years frozen. I love my FoodSaver vacuum!
How long can I save peanut sauce? The peanut sauce can be stored in the refrigerator for 7-10 days. Reheat in the microwave for 1-2 minutes depending on the amount and stir every 30 seconds until hot.
If you want to explore some other interesting Thai dishes and flavors here are some to try. My daughter was teaching in China and did some backpacking through Thailand and sent me this recipe for Thai red curry chicken after taking a cooking class with some friends. Thai beef salad is a great dish for the grilling season and it has a fantastic marinade and homemade peanut lime dressing. Thai coconut chicken soup has that really nice combination of sweet and savory flavors that many Asian dishes bring to the table. If you want dessert then you have to try this Thai mango sticky rice that is rich, sweet and creamy with tangy mango slices. If you're looking for something light and healthy, Thai-Style Lettuce Wraps are the perfect side or app for a hot day.
* For a paleo diet friendly option serve this dish with a side of steamed vegetables instead of rice.
Looking for more recipes?
Sign up for my free recipe newsletter to get new recipes in your inbox each week! You can also find me sharing more inspiration in Pinterest and Facebook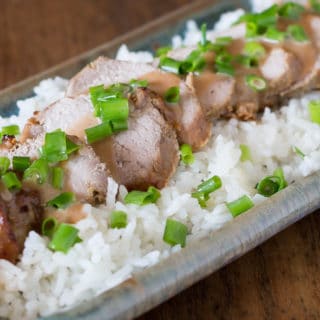 Thai Style Pork Loin with Peanut Sauce Recipe Card
Here is a really easy recipe for Thai style pork tenderloin with peanut sauce. The sauce has a really nice flavor with garlic, coconut milk, soy, ginger and cilantro. Make this a meal or serve as an appetizer.
Print
Pin
Rate
Ingredients
2.5

lbs

pork loin

1 pork tenderloin

3

garlic cloves

minced

2

Tbsp.

Dijon mustard

3

Tbsp.

soy sauce

paleo diet: coconut aminos

½

cup

orange juice

¼

tsp.

salt

paleo diet: sea salt

⅛

tsp.

pepper
For the sauce:
½

cup

peanut butter

paleo diet: almond butter

½

cup

coconut milk

2

Tbsp.

soy sauce

paleo diet: coconut aminos

2

garlic cloves

minced

1

Tbsp.

cilantro

chopped

¼

tsp

ginger

fresh, ground
Instructions
Marinate the pork loin:
Place pork loin in a large Ziploc bag.

In a bowl mix together the garlic, mustard, soy sauce, orange juice, salt and pepper. Pour over the pork and allow to marinate about 6-8 hours.
Cooking the pork loin:
Place pork loin in glass baking dish with marinade. Cook until internal temperature is 150°F. (about 25 minutes). Baste pork loin using a turkey baster about every 10 minutes. Remove from oven.

Cover and allow to rest for about 5-10 minutes.
Prepare the peanut sauce:
In a small saucepan on low heat mix all sauce ingredients. Stir with a wooden spoon until all ingredients are well integrated. Continue to stir for about 5 minutes until the consistency is smooth. Transfer to a small bowl and serve over sliced pork loin. Garnish with green onion.
Nutrition
Calories:
328
kcal
|
Carbohydrates:
6
g
|
Protein:
37
g
|
Fat:
17
g
|
Saturated Fat:
6
g
|
Cholesterol:
89
mg
|
Sodium:
764
mg
|
Potassium:
735
mg
|
Fiber:
1
g
|
Sugar:
3
g
|
Vitamin A:
155
IU
|
Vitamin C:
9
mg
|
Calcium:
24
mg
|
Iron:
1.9
mg
Originally published November 2017 and updated June 2021.