I've created a recipe: Avocado tapas with shrimp and grapefruit.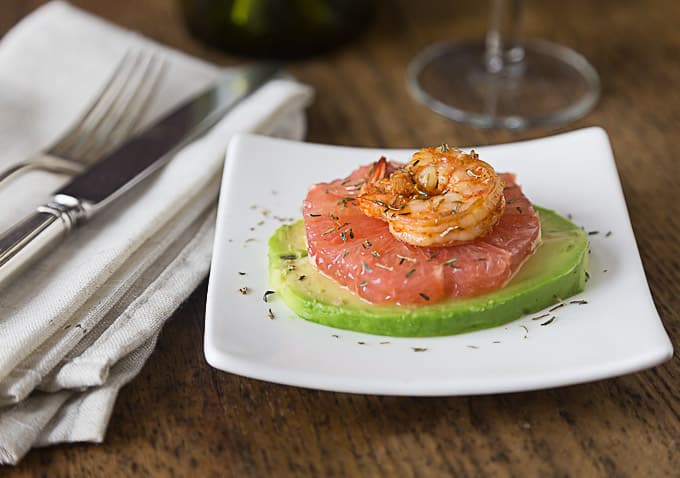 Jump to:
Ahh, avocados! One of my favorite things to eat.
By the way, did you know that avocados are from Mexico? Yes, from Puebla to be exact. They go back to 10,000 B.C. I have to wonder when people discovered that they are for much more than just mashing up to eat with chips. They certainly weren't making avocado tapas with shrimp in ancient times!
But back to the avocado. This humble fruit has endless possibilities and today I found one that's sweet, savory, and creamy. How can we go wrong?
A light, Spanish shrimp appetizer.
Today, I am thinking of summer! Yes, warm balmy breezes and avocados! This avocado tapas recipe with shrimp and grapefruit is perfect for summer. The combination of citrus, spicy shrimp, and soft creamy avocado slices sprinkled with a little thyme is perfect. Imagine how decadent it will look served on little salad plates at your next garden party. The colors are truly eye-catching.
Want to know the best part? This is a healthy appetizer. Grapefruit is packed with vitamins and antioxidants. Shrimp is of course, protein. Then your buttery avocados are rich in healthy fats. How can you possibly go wrong on this one?
It's also easy to make and delicious. Your family will love it!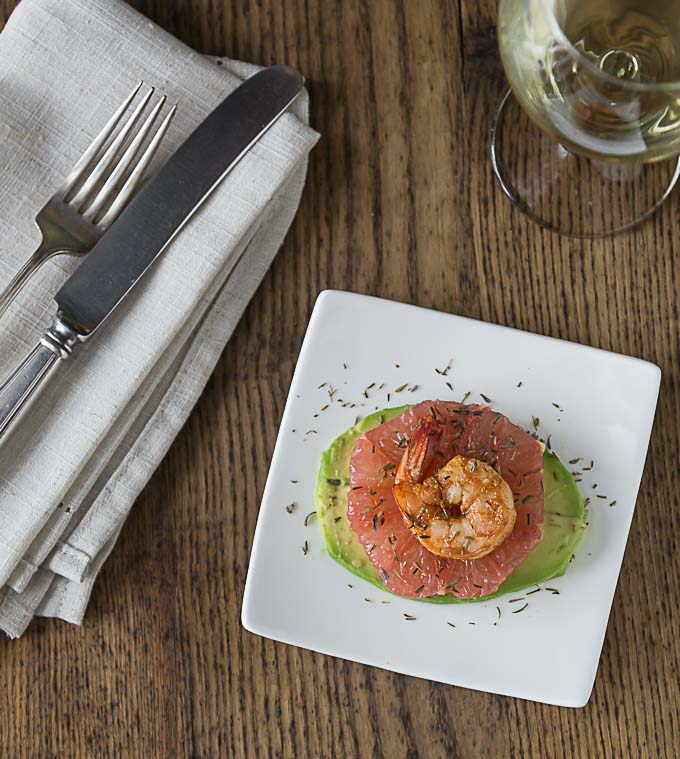 One more reason to eat avocados?
They contain vitamin A, C, D, E, and K. Did you know they also have more potassium than a banana? Perhaps I should reach for an avocado after a grueling workout. They also have omega -3 which are good for brain health. The brain runs on healthy fats, so an avocado a day keeps the doctor away? Hmmm, don't take my word on that one. But we all want our little brain cells working, don't we? So what are you waiting for? Make yourself an avocado tapas with shrimp and grapefruit.
Want to try more avocado recipes? Here are some of my favorites from Ethnic Spoon.
Avocado, Black Bean, and Queso Fresco Empanadas - These vegetarian empanadas are so flavorful and filling that you won't miss the meat at all.
Tostones with Avocado Cream Sauce - Delicious, crispy, double-fried plantains are doubly delicious dipped in this tangy avocado sauce.
Looking for more recipes?
Sign up for my free recipe newsletter to get new recipes in your inbox each week! You can also find me sharing more inspiration in Pinterest and Facebook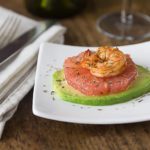 Avocado, Shrimp, Grapefruit Tapas
A delicious cold tapas dish for a hot day or make a large portion for a salad. Shrimp with grapefruit & avocado is a great balance of flavors. Sprinkle a little thyme for an herbal note too!
Servings: Change to adjust->
4
servings
Instructions
Cut avocado in two sections and cut into slices.

Heat olive oil in a skillet and quickly saute the shrimp. Sprinkle with salt and chili powder.

Allow the shrimp to cool.

Cut grapefruit into thin slices. Remove the skin.

Place avocado on a plate followed by a slice of grapefruit on top and finish off with two pieces of shrimp.

Sprinkle with a little dried thyme.
Nutrition Facts
Avocado, Shrimp, Grapefruit Tapas
Amount Per Serving
Calories 139
Calories from Fat 81
% Daily Value*
Fat 9g14%
Cholesterol 30mg10%
Sodium 247mg11%
Potassium 336mg10%
Carbohydrates 11g4%
Protein 3g6%
Vitamin A 880IU18%
Vitamin C 25.1mg30%
Calcium 37mg4%
Iron 0.6mg3%
* Percent Daily Values are based on a 2000 calorie diet.